Kroger (KR) Opens Ocado-Powered Fulfillment Center in Florida
The Kroger Co. KR is consistently expanding its Customer Fulfillment Centers (CFCs) to new geographies for boosting customers' shopping experience on a dynamic retail landscape.

On this front, management announced the company's opening of its latest CFC in Groveland, FL, which is powered by a renowned firm in technology for grocery e-commerce called Ocado Group. With this, the company makes a marked progress that allows it an entry in the Florida market with an e-commerce delivery service along with vertical integration, machine learning and robotics boasting quick and affordable delivery.

Via the latest development, Kroger looks to transform grocery e-commerce in the aforesaid state on the back of its differentiated offering, thereby bringing fresh groceries directly to consumers' doorstep. Bill Bennett, Kroger's vice president of e-commerce said, "The service features fresh food, adult beverage, and personal care products, affordable prices and promotions, and a best-in-class fuel rewards loyalty program". Strikingly, the Kroger Delivery network has technological efficiency coupled with the experience of the company's associates to provide fresh and affordable food.

A couple of months back, the renowned grocery retailer launched a highly-advanced CFC in the United States, powered by Ocado's leading e-commerce technology. The facility represents one of the models engineered for the flexible Kroger Delivery network. It also includes smaller facilities as well as spoke locations. The CFC is capable of supporting the fulfillment of pickup orders and can cater to thousands of orders per day. The highly-automated fulfillment centre consists of more than a thousand bots that whizz around giant 3D grids through proprietary air-traffic control systems. The grid, also known as The Hive, consists of totes with products and ready-to-deliver customer orders.

Well, Kroger is constantly coming up with various innovative strategies to bolster its online business model and omni-channel offerings for customers. Simultaneously, this is helping the company fuel higher sales and grab a greater market share.
What's More?
We note that Kroger prioritized its actions to resonate well with the prevalent crisis and burgeoning demand for fresh, convenient food and meal solutions. It is pulling out all the stops to strengthen position not only with respect to its products but also in terms of the way consumers prefer shopping grocery.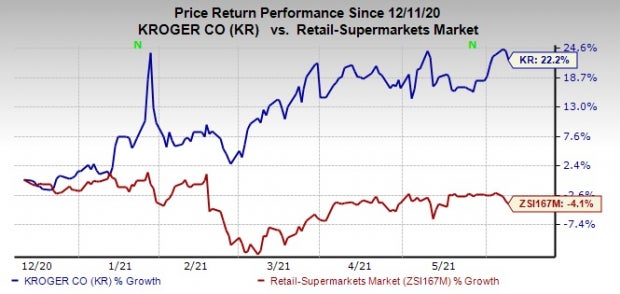 Image Source: Zacks Investment Research
Additionally, this presently Zacks Rank #3 (Hold) company's digital business remains a key driver. Evidently, customers are opting for e-commerce solutions to purchase their grocery and other household essentials. Also, the company is thoroughly focusing on no-contact delivery option, low-contact pickup service and ship-to-home orders. Further, it continued to expand its contactless payment solutions like Kroger Pay. Incidentally, the stock has risen 22.2% in the past six months against the industry's 4.1% dip.
More Key Picks in Retail
Target TGT has a long-term earnings growth rate of 13.3% and a Zacks Rank #1 (Strong Buy), currently the complete list of today's Zacks #1 Rank stocks here.

Abercrombie & Fitch ANF, currently a Zacks #1 Ranked stock, has a long-term earnings-growth rate of 18%.

Walmart WMT has a long-term earnings growth rate of 5.5% and a Zacks Rank #2 (Buy), presently.
Bitcoin, Like the Internet Itself, Could Change Everything
Blockchain and cryptocurrency has sparked one of the most exciting discussion topics of a generation. Some call it the "Internet of Money" and predict it could change the way money works forever. If true, it could do to banks what Netflix did to Blockbuster and Amazon did to Sears. Experts agree we're still in the early stages of this technology, and as it grows, it will create several investing opportunities.

Zacks' has just revealed 3 companies that can help investors capitalize on the explosive profit potential of Bitcoin and the other cryptocurrencies with significantly less volatility than buying them directly.

See 3 crypto-related stocks now >>
Want the latest recommendations from Zacks Investment Research? Today, you can download 7 Best Stocks for the Next 30 Days.
Click to get this free report
Target Corporation (TGT): Free Stock Analysis Report
Walmart Inc. (WMT): Free Stock Analysis Report
Abercrombie & Fitch Company (ANF): Free Stock Analysis Report
The Kroger Co. (KR): Free Stock Analysis Report
To read this article on Zacks.com click here.
Zacks Investment Research