Unum (UNM) Recently Broke Out Above the 20-Day Moving Average
After reaching an important support level, Unum (UNM) could be a good stock pick from a technical perspective. UNM surpassed resistance at the 20-day moving average, suggesting a short-term bullish trend.
A well-liked tool among traders, the 20-day simple moving average offers a look back at a stock's price over a 20-day period. This is very beneficial to short-term traders, as it smooths out short-term price trends and gives more trend reversal signals than longer-term moving averages.
Like other SMAs, if a stock's price is moving above the 20-day, the trend is considered positive. When the price falls below the moving average, it can signal a downward trend.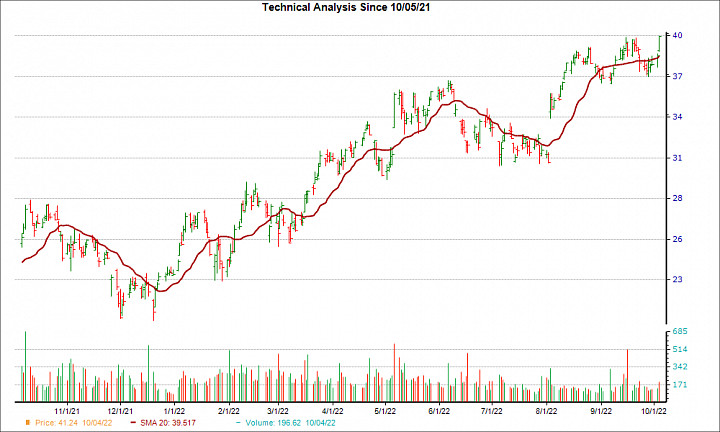 Shares of UNM have been moving higher over the past four weeks, up 9.6%. Plus, the company is currently a Zacks Rank #2 (Buy) stock, suggesting that UNM could be poised for a continued surge.
The bullish case solidifies once investors consider UNM's positive earnings estimate revisions. No estimate has gone lower in the past two months for the current fiscal year, compared to 4 higher, while the consensus estimate has increased too.
With a winning combination of earnings estimate revisions and hitting a key technical level, investors should keep their eye on UNM for more gains in the near future.
Just Released: Free Report Reveals Little-Known Strategies to Help Profit from the $30 Trillion Metaverse Boom
It's undeniable. The metaverse is gaining steam every day. Just follow the money. Google. Microsoft. Adobe. Nike. Facebook even rebranded itself as Meta because Mark Zuckerberg believes the metaverse is the next iteration of the internet. The inevitable result? Many investors will get rich as the metaverse evolves. What do they know that you don't? They're aware of the companies best poised to grow as the metaverse does. And in a new FREE report, Zacks is revealing those stocks to you. This week, you can download, The Metaverse - What is it? And How to Profit with These 5 Pioneering Stocks. It reveals specific stocks set to skyrocket as this emerging technology develops and expands. Don't miss your chance to access it for free with no obligation.
>>Show me how I could profit from the metaverse!
Want the latest recommendations from Zacks Investment Research? Today, you can download 7 Best Stocks for the Next 30 Days.
Click to get this free report
Unum Group (UNM): Free Stock Analysis Report
To read this article on Zacks.com click here.
Zacks Investment Research