Oracle to Hire 5K Executives for Cloud Operations in 2017
Oracle Corp. ORCL is taking another significant step to strengthen its position in the cloud services market. The company recently announced that it will hire more than 5K employees including engineers, consultants, sales and support people for expanding its cloud business.

Cloud-based momentum has been a game changer for Oracle in recent times. We note that the company is a late entrant in the cloud computing market compared to its peers like IBM, Microsoft MSFT and Amazon AMZN.

However, the company's rapidly expanding Software as a Service (SaaS) and Platform as a Service (PaaS) portfolios have boosted the top line in the past few quarters. Notably, cloud revenues increased 64.1% year over year to $1.41 billion in fourth-quarter fiscal 2017. This led to a 3.3% increase in total revenue, which was also better than the guided range of (1%) to 2% for the fourth quarter.

Shares of Oracle have gained 30.2% year to date, outperforming the industry's 24.1% rally.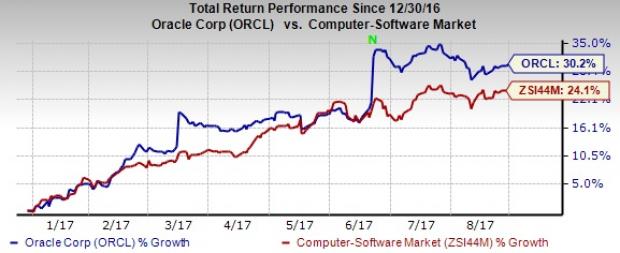 Oracle Enhances Cloud Offerings

According to an IDC market report, SaaS will remain the dominant cloud computing service, with nearly two thirds of all public cloud spending in 2017 and roughly 60% in 2020. This presents significant growth opportunity for Oracle due to its dominant position in the Database as a Service market.

Moreover, Oracle has introduced a number of cloud services like the retail merchandising solution, security solution over the last few quarters that have helped it to gain customers.

However, with Infrastructure as a Service (IaaS) still being one of the weaklings in the portfolio, the company is expected to spend more on it. This might affect gross margin in the near term. Nevertheless, the company anticipates SaaS gross margin to eventually rise to 80% in the long haul, thereby leading to an improvement in the bottom line.
Oracle Corporation Revenue (TTM)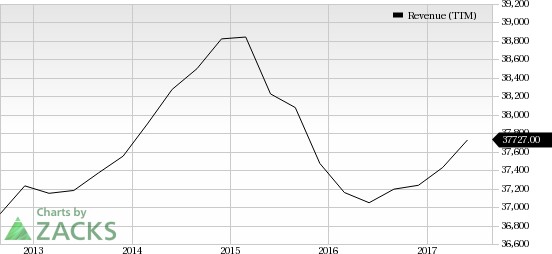 Cloud Takes Center Stage
Per a recent report by Gartner, the cloud shift will result in almost $1 trillion in information technology (IT) spending by 2020. Notably, all the big shot cloud service providers are gearing up to grab the opportunity.

Microsoft is reportedly planning a sales restructuring owing to its continuing shift to cloud. IBM recently announced the addition of four new data centers. It also unveiled cloud container service for Australian datacenters.

Notably, cloud technology is increasingly being adopted at enterprises owing to its hyper-scalability and hyper-convergence. These enhance the flexibility of computing and enable flexible and cost effective storage and operations.

We believe Oracle's strategic initiatives to tap the accelerated growth of the cloud market are well paced. The new hirings will help the company aggressively market its products that will improve competitive position against the likes of salesforce.com CRM and Workday. Moreover, enhancement of its cloud offerings will boost its revenues and eventually markets share going forward.

Zacks Rank

Oracle currently has a Zacks Rank #3 (Hold). You can see the complete list of today's Zacks #1 Rank (Strong Buy) stocks here.

4 Surprising Tech Stocks to Keep an Eye On

Tech stocks have been a major force behind the market's record highs, but picking the best ones to buy can be tough. There's a simple way to invest in the success of the entire sector. Zacks has just released a Special Report revealing one thing tech companies literally cannot function without. More importantly, it reveals 4 top stocks set to skyrocket on increasing demand for these devices. I encourage you to get the report now – before the next wave of innovations really takes off.
Want the latest recommendations from Zacks Investment Research? Today, you can download 7 Best Stocks for the Next 30 Days.
Click to get this free report
Amazon.com, Inc. (AMZN): Free Stock Analysis Report
Microsoft Corporation (MSFT): Free Stock Analysis Report
Salesforce.com Inc (CRM): Free Stock Analysis Report
Oracle Corporation (ORCL): Free Stock Analysis Report
To read this article on Zacks.com click here.
Zacks Investment Research