lululemon's (LULU) Beats on Q4 Earnings, Holds Off Guidance
lululemon athletica inc. LULU retained its positive streak in fourth-quarter fiscal 2019, with sales and earnings surpassing the Zacks Consensus Estimate and improving year over year. Results gained from strong demand before the COVID-19 outbreak along with a solid e-commerce performance.
Despite starting fiscal 2020 on a strong note, management did not issue any guidance due to the unprecedented impact of the coronavirus outbreak, which also led the company to close stores and limit operating hours. It is likely to be negatively impacted by store closures, especially in North America as the region accounts for a major portion of revenues. Also, lululemon's aggressive efforts related to the men's clothing category and expansion of new products have been disrupted due to the ongoing crisis.
In spite of these headwinds, the company has been witnessing increasing demand for yoga mats and blocks in times of quarantine. Moreover, store closures have led to a rise in social media followers for its popular yoga classes.
lululemon athletica inc. Price, Consensus and EPS Surprise
Q4 Numbers
lululemon posted earnings of $2.28 per share, beating the Zacks Consensus Estimate of $2.25 and increasing 23.2% from adjusted earnings of $1.85 in the year-ago quarter. The bottom line gained from solid top-line growth along with gross margin expansion.
The Vancouver, Canada-based company's quarterly revenues advanced about 20% to $1,397.5 million and surpassed the Zacks Consensus Estimate of $1,375 million. Strong execution across all parts of the business along with robust total comparable sales (comps) performance and addition of stores contributed to quarterly sales. Notably, e-commerce contributed $464 million to sales, representing about 33% of total sales.
Total comps, including comparable store sales and direct-to-consumer (DTC) sales, grew 20%. Comps growth was driven by a rise in traffic, with in-store traffic up in high-single digits and online traffic up more than 30%. Comparable store sales improved 9%, while DTC sales grew 41%.
Margins
Gross profit rose 21% to $810.8 million in fourth-quarter fiscal 2019. Moreover, gross margin expanded 70 basis points (bps) to 58% on an 80-bps improvement in the product margin, stemming from a decline in product costs and favorable product mix.
SG&A expenses rose 16.9% to $394.3 million but declined 30 bps to 35.9%, as a percentage of sales. Meanwhile, SG&A expenses, as a percentage of sales, contracted 70 bps to 28.2%.
Driven by gross margin growth and the SG&A leverage, operating income grew nearly 26% to $416.5 million, while operating margin expanded 140 bps to 29.8%.
Store Updates
During the fiscal fourth quarter, the company opened 12 net new stores and completed five optimizations. As of Feb 2, 2020, it operated 491 stores.
Given the COVID-19 crisis, the company had temporarily closed all retail stores in China in February, all of which, except one, have recently reopened. Moreover, in March, all retail stores in North America, Europe, Malaysia, New Zealand along with a distribution center in Sumner, WA, have been shut down. Meanwhile, all stores in Australia remain open for limited hours.
Financials
lululemon exited the fiscal fourth quarter with cash and cash equivalents of $1,093.5 million and stockholders' equity of $1,952.2 million. Inventories were up 28.1% to $518.8 million.
As of Feb 2, 2020, cash from operating activities was $669.3 million. Further, it spent nearly $69 million toward capital expenditure in fourth-quarter fiscal 2019, mainly related to IT and supply-chain investments, and store capital for new locations, relocations and renovations.
During the fiscal fourth quarter, the company bought back 1.6 thousand shares at an average price of $194.10 per share. As of Feb 2, 2020, it had nearly $327 million outstanding under its new $500-MILLION share repurchase plan.
Price Performance
In the past three months, this Zacks Rank #3 (Hold) stock has lost 13% compared with the industry's 40.8% decline.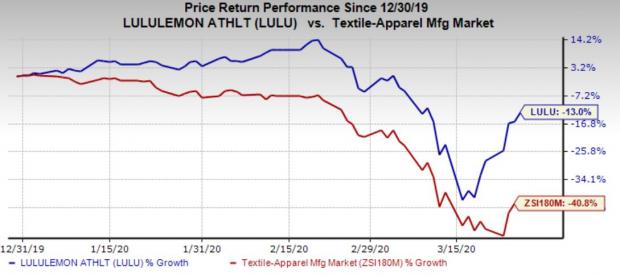 Looking for Favorable Stocks? Check These
Genesco GCO has an expected long-term earnings growth rate of 5%. The company sports a Zacks Rank #1 (Strong Buy), at present. You can see the complete list of today's Zacks #1 Rank stocks here.
Deckers Outdoor Corporation DECK, a Zacks Rank #2 (Buy) stock, has an expected long-term earnings growth rate of 17.2%.
DICK'S Sporting Goods, Inc. DKS has an impressive long-term earnings growth rate of 7.2% and a Zacks Rank #2.
The Hottest Tech Mega-Trend of All
Last year, it generated $24 billion in global revenues. By 2020, it's predicted to blast through the roof to $77.6 billion. Famed investor Mark Cuban says it will produce "the world's first trillionaires," but that should still leave plenty of money for regular investors who make the right trades early.
See Zacks' 3 Best Stocks to Play This Trend >>
Want the latest recommendations from Zacks Investment Research? Today, you can download 7 Best Stocks for the Next 30 Days.
Click to get this free report
Deckers Outdoor Corporation (DECK): Free Stock Analysis Report
DICK'S Sporting Goods, Inc. (DKS): Free Stock Analysis Report
lululemon athletica inc. (LULU): Free Stock Analysis Report
Genesco Inc. (GCO): Free Stock Analysis Report
To read this article on Zacks.com click here.
Zacks Investment Research