Community Health Repeals 2020 Outlook Amid Coronavirus Woes
Community Health Systems, Inc. CYH withdrew its initial guidance for 2020 due to the coronavirus or COVID-19 effect on global economy.

The pandemic took a toll on the market with Community Health being no exception to its onslaught.

For the year ending Dec 31, 2020, the company expected adjusted EBITDA of $1.65-$1.8 billion. Its forecast for 2020 revenues was in the range of $12.4-$12. 8 billion. The company's net loss was estimated in the band of around 60 cents to $1.30 per share. Same-store hospital annual adjusted admissions growth was assumed to be 1.5-2.5%.

Net cash provided by operating activities was projected between $600 and $700 million.

Rationale Behind the Withdrawal

The widespread novel coronavirus-led uncertainties might affect the company's near-term financial performance.

The pandemic required hospitals to defer their elective procedures to accommodate any potential surge in COVID-19-detected cases. This cancellation of elective surgeries to accommodate coronavirus-infected patients is anticipated to hurt the company's revenues.

The company, which currently operates 99 hospitals across 17 states, might also take a hit from adopting expensive procedures and bearing unexpected costs to ensure coronavirus treatment. The company is withdrawing its outlook due to changing revenues and market volatility.

Community Health has been witnessing impressive results and also recovering from its $7.6-BILLION buyout of Florida-based Health Management Associates in 2014.

Conclusion

We believe, the company's ongoing financial difficulty is a blip due to the pandemic. But given its solid fundamentals, such as strategic divestitures, improvement in cash flow and reduction in expenses, the company will likely bounce back once the market condition betters.

It is also likely to gain from the $2-TRILLION rescue package to aid the hard-hit American economy following the COVID-19 outbreak, which includes a $130-BILLION financial grant to hospitals. This will provide reimbursement for covering health care expenses as well as the lost revenues. The bailout incentive comes as a breather for the hospital industry that recently appealed to Congress for a $100-BILLION worth emergency funding.

Companies like HCA Healthcare, Inc. HCA, Universal Health Services, Inc. UHS and Tenet Healthcare Corporation THC are also likely to benefit from this monetary relief.

Year to date, this Zacks Rank #2 (Buy) company has gained 25.5% against its industry's decline of 28.6%. You can see the complete list of today's Zacks #1 Rank (Strong Buy) stocks here.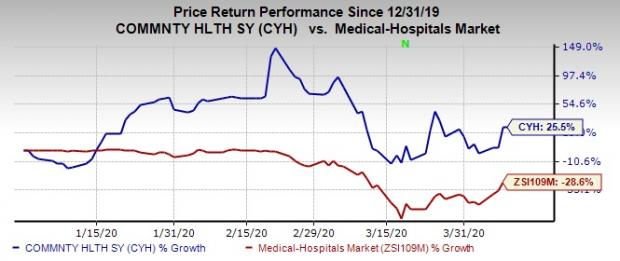 Biggest Tech Breakthrough in a Generation

Be among the early investors in the new type of device that experts say could impact society as much as the discovery of electricity. Current technology will soon be outdated and replaced by these new devices. In the process, it's expected to create 22 million jobs and generate $12.3 trillion in activity.

A select few stocks could skyrocket the most as rollout accelerates for this new tech. Early investors could see gains similar to buying Microsoft in the 1990s. Zacks' just-released special report reveals 8 stocks to watch. The report is only available for a limited time.

See 8 breakthrough stocks now>>

Want the latest recommendations from Zacks Investment Research? Today, you can download 7 Best Stocks for the Next 30 Days.
Click to get this free report
Universal Health Services, Inc. (UHS): Free Stock Analysis Report
Community Health Systems, Inc. (CYH): Free Stock Analysis Report
Tenet Healthcare Corporation (THC): Free Stock Analysis Report
HCA Healthcare, Inc. (HCA): Free Stock Analysis Report
To read this article on Zacks.com click here.
Zacks Investment Research