2 Tech Stocks to Ride on the Booming Virtual Reality Market
Virtual reality ("VR") is a representation of an artificial environment using cameras, sensors, and software. This technology has been gaining significant traction in recent times, driven by its affordability and wide-scale availability.

Per a recent PwC report, global spending on VR grew 36% year over year $2.6 billion in 2021. Moreover, global spending on VR products and services is expected to witness a CAGR of 24% for the 2021-2026 time frame, bringing the segment to $7.6 billion.

Faster and more advanced cellular networks, including 5G, are poised to improve VR experiences and create a larger potential market for cloud-based streaming applications. From gaming, education and industrial production to even fashion, nearly all industries in the market can benefit from VR technologies.

VR headsets like HTC's Vive and Vive Pro, Microsoft's Windows Mixed Reality and Sony's PlayStation VR provide competitive pricing and features, which are expected to intensify competition.
Stocks to Buy with Recent VR Developments
That said, let's take a look at two tech powerhouses that could be great VR plays ahead of this massive growth.

Apple AAPL is anticipated to launch its much-awaited virtual reality headsets in second-quarter 2023. Per analyst
https://twitter.com/mingchikuo/status/1534063920084058113
, the VR headsets will be launched a bit later than initially expected due to the Shanghai lockdown that interrupted its development.
Apple had acquired VR startup Spaces as well as a VR events company known as NextVR. NextVR provides live VR video content, courtesy of its partnerships with NBA, Wimbledon, Fox Sports et al.
Moreover, the iPhone-maker is rumored to launch its first AR headset in the second half of 2022. Per
9TO5 Mac
, which cited a Digitimes report, the rumored AR headset has completed the second phase of prototype testing and is expected to be in production in the second quarter of 2022. This high-end commercial-purpose device is expected to cost more than $2000.
Apple, which currently has a Zacks Rank #2 (Buy), has seen its stock lose 25.9% in the year-to-date period compared with the Zacks
Computer and Technology
sector's decline of 32.3%. The Zacks Consensus Estimate for its current-year earnings has moved up 0.8% to $6.16 per share over the past 60 days. The company's expected earnings growth rate for the current year is 8.9%. You can see
the complete list of today's Zacks #1 Rank (Strong Buy) stocks here
.
Apple Inc. Price and Consensus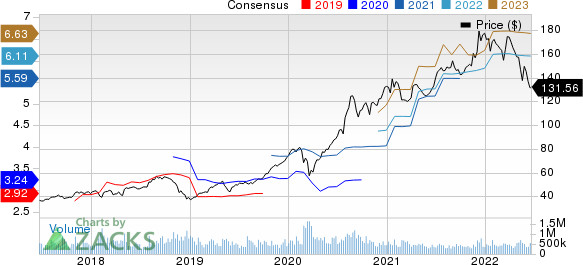 Qualcomm QCOM recently launched the Snapdragon Metaverse Fund, established to invest up to $100 million in innovative developers and companies building immersive experiences with AR, mixed reality, and VR.

The company is uniquely positioned to deliver superior VR experiences by designing for the extreme requirements of fully immersive mobile VR. By taking a system approach and custom designing specialized engines across the system-on-chip (SoC), Qualcomm Snapdragon XR1 platforms are engineered to provide an efficient heterogeneous computing solution that is optimized end-to-end for VR.

The Snapdragon XR2 platform delivers quick AI processing to support low-latency interactive feedback in a standalone device. It also supports faster Internet connections through Wi-Fi or 5G to ensure that content loads quickly and users can interact through the device online.

Qualcomm, which currently has a Zacks Rank #2, has seen its stock lose 33.8% in the year-to-date period compared with the Zacks Computer and Technology sector's decline of 32.3%. The Zacks Consensus Estimate for its current-year earnings has moved up 7% to $12.54 per share over the past 60 days. The company's expected earnings growth rate for the current year is 46.8%.
QUALCOMM Incorporated Price and Consensus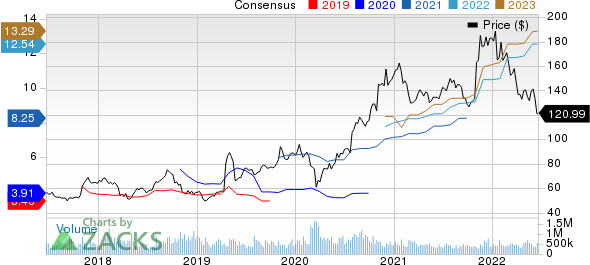 QUALCOMM Incorporated price-consensus-chart | QUALCOMM Incorporated Quote
Other Stocks to Watch in the Revolutionary VR Space
In April, Meta Platforms META began testing tools to sell digital assets and services in the virtual reality platform — Horizon world, an early iteration of the metaverse. This was a massive step for Mark Zuckerberg's bold ambitions to create the metaverse, as it will allow the development of commercial activity in the alternate reality independent of the real world.

The company is planning to introduce virtual coins, tokens and lending services on its social media apps to diversify from advertising revenues and develop primarily in the metaverse.

Sony Group Corporation SONY unveiled a VR headset for its PS5 gaming console in early 2022. Dubbed PSVR2, the new headset is billed to be one of the best-selling products in its category with an immersive gaming experience that is likely to capitalize on the increasing metaverse hype.

The PSVR2 is equipped with upgraded hardware for improved headset features and VR2 Sense controllers for greater immersion capabilities. The headset could be easily fitted with a single cable connected directly to PS5.

Video gaming chip giant Nvidia NVDA is already helping power the VR industry. It is ready to keep expanding its VR division as the market becomes more mainstream. Nvidia currently boasts multiple VR solutions, including its industry-leading Pascal GPUs.

The company has VR-specific designs for its GeForce GTX GPUs and it has created a software developer kit (or SDK) for its chips called VRWorks. The SDK helps developers deliver the best performance, produce the highest-quality images, and keep latency (the time from human input to system response) low.
Zacks Names "Single Best Pick to Double"
From thousands of stocks, 5 Zacks experts each have chosen their favorite to skyrocket +100% or more in months to come. From those 5, Director of Research Sheraz Mian hand-picks one to have the most explosive upside of all.
It's a little-known chemical company that's up 65% over last year, yet still dirt cheap. With unrelenting demand, soaring 2022 earnings estimates, and $1.5 billion for repurchasing shares, retail investors could jump in at any time.
This company could rival or surpass other recent Zacks' Stocks Set to Double like Boston Beer Company which shot up +143.0% in little more than 9 months and NVIDIA which boomed +175.9% in one year.
Free: See Our Top Stock and 4 Runners Up >>
Want the latest recommendations from Zacks Investment Research? Today, you can download 7 Best Stocks for the Next 30 Days.
Click to get this free report
QUALCOMM Incorporated (QCOM): Free Stock Analysis Report
Apple Inc. (AAPL): Free Stock Analysis Report
NVIDIA Corporation (NVDA): Free Stock Analysis Report
Sony Corporation (SONY): Free Stock Analysis Report
Meta Platforms, Inc. (META): Free Stock Analysis Report
To read this article on Zacks.com click here.