SM Energy's (SM) Q1 Loss Wider Than Expected, Revenues Lag
SM Energy Company SM reported first-quarter 2019 loss of 34 cents, wider than the Zacks Consensus Estimate of a loss of 28 cents. The reported figure also fared unfavorably with earnings of 7 cents a year ago.

Total revenues, which declined to $340.9 million from $769.6 million in the prior-year quarter, marginally missed the Zacks Consensus Estimate of $341 million.
The weak first-quarter 2019 results were primarily attributed to lower realized commodity prices and higher operating expenses.
SM Energy Company Price, Consensus and EPS Surprise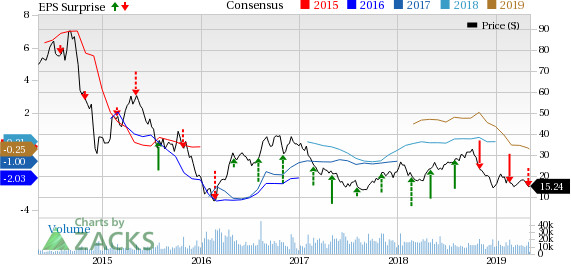 SM Energy Company Price, Consensus and EPS Surprise | SM Energy Company Quote
Operational Performance:

Equivalent Production Rises

The company's first-quarter production was 118.7 thousand barrels of oil equivalent per day (MBoe/d), up 5% from the year-ago level of 112.7 MBoe/d. The upside can be mainly attributed to higher oil and natural gas liquids production.

SM Energy produced 265.5 million cubic feet per day of natural gas in the quarter, down 5% year over year. However, oil production increased 13% year over year to 53.7 thousand barrels per day (MBbls/d). Natural gas liquids contributed 20.8 MBbls/d to total production volume, up 12% from the first-quarter 2018 level.

Realized Prices Decline

Due to hedging, the average equivalent price per barrel of oil equivalent (Boe) was $31.39 (including the effects of derivative settlements) compared with $35.34 in the year-ago quarter. Including hedging activities, average realized price of natural gas fell 25% year over year to $2.55 per thousand cubic feet. Average realized prices of oil fell 13% to $49.19 per barrel, while that of natural gas liquids grew 1% from the prior-year quarter to $19.67.

Cost & Expenses

On the cost front, unit lease operating expenses increased 5% year over year to $5.20 per Boe. Transportation expenses fell to $4.08 per Boe from $4.63 in the year-ago quarter. General and administrative expenses increased 10% to $3 per Boe from the prior-year level of $2.73. Additionally, depletion, depreciation and amortization expenses were up 29% to $16.63 per Boe from the year-ago level of $12.87.
Total exploration expenses fell to $11.3 million from $13.7 million in the year-ago quarter. Hydrocarbon production expenses in the quarter were recorded at $121.3 million compared with the year-ago level of $120.9 million. Total operating expenses in the quarter surged to $526.2 million from the year-ago period's $310.5 million, primarily due to a northbound jump in net derivative loss.

Balance Sheet

As of Mar 31, SM Energy had a cash balance of $14 million and long-term debt of $2,646.3 million. The company had a debt-to-capitalization ratio of 49.1%.

Guidance

SM Energy reiterated its full-year 2019 guidance. Production for second-quarter 2019 is projected within 11.5-11.9 million barrels of oil equivalent or 126-131 MBoe/d, of which 43-44% is expected to be oil. Second-quarter capital expenditure is expected in the range of $300-310 million.
In the second half of the year, the company expects to achieve production growth, while keeping capital expenditure within discretionary cash flow.
Zacks Rank and Stocks to Consider
Currently, SM Energy carries a Zacks Rank #3 (Hold). Prospective players in the energy space worth considering include Cactus, Inc. WHD, Hess Corporation HES and Apache Corporation APA, each holding a Zacks Rank #2 (Buy). You can see the complete list of today's Zacks #1 Rank (Strong Buy) stocks here.
Cactus' earnings growth is projected at 11.8% through 2019.
Hess' earnings are expected to grow 90.5% through 2019.
Apache beat the Zacks Consensus Estimate in each of the last four quarters, with average positive earnings surprise of 31%.
Radical New Technology Creates $12.3 Trillion Opportunity
Imagine buying Microsoft stock in the early days of personal computers… or Motorola after it released the world's first cell phone. These technologies changed our lives and created massive profits for investors.
Today, we're on the brink of the next quantum leap in technology. 7 innovative companies are leading this "4th Industrial Revolution" - and early investors stand to earn the biggest profits.
See the 7 breakthrough stocks now>>
Want the latest recommendations from Zacks Investment Research? Today, you can download 7 Best Stocks for the Next 30 Days.
Click to get this free report
SM Energy Company (SM): Free Stock Analysis Report
Apache Corporation (APA): Free Stock Analysis Report
Hess Corporation (HES): Free Stock Analysis Report
Cactus, Inc. (WHD): Free Stock Analysis Report
To read this article on Zacks.com click here.