Centennial (CDEV) Q4 Earnings Meet Estimates on Higher Output
Centennial Resource Development, Inc. CDEV reported adjusted fourth-quarter 2019 earnings of 4 cents per share, in line with the Zacks Consensus Estimate, primarily due to higher production and oil price realization. However, the bottom line declined from the year-ago quarter's 12 cents due to increased operating expenses, and lower natural gas and NGL prices.
Revenues from oil and gas sales rose to $256.4 million from $222.5 million a year ago. Moreover, the top line beat the consensus mark of $242 million.
CENTENNIAL RES Price, Consensus and EPS Surprise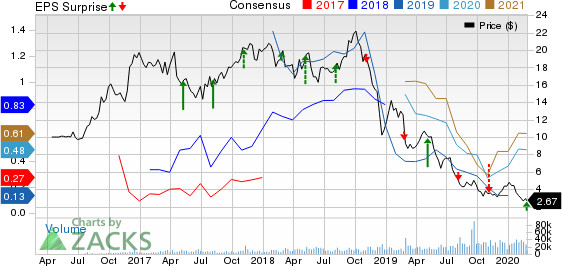 CENTENNIAL RES price-consensus-eps-surprise-chart | CENTENNIAL RES Quote
Proved Reserves
As of Dec 31, 2019, Centennial's total proved reserves of 301 million barrels of oil equivalent increased 15% year over year. Of the total proved reserves, oil contributed 50%, while natural gas and natural gas liquids accounted for 28% and 22%, respectively. Notably, its organic reserve replacement ratio was 243%.
Production Rises
Total production in the reported quarter averaged 79,734 barrels of oil equivalent per day (Boe/d), up from 69,609 Boe/d in the year-ago period. The metric also beat the Zacks Consensus Estimate of 76,000 Boe/d. Of the total output, 56.5% comprised crude oil. The upside can be attributed to strong well results in the Delaware Basin. Moreover, improved well results from New Mexico and Texas attributed to the rise.
Oil production averaged 45,031 barrels per day (Bbls/d), up from 39,978 Bbls/d in fourth-quarter 2018. Natural gas production amounted to 122,759 thousand cubic feet per day (Mcf/d), up from the year-ago quarter's 93,641 Mcf/d. Moreover, natural gas liquids production was 14,242 Bbls/d, higher than the year-ago quarter's 14,043 Bbls/d.
Price Realization
The company reported average realized crude price of $53.25 a barrel (excluding the effects of derivate settlements), up from $47.95 in the December quarter of 2018. However, average natural gas price dropped to $1.14 per Mcf from $1.82 a year ago. Natural gas liquids were sold at $17.47 a barrel, down from $23.60 in fourth-quarter 2018.
Operating Cost Rises
Centennial incurred $229.7 million of total operating costs in fourth-quarter 2019, higher than $173.7 million in the year-ago period. On a per Boe basis, the company's fourth-quarter lease operating expenses were $5.30, much higher than the year-ago level of $3.77. Gathering processing and transportation costs increased to $2.82 per Boe from the year-ago period's $1.94.
Capital Expenditure
In fourth-quarter 2019, it incurred capital expenditure of $$197.2 million, including $162.8 million in drilling and completion activities. Notably, the company reduced capital spending on facilities, infrastructure and others for four straight quarters.
Balance Sheet
At the end of the quarter under review, cash balance totaled $10 million. Long-term debt amounted to $900 million, reflecting a net debt to book equity capitalization of 25%. It had a total liquidity of $634 million.
Guidance
Centennial expects 2020 production in the range of 74,500-80,500 Boe/d. Oil production is expected within 42,000-45,600 Bbls/d for full-year 2020, the mid-point of which reflects a 3% year-over-year rise. Notably, the company provided full-year 2020 capital expenditure guidance of $590-$690 million, indicating 28% decline from 2019 levels.
Centennial is currently running five rigs. Based on the oil environment, it decided to reduce the count to four in April. Three rigs will be operating in Southern Delaware and one in Northern Delaware.
The company expects lease operating expenses for the full year in the range of $5.90-$6.50 per Boe, suggesting an increase from the 2019 level of $5.26. Gathering processing and transportation cost expectation is in the range of $3.00-$3.40, implying a rise from $2.62 in 2019.
Zacks Rank & Other Stocks to Consider
Centennial currently carries a Zacks Rank #2 (Buy). Other top-ranked stocks in the energy sector include Marathon Oil Corporation MRO, Chevron Corporation CVX and Hess Corporation HES, each carrying a Zacks Rank #2. You can see the complete list of today's Zacks #1 Rank (Strong Buy) stocks here.
Marathon Oil's earnings per share estimates of 46 cents for 2020 have witnessed seven upward revisions and one downward movement in the past 60 days.
Chevron's bottom line for 2020 is expected to rise 12.8% year over year.
Hess' bottom line for 2020 is expected to rise 93.7% year over year.
The Hottest Tech Mega-Trend of All
Last year, it generated $24 billion in global revenues. By 2020, it's predicted to blast through the roof to $77.6 billion. Famed investor Mark Cuban says it will produce "the world's first trillionaires," but that should still leave plenty of money for regular investors who make the right trades early.
See Zacks' 3 Best Stocks to Play This Trend >>
Want the latest recommendations from Zacks Investment Research? Today, you can download 7 Best Stocks for the Next 30 Days.
Click to get this free report
Marathon Oil Corporation (MRO): Free Stock Analysis Report
Chevron Corporation (CVX): Free Stock Analysis Report
Hess Corporation (HES): Free Stock Analysis Report
CENTENNIAL RES (CDEV): Free Stock Analysis Report
To read this article on Zacks.com click here.
Zacks Investment Research