Here's Why You Should Retain Lamar (LAMR) Stock Right Now
Lamar Advertising Company LAMR enjoys an impressive national footprint and is one of the leading providers of logo signs in the United States. A diversified tenant base across various sectors also acts as a tailwind for the company. However, stiff competition along with a high level of debt might act as a deterrent.
The company holds significant market share in the U.S. outdoor advertising business. Lamar has made substantial efforts to upgrade its assets in recent years, boosting occupancy in its existing advertising displays. The company's increased focus on bolstering billboard portfolio augurs well for long-term growth. It offers the largest network of digital billboards in the United States, with more than 3,600 displays.
Lamar operates in an industry that is characterized by high barriers to entry due to permitting restrictions. This is because the company owns permits, which allow out-of-home advertising at each location and these permits are the most prized assets gained in an acquisition. However, with control on the permits, inventory as well as the intrusion from both local and national market is restricted, providing the company with a solid competitive edge.
Apart from these, Lamar's inorganic growth looks impressive. Expansion activities in recent years bode well. Though in the wake of pandemic, the company had restricted acquisition activities as a means to conserve liquidity in 2020, it resumed strategic acquisitions this year.
In the first half of the ongoing year, Lamar completed acquisitions for a total cash purchase price of $27.2 million. Though there was only modest investment activity in the second quarter, management noted acceleration in acquisition pipeline since May and anticipates that 2021 will be an active year on the acquisition front.
Shares of this Zacks Rank #3 (Hold) company have appreciated 21.2% in the past six months, outperforming the industry's rally of 16.3%.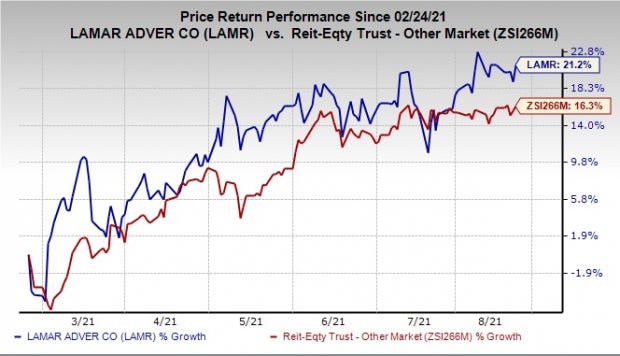 Image Source: Zacks Investment Research
While the company enjoys a significant market share in many of its small and medium-sized markets, stiff competition from other outdoor advertisers and other forms of media poses challenges for Lamar.
Moreover, the company's high debt level is a woe. Lamar's debt to total capital is high. The company ended the second quarter with total leverage of 3.5 times net debt to EBITDA, as defined under its credit facility. Besides, the pandemic-induced slowdown might continue hurting revenue growth and cash flow from operations, thereby limiting its ability to meet obligations.
Key Industry Picks
A few better-ranked REIT stocks are mentioned below:
The Zacks Consensus Estimate for OUTFRONT Media Inc.'s OUT ongoing-year funds from operations (FFO) per share has moved 3.4% upward in the past month. The stock has a Zacks Rank of 2 (Buy), at present. You can see the complete list of today's Zacks #1 Rank stocks here.
The Zacks Consensus Estimate for CubeSmart's CUBE 2021 FFO per share has moved up 7.5% in the past month. The stock currently carries a Zacks Rank of 2.
The Zacks Consensus Estimate for Geo Group Inc's GEO current-year FFO per share has moved 12.2% north in a month's time. The stock currently carries a Zacks Rank of 2.
Note: Anything related to earnings presented in this write-up represents funds from operations (FFO) — a widely used metric to gauge the performance of REITs.
Tech IPOs With Massive Profit Potential: Last years top IPOs surged as much as 299% within the first two months. With record amounts of cash flooding into IPOs and a record-setting stock market, this year could be even more lucrative.
See Zacks' Hottest Tech IPOs Now >>
Want the latest recommendations from Zacks Investment Research? Today, you can download 7 Best Stocks for the Next 30 Days.
Click to get this free report
Lamar Advertising Company (LAMR): Free Stock Analysis Report
CubeSmart (CUBE): Free Stock Analysis Report
Geo Group Inc The (GEO): Free Stock Analysis Report
OUTFRONT Media Inc. (OUT): Free Stock Analysis Report
To read this article on Zacks.com click here.
Zacks Investment Research