Manitowoc (MTW) Shares Up 6% Despite Reporting Q1 Loss
Shares of The Manitowoc Company, Inc. MTW have gained 6% since the company reported first-quarter 2021 earnings on May 6. Investors were upbeat about the improvement in order and backlog levels in the reported quarter, which positions the company well for improved results in the year. Manitowoc reported an adjusted loss per share of 6 cents in the quarter, which was narrower than the year-ago quarter's loss of 18 cents per share. However, the company missed the Zacks Consensus Estimate of earnings per share of 1 cent.

Including one-time items, the company reported loss per share of 9 cents in the quarter compared with a loss of 22 cents in the prior-year quarter.

Manitowoc's revenues improved 7.6% to $354 million from the prior-year quarter figure of $463 million. The top line beat the Zacks Consensus Estimate of $345 million.

Orders in the reported quarter increased 26% year over year to around $474 million. Backlog as of the end of the reported quarter was $662.5 million, up 27% from the year-ago quarter's end.
The Manitowoc Company, Inc. Price, Consensus and EPS Surprise
The Manitowoc Company, Inc. price-consensus-eps-surprise-chart | The Manitowoc Company, Inc. Quote
Operational Update
Cost of sales increased 7.5% year over year to $286 million in the reported quarter. Gross profit improved 8% year over year to $68.4 million. Gross margin was 19.3% in the reported quarter compared with 19.2% in the prior-year quarter.

Adjusted engineering, selling and administrative expenses rose 2.5% year over year to $57.3 million. Adjusted operating income was $11 million in the quarter, up from $7.2 million in the prior-year quarter. Adjusted operating margin in the reported quarter was 3.1% compared with 2.2% in the year-ago quarter. Adjusted EBITDA in the reported quarter was $21.1 million, up from $16.1 million in first-quarter 2020. Adjusted EBITDA margin expanded 100 basis points year over year to 6% in the quarter under review.
Financial Updates
Manitowoc reported cash and cash equivalents of $158.5 million as of Mar 31, 2021, up from $18.7 million as of Dec 31, 2020. Long-term debt was $300 million as of Mar 31, 2021, flat compared with Dec 31, 2020. The company generated $41 million of cash in operating activities in first-quarter 2021 compared with cash utilization of $79 million in the prior-year quarter.

The company has been witnessing positive trends in crane demand across all segments. However, lingering impact of COVID-19, input cost inflation and supply chain challenges are likely to persist for the balance of the year, more weighted towards the second-half results. Manitowoc is taking actions to mitigate these headwinds. Meanwhile, the company continues to look for acquisition opportunities and accelerate product development in its all-terrain product line. It also plans to scale-up its Chinese tower crane business and grow tower crane rental fleet in Europe.

Manitowoc initiated adjusted EBITDA guidance of $90 million to $105 million for 2021. The mid-point of the range indicates growth of 17% from the adjusted EBITDA of $83.1 million in 2020.
Share Price Performance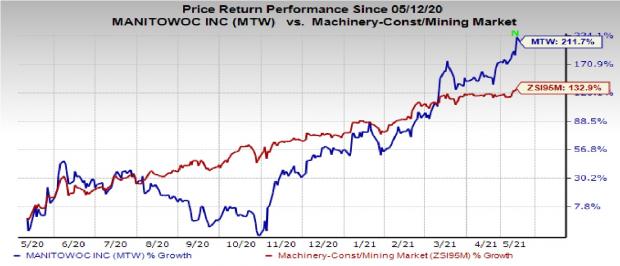 Over the past year, Manitowoc's shares have gained 211.7%, compared with the industry's rally of 132.9%.
Zacks Rank and Stocks to Consider
Manitowoc currently carries a Zacks Rank #3 (Hold).

Some better-ranked stocks in the Industrial Products sector include AGCO Corporation AGCO, Avery Dennison Corporation AVY and Caterpillar Inc. CAT. All of these stocks carry a Zacks Rank #2 (Buy). You can see the complete list of today's Zacks #1 Rank (Strong Buy) stocks here.

AGCO Corporation has a projected earnings growth rate of 54.6% for the current year. Shares of the company have soared 217% over the past year.

Avery Dennison has an estimated earnings growth rate of 20.8% for 2021. The company's shares have rallied 112% in a year's time.

Caterpillar has an expected earnings growth rate of 45.6% for the ongoing year. Over the past year, the stock has appreciated 131%.
Bitcoin, Like the Internet Itself, Could Change Everything
Blockchain and cryptocurrency has sparked one of the most exciting discussion topics of a generation. Some call it the "Internet of Money" and predict it could change the way money works forever. If true, it could do to banks what Netflix did to Blockbuster and Amazon did to Sears. Experts agree we're still in the early stages of this technology, and as it grows, it will create several investing opportunities.

Zacks' has just revealed 3 companies that can help investors capitalize on the explosive profit potential of Bitcoin and the other cryptocurrencies with significantly less volatility than buying them directly.

See 3 crypto-related stocks now >>
Want the latest recommendations from Zacks Investment Research? Today, you can download 7 Best Stocks for the Next 30 Days.
Click to get this free report
AGCO Corporation (AGCO): Free Stock Analysis Report
Caterpillar Inc. (CAT): Get Free Report
Avery Dennison Corporation (AVY): Free Stock Analysis Report
To read this article on Zacks.com click here.