Why the Earnings Streak Will Continue for Facebook (FB)
Looking for a stock that might be in a good position to beat earnings at its next report? Consider Facebook, Inc. FB, a firm in the Internet – Services industry, which could be a great candidate for another beat.
This company has seen a nice streak of beating earnings estimates, especially when looking at the previous two reports. In fact, in these reports, FB has beaten estimates by at least 15% in both cases, suggesting it has a nice short-term history of crushing expectations.
Earnings in Focus
Two quarters ago, FB expected to post earnings of $1.14 per share, while it actually produced earnings of $1.32 per share, a beat of 15.8%. Meanwhile, for the most recent quarter, the company looked to deliver earnings of $1.29 per share, when it actually saw earnings of $1.59 per share instead, representing a 23.3% positive surprise.
Facebook, Inc. Price and EPS Surprise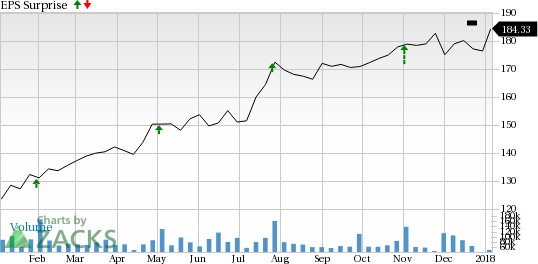 Facebook, Inc. Price and EPS Surprise | Facebook, Inc. Quote
Thanks in part to this history, recent estimates have been moving higher for Facebook. In fact, the Earnings ESP for FB is positive, which is a great sign of a coming beat.
After all, the Zacks Earnings ESP compares the most accurate estimate to the broad consensus, looking to find stocks that have seen big revisions as of late, suggesting that analysts have recently become more bullish on the company's earnings prospects. This is the case for FB, as the firm currently has a Zacks Earnings ESP of +3.42%, so another beat could be around the corner.
This is particularly true when you consider that FB has a great Zacks Rank #2 (Buy) which can be a harbinger of outperformance and a signal for a strong earnings profile. You can see the complete list of today's Zacks #1 Rank (Strong Buy) stocks here.
When you add this solid Zacks Rank to a positive Earnings ESP, a positive earnings surprise happens nearly 70% of the time, so it seems pretty likely that FB could see another beat at its next report, especially if recent trends are any guide.
Zacks Editor-in-Chief Goes "All In" on This Stock
Full disclosure, Kevin Matras now has more of his own money in one particular stock than in any other. He believes in its short-term profit potential and also in its prospects to more than double by 2019. Today he reveals and explains his surprising move in a new Special Report.
Want the latest recommendations from Zacks Investment Research? Today, you can download 7 Best Stocks for the Next 30 Days.
Click to get this free report
Facebook, Inc. (FB): Free Stock Analysis Report
To read this article on Zacks.com click here.
Zacks Investment Research