4 Solar Stocks That Have Outperformed the Broader Market YTD
The U.S. Solar market witnessed installations of 13.3 gigawatts (GW) of capacity in 2019, registering 23% annual growth. In spite of the coronavirus pandemic taking its toll on markets and industries across the globe in 2020, the U.S. Solar market has been moderately impacted compared to the other industries like airlines and commercial aerospace, which have been dealt heavy setbacks and are struggling to come to terms with the current situation.

Notably, the U.S. Solar market has gained a solid 49.1% year to date.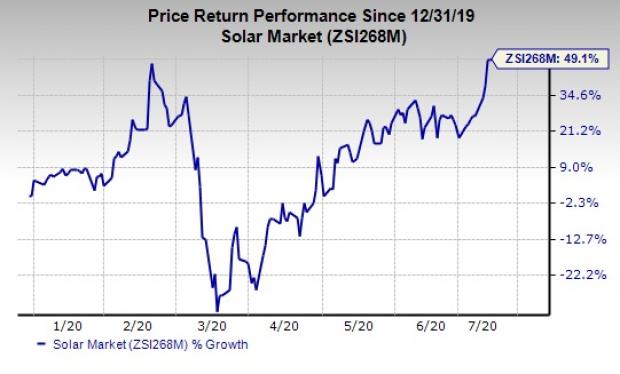 What Led to the Stellar Performance?

We have observed that solar energy has been leading growth in the global renewable space of late, apart from wind energy. Global use of renewable energy during the first quarter of 2020 was driven by a rise of about 3% in renewable electricity generation, after more than 100 GW of solar PV and about 60 GW of wind power projects were completed in 2019. Consequently, the share of renewable in global electricity generation jumped to nearly 28% in the first quarter from 26% in the year-ago quarter.

However, following the rapid spread of coronavirus, demand for electricity has gone down across the nation. Yet, it has been observed that solar socks are rallying amid low electricity demand as well as moderate supply chain disruptions. This is because renewable is resilient to drop in electricity demand as it is generally dispatched before other electricity sources due to cost effectiveness as well as regulatory priority.

Notably, the United States installed 3.6 GW of solar PV capacity in the first quarter of 2020 compared with 2.7GW of solar installations in the first quarter of 2019.

Another major catalyst driving this industry is declining operating costs. Per a report by Forbes, the cost to produce electricity using solar has plunged 90% and from 2019 to2022, it is projected to fall by as much as 34% more.

Stocks to Watch

Let's take a detailed look at four stocks from the Solar industry which have so far outperformed the broader market. Notably, their impressive first-quarter results boosted share prices along with a few other catalysts.

Sunrun Inc.'s RUN first-quarter revenues rose 8% year over year and its customer base totaled 298,000, up 23% year over year. Last month, The company partnered with Southern California Edison to launch one of the first residential energy storage virtual power plants in operation in the United States.

In July, Sunrun signed an agreement to acquire Vivint Solar VSLR for a value of $3.2 billion. With the close of trading on Jul 7, the stock price of Sunrun soared 22.6%. Notably, its shares have rallied 109.1% year to date compared with the industry's growth of 49.1%.

Enphase Energy's ENPH first-quarter revenues increased 105% year over year along with an all-time record for gross margin despite the pandemic. Backed by a flexible and resilient supply chain and strong manufacturing partners, the company was able to ship more than 2 million units of microinverters during the quarter.

Moreover, in June, Enphase expanded operations into Poland through collaboration with SmartX, which was instrumental in the distribution of its residential and small commercial microinverter systems throughout the country. Notably, shares of Enphase have gained 112.1% in the year-to-date period.

Shares of SolarEdge Technologies, Inc. SEDG have gained 67.6% year to date. The company's revenues surged 59% from the year-ago quarter's $271.9 million on solid shipments of 1.85 GW of (AC) of inverters during the first quarter.

Azure Power's AZRE fourth-quarter fiscal 2020 revenues surged 29% whereas its operating and committed megawatts soared 112% year over year. Further, the company's electricity generation during the quarter improved 65% year-over-year. Notably, its shares have rallied 33.1% year to date, against the S&P 500 market's decline of 0.8%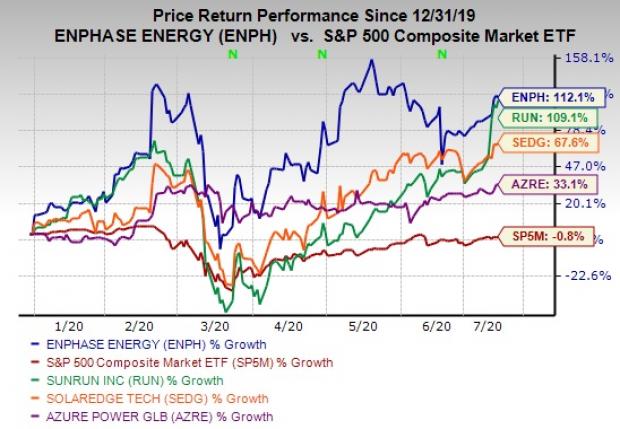 Today's Best Stocks from Zacks

Would you like to see the updated picks from our best market-beating strategies? From 2017 through 2019, while the S&P 500 gained and impressive +53.6%, five of our strategies returned +65.8%, +97.1%, +118.0%, +175.7% and even +186.7%.

This outperformance has not just been a recent phenomenon. From 2000 – 2019, while the S&P averaged +6.0% per year, our top strategies averaged up to +54.7% per year.

See their latest picks free >>
Want the latest recommendations from Zacks Investment Research? Today, you can download 7 Best Stocks for the Next 30 Days.
Click to get this free report
Enphase Energy, Inc. (ENPH): Free Stock Analysis Report
Vivint Solar, Inc. (VSLR): Free Stock Analysis Report
SolarEdge Technologies, Inc. (SEDG): Free Stock Analysis Report
Sunrun Inc. (RUN): Free Stock Analysis Report
Azure Power Global Ltd. (AZRE): Free Stock Analysis Report
To read this article on Zacks.com click here.
Zacks Investment Research