Here's Why You Should Retain Merit Medical (MMSI) Stock Now
Merit Medical Systems, Inc. MMSI is well-poised for growth in the coming quarters, backed by its potential in the Peripheral Intervention arm and strong international foothold. However, foreign exchange remains a concern.

The stock has gained 45.3%, compared with the industry's rally of 28.8% in a year's time. Meanwhile, the S&P 500 Index rallied 40% in the same time frame.

Merit Medical — with a market capitalization of $3.55 billion — offers various peripheral and cardiac intervention products to cure cardiac conditions specific to interventional cardiology and electrophysiology. It anticipates earnings to improve 12.9% over the next five years. Further, the company beat estimates in each of the trailing four quarters, the average surprise being 280.1%.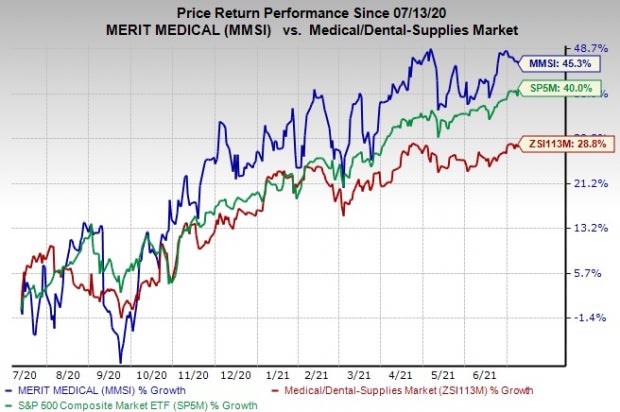 Image Source: Zacks Investment Research
Let's take a closer look at the factors that substantiate the company's Zacks Rank #3 (Hold).
What's Deterring the Stock?
Merit Medical, of late, has been expanding its operations outside the United States. This has made the company increasingly susceptible to market risk relating to foreign currency, which could have a negative impact on its margins and financial results.
What's Driving Growth?
Merit Medical's Peripheral Intervention arm buoys optimism. These products have been contributing significantly to the company's top-line growth. During the first quarter of 2021, the company's U.S. sales growth was driven by low single-digit increases in sales of both peripheral intervention and cardiac invention products. International sales growth during the quarter was driven by high single-digit growth in sales of Merit Medical's peripheral intervention products.

We are upbeat about Merit Medical's current geographical spread, including territories in the EMEA and APAC regions. During the first quarter of 2021, the company's sales growth in the APAC region was driven by strong demand in China.

The reported sales growth in the APAC region included the sales related to the company's ITL procedure pack business in Australia, which was closed in December 2020. In the EMEA region, the demand for critical care products remained strong throughout Europe in the first quarter despite persistent pandemic-led challenges.
Estimates Trend
Merit Medical has been witnessing an upward estimate revision trend for 2021. In the past 90 days, the Zacks Consensus Estimate for its earnings has moved north by 2.7% to $1.93.

The Zacks Consensus Estimate for second-quarter 2021 revenues is pegged at $251.4 million, suggesting growth of 15.1% from the year-ago reported number.
Stocks to Consider
Some better-ranked stocks from the broader medical space are Veeva Systems Inc. VEEV, Envista Holdings Corporation NVST and Align Technology, Inc. ALGN, each currently carrying a Zacks Rank #2 (Buy). You can see the complete list of today's Zacks #1 Rank (Strong Buy) stocks here.

Veeva Systems' long-term earnings growth rate is estimated at 15.8%.

Envista Holdings' long-term earnings growth rate is estimated at 26.4%.

Align Technology's long-term earnings growth rate is projected at 23.2%.
Breakout Biotech Stocks with Triple-Digit Profit Potential
The biotech sector is projected to surge beyond $775 billion by 2024 as scientists develop treatments for thousands of diseases. They're also finding ways to edit the human genome to literally erase our vulnerability to these diseases.
Zacks has just released Century of Biology: 7 Biotech Stocks to Buy Right Now to help investors profit from 7 stocks poised for outperformance. Our recent biotech recommendations have produced gains of +50%, +83% and +164% in as little as 2 months. The stocks in this report could perform even better.
See these 7 breakthrough stocks now>>
Want the latest recommendations from Zacks Investment Research? Today, you can download 7 Best Stocks for the Next 30 Days.
Click to get this free report
Align Technology, Inc. (ALGN): Free Stock Analysis Report
Merit Medical Systems, Inc. (MMSI): Free Stock Analysis Report
Veeva Systems Inc. (VEEV): Free Stock Analysis Report
Envista Holdings Corporation (NVST): Free Stock Analysis Report
To read this article on Zacks.com click here.
Zacks Investment Research