Citrix (CTXS) is Reportedly Looking for Potential Buyers
Citrix Systems CTXS is holding discussions with its advisers to explore the company's sale amid a dismal performance on the trading front, per a report from Bloomberg. There is no official word on the matter from the concerned company.
Citing sources familiar with the matter, Bloomberg stated that Citrix will be assessing the interest of the potential buyers over the next few weeks. The company is exploring strategic alternatives after activist investor Elliot Investment Management bought a 10% stake in the company, added the report.
On a year-to-date basis, shares of Citrix are down 15.8% compared with the industry's growth of 29.1%. In the past year, shares have declined 18.9% against the S&P 500 index's rally of 33.8%.
However, following the latest Bloomberg report, shares of Citrix are up 5.4% in the premarket hours on Sep 15.
Citrix Systems, Inc. Price and Consensus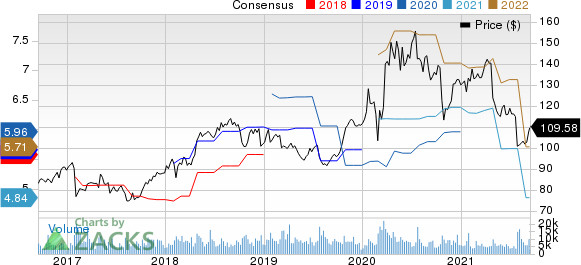 Citrix Systems, Inc. price-consensus-chart | Citrix Systems, Inc. Quote
What Ails Citrix?
Citrix is one of the well-known providers of virtualization, networking and cloud computing solutions to more than 400,000 organizations worldwide.
Citrix's performance is affected by the ongoing business transition to subscription-based model. The transition is exerting pressure on Product and License revenues as well as Support and Services revenues.
Citrix also has a highly-leveraged balance sheet. As of Jun 30, 2021, the company's cash and cash equivalents and investments stood at $532 million, while long-term debt at the end of the quarter was $3.474 billion. In first-quarter 2021, Citrix entered into a $1-BILLION unsecured term loan agreement to finance the buyout of Wrike. It also issued $750 million worth of senior notes (slated to mature in 2026).
In the last reported quarter, the company announced that it was implementing several changes to its sales organization as well as processes and go-to-market strategies in the second half of 2021 to boost its software as a service ("SaaS") business. However, Citrix slashed its outlook for 2021 due to a negative impact from these organizational changes.
For 2021, Citrix expects revenues between $3.22 billion and $3.25 billion compared with the earlier guidance of $3.38-$3.42 billion. Non-GAAP earnings are now expected between $4.75 and $4.95 per share. Earlier, the company had anticipated non-GAAP earnings between $5.60 and $5.80 per share.
Stiff competition from VMware's Horizon, Workspace ONE as well as AirWatch offerings and Amazon's AMZN WorkSpaces as well as significant exposure to foreign markets are other persistent concerns.
Nonetheless, the company is likely to gain from robust uptake of unified digital workspace solutions amid continuation of work from home as well as the adoption of a flexible work model. The buyout of Wrike also bodes well in the long haul.
Zacks Rank and Stocks to Consider
At present, Citrix carries a Zacks Rank #5 (Strong Sell).
Some other better-ranked stocks in the Computer Technology sector include Microsoft MSFT, and Cadence Design Systems CDNS. Both the stocks carry a Zacks Rank #2 (Buy). You can see the complete list of today's Zacks #1 (Strong Buy) Rank stocks here.

Long-term earnings growth rate for Microsoft and Cadence is pegged at 11.1% and 11.7%, respectively.
Time to Invest in Legal Marijuana
If you're looking for big gains, there couldn't be a better time to get in on a young industry primed to skyrocket from $17.7 billion back in 2019 to an expected $73.6 billion by 2027.
After a clean sweep of 6 election referendums in 5 states, pot is now legal in 36 states plus D.C. Federal legalization is expected soon and that could be a still greater bonanza for investors. Even before the latest wave of legalization, Zacks Investment Research has recommended pot stocks that have shot up as high as +285.9%.
You're invited to check out Zacks' Marijuana Moneymakers: An Investor's Guide. It features a timely Watch List of pot stocks and ETFs with exceptional growth potential.
Today, Download Marijuana Moneymakers FREE >>
Want the latest recommendations from Zacks Investment Research? Today, you can download 7 Best Stocks for the Next 30 Days.
Click to get this free report
Amazon.com, Inc. (AMZN): Free Stock Analysis Report
Microsoft Corporation (MSFT): Free Stock Analysis Report
Citrix Systems, Inc. (CTXS): Free Stock Analysis Report
Cadence Design Systems, Inc. (CDNS): Free Stock Analysis Report
To read this article on Zacks.com click here.
Zacks Investment Research