4 Retail Stocks That Look Promising Despite Soft December Sales
U.S. retail sales fell in the month of December, as inflation wary shoppers curtailed their discretionary spending. Rapidly rising Omicron cases also disrupted consumer activity. The decline was steeper than expected and marked the first drop following four successive monthly increases.

Concerns related to product shortages due to the festering supply chain issues prompted consumers to kick start their holiday shopping well in advance. This might have resulted in some pullback in spending in December, which otherwise is a strong month for retailers. In December, the Commerce Department stated that U.S. retail and food services sales decreased 1.9% sequentially to $626.8 billion, following a revised reading of a 0.2% jump in November.

The fall in December retail sales was the steepest in 10 months. It can primarily be attributed to lower spending at furniture & home furnishings stores, electronics & appliances stores, clothing & clothing accessories outlets, and sporting goods, hobby, book & music stores. We note that sales at non-store retailers also declined sharply.
Let's take a look at category-wise sales on a month-over-month basis.
Image Source: U.S. Census Bureau
While the retail sales declined month-on-month basis, the metric increased year over year. Pent-up savings from stimulus payments and rising wages have been acting as tailwinds. Markedly, U.S. retail sales climbed 16.9% year over year in the month of December 2021. This followed a year-over-year increase of 18.2% registered in the month of November.
Traditionally, November and December period combined constitute the U.S. holiday season, which accounts for a sizeable chunk of yearly revenues for retailers. According to the data released by National Retail Federation, holiday retail sales, excluding automobile dealers, gasoline stations and restaurants, increased 14.1% year over year to $886.7 billion. The retail trade group also informed that online and other non-store sales grew 11.3% to $218.9 billion during the festive season.
Will the Momentum Last?
The industry is currently grappling with supply chain bottlenecks, rising freight charges and labor shortages. Inability to meet the demand, failure to restock inventory at fair prices or delay in getting the products delivered to consumers' doorsteps could compound retailers' woes. Also, soaring Omicron cases and inflationary headwind have been dampening consumer sentiment.

Nonetheless, retailers have been finding innovative ways to navigate through these challenges. They have been increasing product visibility on online platforms, enhancing customer engagement on social channels and making logistics improvements. Companies have been deploying a reasonable number of associates to deal with the curbside and in-store pickup of online purchases as well as doorstep delivery. The industry players have been even rapidly embracing the "buy now, pay later" model to entice shoppers amid higher retail prices.

That said, we have highlighted four stocks from the Retail - Wholesale sector that look well-positioned based on their sound fundamentals and earnings growth prospects. These stocks have either a Zacks Rank #1 (Strong Buy) or 2 (Buy). You can see the complete list of today's Zacks #1 Rank stocks here.
Past Year Price Performance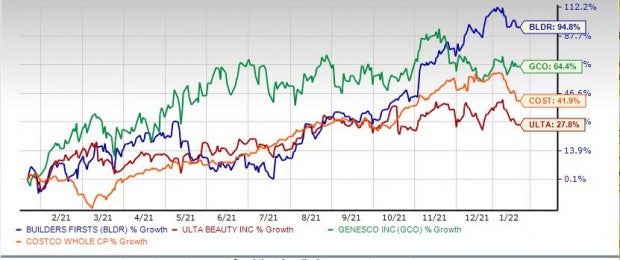 Image Source: Zacks Investment Research
4 Prominent Picks
Builders FirstSource, Inc. BLDR, which manufactures and supplies building materials, manufactured components, and construction services, is a potential pick. The company's focus on faster-growth categories, disciplined pricing and strategic buyouts bodes well. Acquisitions are an important part of Builders FirstSource's growth strategy. It recently concluded the buyout of National Lumber, the largest independent building materials supplier in New England. Also, strong demand for single-family housing has been supporting top-line growth.

Builders FirstSource has a trailing four-quarter earnings surprise of 71.5%, on average. It sports a Zacks Rank #1. The Zacks Consensus Estimate for Builders FirstSource's current financial year sales and EPS suggests growth of 129.1% and 207.6%, respectively, from the year-ago period.

You may invest in Ulta Beauty, Inc. ULTA. The company has been strengthening its omni-channel business and exploring the potential of both physical and digital facets. It has been implementing various tools to enhance guests' experience, like offering a virtual try-on tool and in-store education, and reimagining fixtures, among others. Ulta Beauty focuses on offering customers a curated and exclusive range of beauty products through innovation.

Impressively, this beauty retailer and the premier beauty destination for cosmetics, fragrance, skincare products, hair care products and salon services has a trailing four-quarter earnings surprise of 76%, on average. We note that this Zacks Rank #1 company has an estimated long-term earnings growth rate of 16.5%. The Zacks Consensus Estimate for Ulta Beauty's current financial year sales and EPS suggests growth of 39.8% and 268%, respectively, from the year-ago period.

We suggest betting on Genesco Inc. GCO. This Nashville-based specialty retailer of footwear and accessories is poised to benefit from digital and omnichannel potential, robust full-priced selling, merchandise offerings and cost management. Strong vendor relationships and close consumer connections also bode well. The company recently entered into a new three-year licensing agreement with heritage running brand ETONIC.

Genesco's bottom line has outperformed the Zacks Consensus Estimate by a wide margin in the trailing four quarters. The Zacks Consensus Estimate for current financial year sales and EPS suggests growth of 35.6% and 673.7%, respectively, from the year-ago period. Genesco sports a Zacks Rank #1.

You may bet on Costco Wholesale Corporation COST. The company's growth strategies, better price management, decent membership trends and increasing penetration of e-commerce business have been contributing to its performance. Cumulatively, these factors have been aiding this operator of membership warehouses in registering an impressive comparable sales run. Costco has been rapidly adopting the omni-channel mantra to provide a seamless shopping experience, whether online or in stores.

Costco has a trailing four-quarter earnings surprise of 8.3%, on average. This Zacks Rank #2 company has an estimated long-term earnings growth rate of 8.8%. The Zacks Consensus Estimate for Costco's current financial year sales and EPS suggests growth of 10.9% and 14%, respectively, from the year-ago period.
Just Released: Zacks Top 10 Stocks for 2022
In addition to the investment ideas discussed above, would you like to know about our 10 top picks for the entirety of 2022?
From inception in 2012 through 2021, the Zacks Top 10 Stocks portfolios gained an impressive +1,001.2% versus the S&P 500's +348.7%. Now our Director of Research has combed through 4,000 companies covered by the Zacks Rank and has handpicked the best 10 tickers to buy and hold. Don't miss your chance to get in…because the sooner you do, the more upside you stand to grab.
See Stocks Now >>
Want the latest recommendations from Zacks Investment Research? Today, you can download 7 Best Stocks for the Next 30 Days.
Click to get this free report
Costco Wholesale Corporation (COST): Free Stock Analysis Report
Ulta Beauty Inc. (ULTA): Free Stock Analysis Report
Builders FirstSource, Inc. (BLDR): Free Stock Analysis Report
Genesco Inc. (GCO): Free Stock Analysis Report
To read this article on Zacks.com click here.
Zacks Investment Research