Allergan Announces FDA Acceptance of Glaucoma Candidate NDA
Allergan plc AGN announced that the FDA has accepted the new drug application ("NDA") for its investigational biodegradable implant candidate, Bimatoprost SR. The NDA is seeking approval of the candidate for lowering intraocular pressure ("IOP") in patients with open-angle glaucoma or ocular hypertension. A decision from the FDA is expected by the first half of 2020.
Bimatoprost SR will be the first sustained-release drop-free treatment option for the indication, if approved, in the United States.
Please note that Bimatoprost SR is the sustained-release formulation of Allergan's marketed drug, Lumigan, approved for a similar indication.
Allergan's shares have increased 21.6% this year so far against the industry's decrease of 4.5%.

The NDA was supported by data from two pivotal phase III ARTEMIS studies. The phase III studies compared Bimatoprost SR in patients with open-angle glaucoma or ocular hypertension with timolol eye drops, a FDA standard comparator. Data from the studies showed that Bimatoprost SR reduced IOP by approximately 30% over the 12-week primary efficacy period, demonstrating non-inferiority to timolol.
After three months of treatment with Bimatoprost SR more than 80% of patients remained treatment free without any additional treatment to maintain IOP control for at least a year. Moreover, the candidate was well tolerated in patients.
Glaucoma can lead to irreversible vision loss. The targeted patient population represents a significant opportunity as there are 130 million globally suffering from glaucoma. This number is expected to increase to $148 million over the next four years. A treatment free period of nearly a year after three administrations of the implant will likely give patients freedom from more frequent administrations of currently available treatment options. This may lead to promising uptake for Bimatoprost SR.
We remind investors that, in March, Aerie Pharmaceuticals AERI received FDA approval for Rocklatan, a combination of Aerie's Rhopressa and Pfizer's PFE Xalatan, for a similar patient population targeted by Bimatoprost SR. Moreover, Ocular Therapeutix OCUL is developing a sustained release formulation of travoprost for a similar indication.
Meanwhile, Allergan has more than 65 projects in mid-to-late stage development including six key programs including ubrogepant and atogepant for migraine and Abicipar for age-related macular degeneration ("AMD"). In May, schizophrenia drug, Vraylar's (cariprazine) label was expanded to include bipolar depression. The NDA for ubrogepant is under review and a decision is expected in the fourth quarter of 2019. The company's biosimilar pipeline also provides significant growth opportunity.
However, the company is facing loss of exclusivity for many blockbuster products. Rising generic competition and anticipated branded competition for key drugs are likely to have an unfavorable impact on revenues. Hence, successful development of pipeline candidates is necessary for the company to offset branded/generic competition.
IVERIC bio Inc Price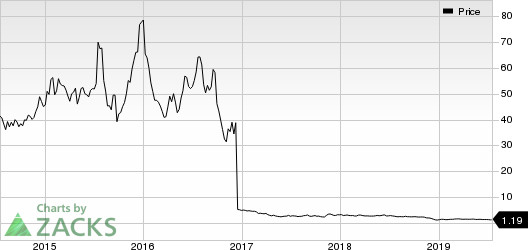 Zacks Rank
Allergan currently carries a Zacks Rank #3 (Hold). You can see the complete list of today's Zacks #1 Rank (Strong Buy) stocks here.
More Stock News: This Is Bigger than the iPhone!
It could become the mother of all technological revolutions. Apple sold a mere 1 billion iPhones in 10 years but a new breakthrough is expected to generate more than 27 billion devices in just 3 years, creating a $1.7 trillion market.
Zacks has just released a Special Report that spotlights this fast-emerging phenomenon and 6 tickers for taking advantage of it. If you don't buy now, you may kick yourself in 2020.
Click here for the 6 trades >>
Want the latest recommendations from Zacks Investment Research? Today, you can download 7 Best Stocks for the Next 30 Days.
Click to get this free report
Pfizer Inc. (PFE): Free Stock Analysis Report
Allergan plc (AGN): Free Stock Analysis Report
Aerie Pharmaceuticals, Inc. (AERI): Free Stock Analysis Report
Ocular Therapeutix, Inc. (OCUL): Free Stock Analysis Report
To read this article on Zacks.com click here.
Zacks Investment Research