Will Encompass Health (EHC) Gain From Inpatient Rehab Business?
Encompass Health Corp. EHC recently announced that it is exploring strategic alternatives for its home health and hospice business. With this separation, the company plans to focus on growing its core business that is its inpatient rehabilitation.
The company is mulling over various options, such as full or partial splitting of its home health and hospice business from the parent entity through an initial public offering, spin-off, merger, sale or other transaction.
Encompass Health is making concerted efforts to grow its inpatient rehabilitation business. In January this year, the company acquired 68% operations of a 13-bed inpatient rehabilitation unit in Denver, CO via a joint venture with Portercare Adventist Health System. In May, it acquired 51% of the operations of a 45-bed inpatient rehabilitation unit in Dayton, OH through a joint venture with Premier Health Partners
The company's strong inpatient rehabilitation business is on track to deliver another impressive performance on the back of planned bed additions at a number of its existing hospitals, acquisitions and construction of new hospitals. The inpatient rehabilitation industry remains highly fragmented, which gives the company an edge to tap this market.
During the third quarter of 2020, management announced plans to build seven new inpatient rehabilitation hospitals and added 36 beds to the present portfolio. These announcements bring the company's count of planned new hospital openings to eight, each in 2021 and 2022.
The company's Home Health and Hospice business accounted for nearly 24% of its 2019 revenues. Its home health business is the nation's fourth largest provider of Medicare-certified skilled home health services in terms of revenues. While its hospice business is the nation's eleventh largest provider of Medicare-certified hospice services in terms of revenues. As of Sep 30, 2020, the company provided home health services in 242 locations and hospice services in 83 locations across 31 states with concentrations on the Southeast and Texas.
Encompass Health acquired a significant portion of its home health and hospice business when it purchased 83.3% shares of EHHI Holdings, Inc. on Dec 31, 2014. As of Feb 19, 2020, it owned 98.8% of EHHI. Over these years, a number of acquisitions were made in this business. Also, revenues have grown consistently in the past many years. However, in the first nine months of 2020, revenues from this segment dipped 0.9%
In six months' time, Encompass Health has rallied 32% compared with its industry's growth of 24.4%.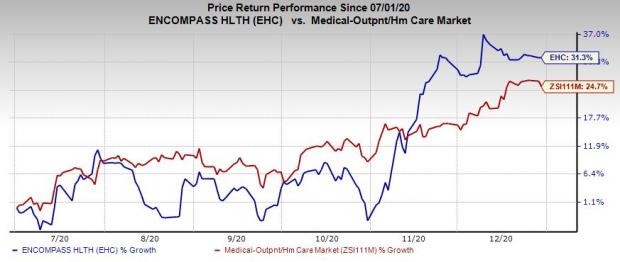 The stock carries a Zacks Rank #3 (Hold), currently. A few better-ranked stocks in the same space are Amedisys, Inc. AMED, Addus HomeCare Corporation ADUS and Option Care Health, Inc. OPCH, each carrying a Zacks Rank #2 (Buy), presently. You can see the complete list of today's Zacks #1 Rank (Strong Buy) stocks here.
Earnings of Addus HomeCare, Amedisys and Option Care beat estimates in the last reported quarter by 16.92%, 76.38% and 125%, respectively.
The Hottest Tech Mega-Trend of All
Last year, it generated $24 billion in global revenues. By 2020, it's predicted to blast through the roof to $77.6 billion. Famed investor Mark Cuban says it will produce "the world's first trillionaires," but that should still leave plenty of money for regular investors who make the right trades early.
See Zacks' 3 Best Stocks to Play This Trend >>


Want the latest recommendations from Zacks Investment Research? Today, you can download 7 Best Stocks for the Next 30 Days.
Click to get this free report
Amedisys, Inc. (AMED): Free Stock Analysis Report
Addus HomeCare Corporation (ADUS): Free Stock Analysis Report
Encompass Health Corporation (EHC): Free Stock Analysis Report
Option Care Health, Inc. (OPCH): Free Stock Analysis Report
To read this article on Zacks.com click here.
Zacks Investment Research