RBC Bearings (ROLL) Displays Bright Prospects, Risks Persist
On May 13, we issued an updated research report on RBC Bearings Incorporated ROLL.
In the past month, this Zacks Rank #3 (Hold) stock has gained 5.5% against industry's decline of 0.8%.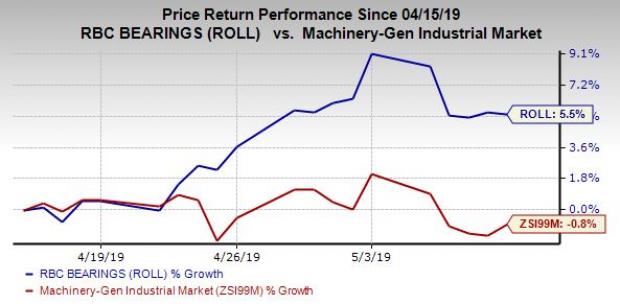 Existing Scenario
RBC Bearings has been gaining from strength in its industrial and aerospace end markets. The company perceives that solid industrial original equipment manufacturers (OEM) as well as mining, oil and gas, and machine tool demand will drive industrial revenues, going forward. In addition, new contracts and higher defense and aerospace OEM demand are likely to strengthen its aerospace sales in the quarters ahead. Notably, on a year-over-year basis, the company anticipates revenue growth of 1.7-2.9% for fourth-quarter fiscal 2019.
Also, over the past few quarters, the company has been improving liquidity on the back of increased cash generation. RBC Bearings intends to lower its debt burden, fund new growth-oriented investments and provide higher returns to shareholders with these proceeds. As a matter of fact, the company reduced its debt by $83.4 million in first nine months of fiscal 2019 (ended Dec 29, 2018).
However, rising cost of sales remains a cause of concern for RBC Bearings. Notably, the company's cost of sales increased 1.2% year over year in the third quarter of fiscal 2019 (ended Dec 29, 2018). Also, its selling, general and administrative expenses jumped 3.5%. Notably, material price inflation and higher personnel costs are escalating the company's aggregate expenses of late.
RBC Bearings' aerospace sales in third-quarter fiscal 2019 were hurt by certain supply-chain constraints, both internal and external, which affected several of its aerospace divisions. These issues might continue to dent its performance, going forward.
Stocks to Consider
Some better-ranked stocks from the same space are Roper Technologies, Inc. ROP, Dover Corporation DOV and DXP Enterprises, Inc. DXPE. While Roper sports a Zacks Rank #1 (Strong Buy), Dover and DXP Enterprises carry a Zacks Rank #2 (Buy). You can see the complete list of today's Zacks #1 Rank stocks here.
Roper delivered average earnings surprise of 8.43% in the trailing four reported quarters.
Dover pulled off average positive earnings surprise of 8.61% in the previous four reported quarters.
DXP Enterprises delivered average earnings surprise of 48.47% in the trailing four reported quarters.
Zacks' Top 10 Stocks for 2019
In addition to the stocks discussed above, would you like to know about our 10 finest buy-and-holds for the year?
Who wouldn't? Our annual Top 10s have beaten the market with amazing regularity. In 2018, while the market dropped -5.2%, the portfolio scored well into double-digits overall with individual stocks rising as high as +61.5%. And from 2012-2017, while the market boomed +126.3, Zacks' Top 10s reached an even more sensational +181.9%.

See Latest Stocks Today >>
Want the latest recommendations from Zacks Investment Research? Today, you can download 7 Best Stocks for the Next 30 Days.
Click to get this free report
Roper Technologies, Inc. (ROP): Free Stock Analysis Report
DXP Enterprises, Inc. (DXPE): Free Stock Analysis Report
Dover Corporation (DOV): Free Stock Analysis Report
RBC Bearings Incorporated (ROLL): Free Stock Analysis Report
To read this article on Zacks.com click here.
Zacks Investment Research