Telecom Stock Roundup: Verizon, Ericsson Beat Q3 Earnings Estimates & More
Over the past five trading days, U.S. telecom stocks witnessed a late flurry after a relatively flat trajectory. This was primarily led by optimism surrounding the passage of the $1.2 trillion infrastructure bill in the House driven by President Biden's continued efforts to broker a deal between the warring factions of the Democrats. The bill has been stuck in a potential stalemate for weeks, as several progressive Democrats wanted it to be tied to the larger $3.5 trillion budget reconciliation bill that is facing massive backlash from both Republicans and Democrats. The Democrats have presently set a deadline of Oct 31 to pass the bill, the day on which major transportation funding programs are slated to expire. Biden is reportedly negotiating with the progressives and has put forth a range of $1.9 trillion to $2.2 trillion for the social spending reconciliation package. The ongoing negotiations are expected to lead to a broader consensus on some of the sweeping policies that the government is aiming to implement before November 2022 congressional elections. In addition, a solid start to the earnings season with a healthy performance from hitherto reported companies likely buoyed the upswing over the past week.

The infusion of federal funds to improve broadband infrastructure for greater access and deeper penetration in the underserved domestic markets is likely to bridge the digital divide and help realize President's Biden goal of providing all Americans with affordable Internet connectivity. The infrastructure investments are further billed as a critical factor to better compete with foreign adversaries such as China. The bill is also likely to pave the way for $52 billion in funding for the domestic semiconductor industry and boost the production of chips. The legislation that was delayed due to infighting among Democrats is likely to be back on track, as lawmakers are expected to quickly reconcile their differences and get it ready for Biden's signature to be deemed as a law.

Meanwhile, Republican FCC Commissioner Brendan Carr has called for stiff restrictions against China-based drone maker SZ DJI Technology Co., which accounts for more than half of U.S. drone sales. He suggested that the federal agency should impose stricter norms to curb its operations, as the world's largest drone maker reportedly collects sensitive data from critical infrastructure facilities and other government establishments. The FCC has already laid out new rules for the approval of entities operating in the United States with a certain level of foreign investment or control. The mandate requires companies with at least 5% foreign ownership interest to submit extensive personally identifiable information for all non-U.S. persons with access to submarine cable facilities when applying for FCC licenses. Such stricter regulations are likely to ensure that national security interests are not compromised as the battle for 5G supremacy heats up.

Regarding company-specific news, quarterly earnings and strategic agreements primarily took the center stage over the past five trading days.
Recap of the Week's Most Important Stories
1. Verizon Communications Inc. VZ reported relatively strong third-quarter 2021 results with the bottom line beating the Zacks Consensus Estimate. Backed by a disciplined network strategy for long-term growth along with a focused roadmap for technology leadership, the company witnessed a healthy demand curve across core businesses. Verizon expects this momentum to continue throughout the rest of the year driven by customer-centric business model and diligent execution of operational plans and revised its earlier guidance to better reflect the improving business conditions.

Excluding non-recurring items, non-GAAP net income for the reported quarter was $1.41 per share, which surpassed the Zacks Consensus Estimate by 5 cents. Total quarterly operating revenues increased 4.3% year over year to $32,915 million and included two months of Verizon Media revenues as the sale closed on Sep 1. Driven by strength across core business verticals and strong demand for seamless broadband connectivity, Verizon recorded healthy wireless service revenue growth and solid performance within the fiber optic service (Fios) unit. The top line, however, missed the consensus estimate of $33,411 million.

2. Ericsson ERIC reported mixed third-quarter 2021 results, wherein the bottom line beat the Zacks Consensus Estimate but the top line missed the same. The Sweden-based telecom gear maker continues to expand its footprint, despite challenges in China, by leveraging its competitive 5G portfolio.

The business aviation market in Brazil is reportedly the third largest in the world and assumes relative importance as the key gateway to Latin American markets. Business aviation is often considered as an economic lifeline for areas with limited options for business transportation and contributes significantly to the local and national economies. With government-friendly policies, the business aviation market in Brazil is likely to witness a healthy growth momentum, benefiting companies like Viasat in the long run.

3. Iridium Communications Inc. IRDM reported solid third-quarter 2021 results, with the bottom line matching the Zacks Consensus Estimate and the top line surpassing the same. Higher service revenues, subscriber additions, healthy liquidity position, and strong operational momentum on the back of a robust demand environment drove Iridium's financial performance.

On a GAAP basis, net loss in the September quarter was $2.1 million or a loss of 2 cents per share compared with a net loss of $4 million or a loss of 3 cents per share in the prior-year quarter. The year-over-year narrower loss was mainly driven by operating profit improvement and lower net interest expenses. The bottom line matched the Zacks Consensus Estimate. Quarterly revenues totaled $162.2 million compared with $151.5 million in the year-ago quarter, mainly driven by strength in subscriber equipment sales and higher service revenues. The top line surpassed the consensus mark of $155 million.

4. America Movil, S.A.B. de C.V. AMX reported mixed third-quarter 2021 results, wherein the bottom line lagged the Zacks Consensus Estimate but the top line beat the same. The company is expecting to benefit from the significant economic recovery in the United States with signs of strong foreign exchange across financial markets.

Quarterly net income per ADR came in at 24 cents compared with 26 cents in the prior-year quarter. The bottom line missed the Zacks Consensus Estimate by 8 cents. Despite a strong demand for broadband services, quarterly total revenues dipped 2.6% to MxP253,375 million ($12,654.3 million). This was primarily due to lower service and equipment revenues. The top line surpassed the consensus estimate of $12,370 million.

5. Nokia Corporation NOK has been chosen by ARC Solutions to provide a high-capacity data center interconnection solution in the Middle East. ARC, a joint venture between UAE's du and Bahrain's Batelco, provides networking solutions that simplify connecting and optimizing applications and services across the Middle East.

The initial deployment, covering four major business locations, was made in just six months to meet the rising traffic demands from ARC customers. ARC has deployed Nokia's IP and optical solutions to provide high-capacity connectivity between SmartHub in UAE, datamena in UAE, GlobalZone in Bahrain, and Muscat MC1 in Oman.
Price Performance
The following table shows the price movement of some of the major telecom stocks over the past week and six months.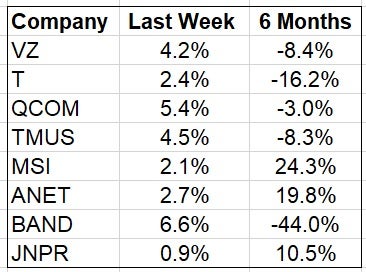 Image Source: Zacks Investment Research
In the past five trading days, Bandwidth has been the best performer with its stock gaining 6.6% while none of the stocks declined.

Over the past six months, Motorola has been the best performer with its stock appreciating 24.3% while Bandwidth has declined the most with its stock falling 44%.

Over the past six months, the Zacks Telecommunications Services industry has declined 9.3% while the S&P 500 has rallied 9.2%.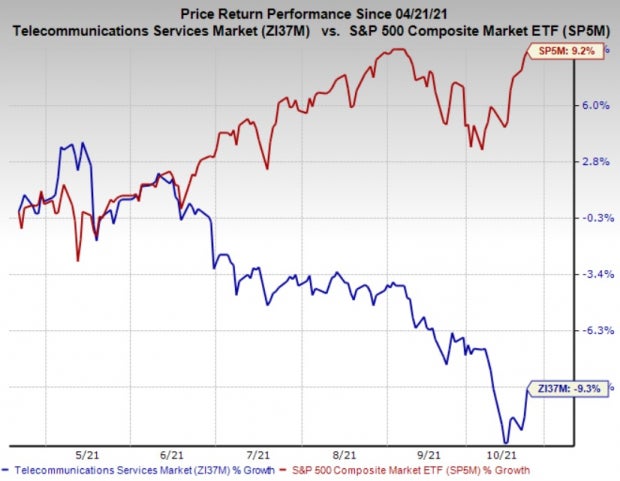 Image Source: Zacks Investment Research
What's Next in the Telecom Space?
In addition to 5G deployments and product launches, all eyes will remain glued to how the administration implements key policy changes to safeguard the interests of the industry and address the bottlenecks to spur growth as the earnings season picks up.
Infrastructure Stock Boom to Sweep America
A massive push to rebuild the crumbling U.S. infrastructure will soon be underway. It's bipartisan, urgent, and inevitable. Trillions will be spent. Fortunes will be made.
The only question is "Will you get into the right stocks early when their growth potential is greatest?"
Zacks has released a Special Report to help you do just that, and today it's free. Discover 7 special companies that look to gain the most from construction and repair to roads, bridges, and buildings, plus cargo hauling and energy transformation on an almost unimaginable scale.
Download FREE: How to Profit from Trillions on Spending for Infrastructure >>
Want the latest recommendations from Zacks Investment Research? Today, you can download 7 Best Stocks for the Next 30 Days.
Click to get this free report
Ericsson (ERIC): Free Stock Analysis Report
Verizon Communications Inc. (VZ): Free Stock Analysis Report
Nokia Corporation (NOK): Free Stock Analysis Report
America Movil, S.A.B. de C.V. (AMX): Free Stock Analysis Report
Iridium Communications Inc (IRDM): Free Stock Analysis Report
To read this article on Zacks.com click here.
Zacks Investment Research