Airline Stock Roundup: DAL's Q1 Earnings Beat, JBLU's Revised View & More
In the past week, Delta Air Lines DAL kick-started the first-quarter 2019 earnings season for the airline space on a solid note. This Atlanta, GA-based airline heavyweight not only delivered better-than-expected earnings and revenues but also issued an upbeat view for the second quarter.
On the traffic front, Alaska Air Group ALK, JetBlue Airways JBLU and Copa Holdings CPA disclosed their respective traffic figures for March. While load factor (% of seats filled by passengers) improved at Copa, the metric declined at Alaska Air and JetBlue as capacity expansion outweighed traffic growth. The update is not favorable as woes related to capacity overexpansion had hurt airline stocks previously as well.
Apart from releasing traffic numbers, JetBlue and Alaska Air tweaked their projections for the first quarter of 2019. While JetBlue is scheduled to release first-quarter results on Apr 23, Alaska Air will do the same on Apr 25.
(Read the last Airline Stock Roundup here).
Recap of the Past Week's Most Important Stories
1. Delta's earnings (excluding 13 cents from non-recurring items) of 96 cents per share outpaced the Zacks Consensus Estimate of 90 cents and increased substantially on a year-over-year basis. Higher revenues aided the quarterly results. Operating revenues totaled $10.47 billion, which surpassed the Zacks Consensus Estimate of $10.38 billion. The metric also compared favorably with the year-ago number.
For the second quarter, Delta expects earnings (excluding special items) between $2.05 and $2.35 per share. Moreover, the company projects 2019 revenues to grow 5-7%, up from its prior guidance. (Read more: Delta Air Lines Up on Q1 Earnings Beat, Upbeat View).
Delta carries a Zacks Rank #2 (Buy). You can see the complete list of today's Zacks #1 Rank (Strong Buy) stocks here.
2. At JetBlue, traffic (measured in revenue passenger miles or RPMs) improved 7.9% year over year to 4.72 billion. On a year-over-year basis, capacity (or available seat miles/ASMs) rose 12.6% to 5.53 billion. Moreover, the carrier expects first-quarter revenue per available seat miles (RASM: a key measure of unit revenue) to decline 3.1%, with higher-than-expected completion factor hurting RASM to the tune of approximately 0.75 points. Previously, RASM in the soon-to-be-reported quarter was anticipated to decline 1.5-3.5%.
Additionally, the carrier now expects consolidated operating cost per available seat mile, excluding fuel, to increase at or below the lower end of the 1.5-3.5% range. JetBlue also announced its intention to start operating flights to London from 2021. (Read more: JetBlue March Traffic Increases, Load Factor Down).
3. At Alaska Air Group, consolidated traffic inched up 0.5% to 4.68 billion and capacity expanded 1.3% to 5.56 billion. The carrier now anticipates RASM in the range of 12.08-12.10 cents, reflecting an increase of 2.1% year over year. The previous view was in the band of 11.97-12.07 cents. Alaska Air's non-fuel unit cost guidance for the first quarter has also improved on account of solid cost-control measures among other factors. Cost per ASM, excluding fuel and special items, is now projected between 9.06 cents and 9.08 cents (representing 3% increase year over year) compared with 9.16-9.21 cents expected earlier. (Read more: Alaska Air Group Load Factor Dips in March, Q1 View Upbeat).
4. Copa Holdings reported a 0.2% decrease in March traffic. However, load factor improved 160 basis points to 83.3% in the month as traffic decline was less than the capacity contraction (2%).
5. Updates on Boeing 737 MAX jets have been flooding the aviation space ever since the deadly Ethiopian Airlines' crash on Mar 10. In fact, this was the second accident involving Boeing 737 MAX jets within a span of five months as the same model went down in Indonesia last October, killing 189 people. Southwest Airlines LUV, which has 34 such jets in its fleet, extended the period of grounding the 737 MAX jets. The carrier, which had previously said that the jets in its fleet will not operate until the end of May 2019, stated on Apr 11 that it will ground the jets through Aug 5. In a similar development, American Airlines AAL extended the grounding period of Boeing 737 Max jets until Aug 19, 2019, from the previously announced date of Jun 5. Currently, the carrier has 24 such jets in its fleet.
6. Spirit Airlines SAVE now expects first-quarter total revenue per available seat miles (TRASM: a key measure of unit revenues) to increase approximately 4% year over year (the earlier view had called for this metric to increase approximately 5%). The view has been trimmed on lower-than-expected yields in March and increased capacity due to higher-than-expected completion factor. In the to-be-reported quarter, the carrier expects capacity to expand 16.9% and non-fuel unit costs (adjusted) to increase approximately 2.5%. Economic fuel cost is now projected to be $2.09 per gallon. Detailed results are expected to be revealed on Apr 25.
Performance
The following table shows the price movement of the major airline players over the past week and during the last six months.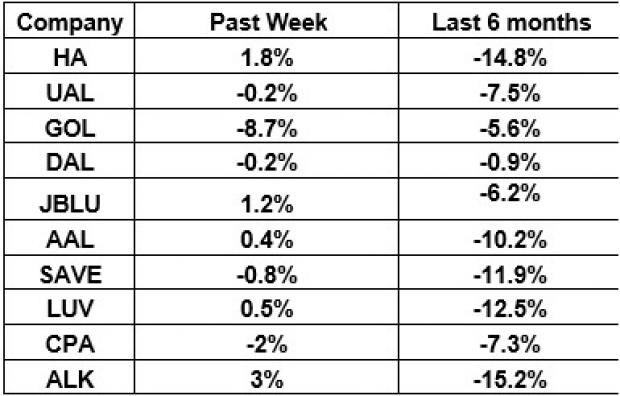 The table above shows that airline stocks exhibited a mixed trend with respect to price in the past week. The NYSE ARCA Airline Index remained flat at $101.75 over the period. Over the course of six months, the NYSE ARCA Airline Index depreciated 4.7%.
What's Next in the Airline Space?
Investors will keenly await first-quarter 2019 earnings reports of key airline players like JetBlue and Hawaiian Holdings HA in the coming days. Hawaiian like JetBlue will report on Apr 23.
Will you retire a millionaire?

One out of every six people retires a multimillionaire. Get smart tips you can do today to become one of them in a new Special Report, "7 Things You Can Do Now to Retire a Multimillionaire."

Click to get it free >>
Want the latest recommendations from Zacks Investment Research? Today, you can download 7 Best Stocks for the Next 30 Days.
Click to get this free report
Spirit Airlines, Inc. (SAVE): Free Stock Analysis Report
Hawaiian Holdings, Inc. (HA): Free Stock Analysis Report
JetBlue Airways Corporation (JBLU): Free Stock Analysis Report
American Airlines Group Inc. (AAL): Free Stock Analysis Report
Delta Air Lines, Inc. (DAL): Free Stock Analysis Report
Copa Holdings, S.A. (CPA): Free Stock Analysis Report
Alaska Air Group, Inc. (ALK): Free Stock Analysis Report
Southwest Airlines Co. (LUV): Free Stock Analysis Report
To read this article on Zacks.com click here.
Zacks Investment Research