TOTAL Partners Ignis to Expand Renewable Operations in Spain
TOTAL SE TOT announced that it is expanding footprint in the Spanish electricity market through an agreement with Spain-based developer Ignis to develop 3.3 gigawatts (GW) of solar projects located close to Madrid and Andalusia. The first project is scheduled to start in 2022 and all the solar projects are expected to begin production from 2025.
Spain's Solar Ambition to Aid
A transition toward clean energy sources can be seen on a global scale and Spain is no exception to it. Spain's current ambition is to generate 70% of electricity from renewables by 2030 and 100% by 2050.

In addition to the current agreement with Ignis, TOTAL has signed agreements in February with Powertis and Solarbay Renewable Energy to develop nearly 2 GW of solar projects. TOTAL also acquired two gas-fired combined cycle power plants having a capacity of 850 MW from Energias de Portugal.

All these above acquisitions will help the company to expand renewable operations in Spain. It will also benefit from the clean energy transition in Spain. The solar portfolio in Spain will help TOTAL to provide clean electricity to its all industrial sites by 2025. To meet its electricity needs, TOTAL will purchase nearly 6 TWh of green electricity per year generated by its Spanish solar sites through a power purchase agreement.
TOTAL's Focus on Clean Energy
TOTAL is gradually building its clean electricity generation portfolio. The acquisition of SunPower Corporation SPWR has enabed the company to expand solar operations since 2011. The company now plans to scale up renewable generation capacity to 25 GW by 2025. TOTAL also targets to generate 40% of revenues in 2050 from low-carbon electricity sales.

It also strives to be a net-zero carbon emission company by 2050 and has been taking steps to achieve the target. The company has maintained planned investment in the range of $1.5-$2 billion annually in low-carbon electricity generation.
Renewable Energy Usage
Per the finding of the International Energy Agency ("IEA"), global addition of renewable energy projects in 2020 will decline 13% from 2019, primarily due to the impact of the pandemic. However, IEA also projects that the addition of renewable projects will increase in 2021 as the majority of the delayed projects of 2020 are expected to come online next year and lead to a rebound in capacity addition.

The renewable energy space will offer enough growth opportunities to investors. In addition to TOTAL, oil and gas companies like Chevron Corporation CVX and Royal Dutch Shell Plc RDS.A, among others, are also investing heavily in the renewable energy space.
Price Performance
In the past three months, TOTAL's shares have outperformed the industry.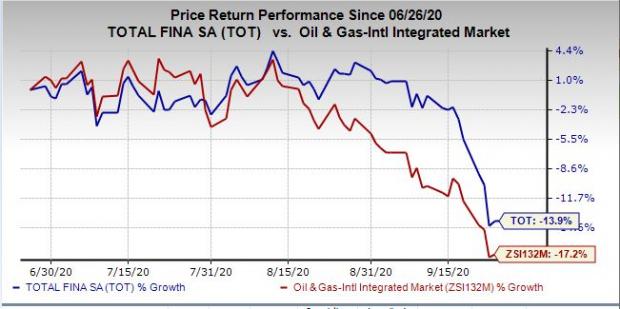 Zacks Rank
TOTAL currently has a Zacks Rank #3 (Hold). You can see the complete list of today's Zacks #1 Rank (Strong Buy) stocks here.
Biggest Tech Breakthrough in a Generation
Be among the early investors in the new type of device that experts say could impact society as much as the discovery of electricity. Current technology will soon be outdated and replaced by these new devices. In the process, it's expected to create 22 million jobs and generate $12.3 trillion in activity.

A select few stocks could skyrocket the most as rollout accelerates for this new tech. Early investors could see gains similar to buying Microsoft in the 1990s. Zacks' just-released special report reveals 8 stocks to watch. The report is only available for a limited time.

See 8 breakthrough stocks now>>
Want the latest recommendations from Zacks Investment Research? Today, you can download 7 Best Stocks for the Next 30 Days.
Click to get this free report
TOTAL S.A. (TOT): Free Stock Analysis Report
Chevron Corporation (CVX): Free Stock Analysis Report
Royal Dutch Shell PLC (RDS.A): Free Stock Analysis Report
SunPower Corporation (SPWR): Free Stock Analysis Report
To read this article on Zacks.com click here.
Zacks Investment Research