Spectrum Brands Q3 Preview: Can Shares Find New Life?
The Zacks Consumer Discretionary Sector has tumbled year-to-date as consumers reign in spending on non-essential items in the face of scorching-hot inflation. However, the sector has outperformed the general market marginally over the last month, undoubtedly a positive.
Below is a table illustrating the sector's performance vs. the S&P 500 over several timeframes.


Image Source: Zacks Investment Research
Spectrum Brands SPB, a company in the sector, is slated to reveal Q3 results before market open on Friday, August 12th.
Spectrum Brands offers a portfolio of leading brands in several product categories like residential locksets, plumbing, electric shaving and grooming products, personal care products, small household appliances, specialty pet supplies, lawn and garden, home pest control products, and repellent.
As it stands, the company carries a Zacks Rank #3 (Hold) with an overall VGM Score of a C. Let's take a look at how the company stacks up heading into the quarterly print.
Share Performance & Valuation
SPB shares have had zero relief in 2022, declining 30% in value and vastly underperforming the general market.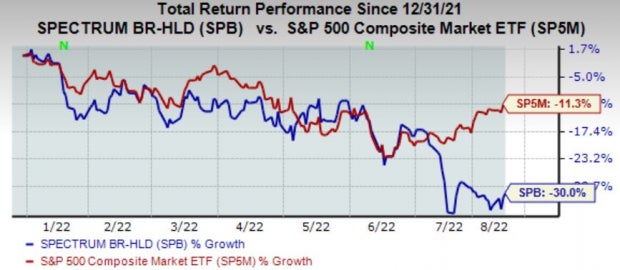 Image Source: Zacks Investment Research
Even over the last month, the price action of SPB shares remains primarily the same. Shares have lost nearly 10% in value, widely underperforming the S&P 500's gain of 10%.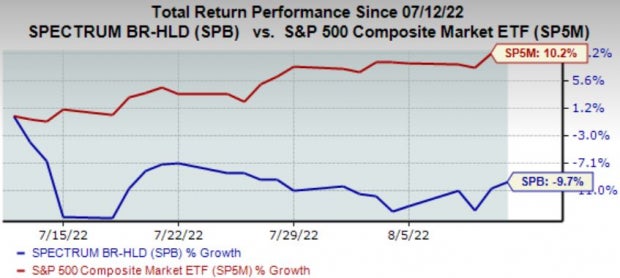 Image Source: Zacks Investment Research
The price action of SPB shares tells us at least one thing – sellers have remained in total control.
In addition, valuation levels appear elevated – Spectrum Brands' forward P/E ratio of 23.4X is well above its five-year median of 16.7X and represents a 9% premium relative to its Zacks Sector.


Image Source: Zacks Investment Research
Quarterly Estimates
Analysts have been bearish for the quarter to be reported, with two analysts lowering their outlook. The Zacks Consensus EPS Estimate of $1.50 reflects a slight 4% decrease in quarterly earnings year-over-year.


Image Source: Zacks Investment Research
The company's top-line is also showing some signs of softening – SPB is forecasted to have generated $918 million in revenue throughout the quarter, representing a steep 21% decline from year-ago quarterly sales of $1.2 billion.
Quarterly Performance & Market Reactions
SPB's bottom-line results have left some to be desired as of late, with the company registering three bottom-line misses over its last four quarters. Still, SPB recorded a 2.5% EPS beat in the latest print.
Top-line results have been much more robust – SPB has chained together nine consecutive revenue beats. Below is a chart illustrating the company's revenue on a quarterly basis.


Image Source: Zacks Investment Research
In addition, the market has reacted strongly to the company's bottom-line beats, with shares moving up three times over its last four EPS beats.
Putting Everything Together
SPB shares have declined significantly year-to-date, and even over the last month, when the general market rallied, shares still witnessed poor price action.
Valuation levels also appear elevated, with shares trading well above their five-year median.
Quarterly estimates allude to a decrease within the top and bottom-lines, and analysts have been bearish for the quarter to be reported.
Heading into the print, Spectrum Brands SPB carries a Zacks Rank #3 (Hold).
Zacks' Top Picks to Cash in on Electric Vehicles
Big money has already been made in the Electric Vehicle (EV) industry. But, the EV revolution has not hit full throttle yet. There is a lot of money to be made as the next push for future technologies ramps up. Zacks' Special Report reveals 5 picks investors
See 5 EV Stocks With Extreme Upside Potential >>
Want the latest recommendations from Zacks Investment Research? Today, you can download 7 Best Stocks for the Next 30 Days.
Click to get this free report
Spectrum Brands Holdings Inc. (SPB): Free Stock Analysis Report
To read this article on Zacks.com click here.
Zacks Investment Research