CBS Q2 Earnings and Revenues Beat Estimates, Increase Y/Y
CBS Corporation CBS delivered second-quarter 2018 adjusted earnings of $1.12 per share that beat the Zacks Consensus Estimate of $1.11 and increased 8% from the year-ago quarter.

Revenues increased 6.4% from the year-ago quarter to $3.466 billion and surpassed the consensus mark of $3.459 billion.

Revenues by Type

Advertising revenues increased 2.2% from the year-ago quarter to $1.327 billion. Growth was driven by Network Ten, which the company acquired in fourth-quarter of 2017.

Content licensing & distribution revenues were up 3.8% to $1.096 billion. Higher contribution from "additional series produced for third-party services" boosted year-over-year growth.

Further, affiliate and subscription fee revenues of $989 million grew 16.6% year over year, driven by growth in traditional distribution as well as new digital platforms. A surge in retransmission revenues and fees from CBS Television Network affiliated stations by 25% and the digital initiatives experiencing a 70% growth led to the overall growth of affiliate and subscription fee revenues.

Segment Details

Entertainment revenues increased 8.3% to $2.365 billion, driven by higher affiliate and subscription fee revenues (up 38%), content licensing and distribution revenues (up 4%) and advertising revenues (up 3%).

CBS Network advertising revenues inched up 1% from the year-ago quarter. The company is gaining from the newly launched Sports HQ. Its digital distribution services, CBS All Access and Showtime OTT, are expected to have a combined 8 million subscribers by the end of 2019, a year before the initial target of 2020. Currently, the company is aiming to hit a subscriber base of 16 million by 2022.

Notably, the company's ad-based OTT services led by CBSN, its digital news network, has been attracting younger viewers and adding to the company's top line.

Cable Networks' revenues were up 4% to $591 million primarily due to growth of Showtime subscription streaming service and start of the renewal period for licensing of Showtime original series.

Publishing revenues of $207 million grew 0.5% on the back of 27% increase in digital audio. Bestselling titles were Stephen King book, Restless Wave by Senator John McCain and Spymaster by Brad Thor.

Local Media revenues climbed 2% to $420 million primarily due to higher retransmission revenues.

Operating Details

In the second quarter, adjusted operating income increased 1% from the year-ago quarter to $694 million. Operating margin contracted 100 basis points (bps) to 20.8%, reflecting higher investment in programming and digital initiatives.

Segment wise, Entertainment operating income increased 1% year over year to $356 million, primarily driven by higher revenues. Publishing increased 7% to $31 million due to favorable revenue mix that reduced operating expenses. Cable Networks operating income increased to $256 million from $255 million in the year-ago period which reflected higher revenues offset by increased investment in programming.

However, Local Media operating income was flat with the year-ago figure of $128 million.

Balance Sheet & Cash Flow Details

As of Jun 30, 2018, cash and cash equivalents were $252 million compared with $147 million as of Mar 31, 2018. Long-term debt was $9.46 billion, down from $9.47 billion at the end of previous quarter.

Cash flow from operating activities was $1.045 billion, while free cash flow was $296 million.

In the quarter under review, CBS bought back 3.8 million shares for $200 million.
CBS Corporation Price, Consensus and EPS Surprise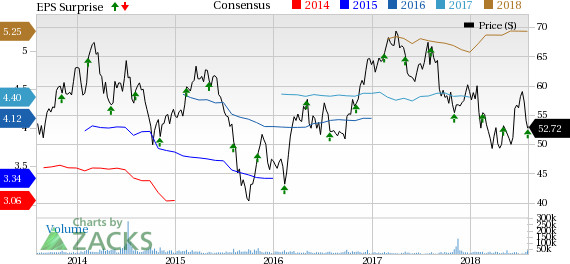 CBS Corporation Price, Consensus and EPS Surprise | CBS Corporation Quote
Guidance
For the third quarter, CBS expects Local Media revenues to increase at a double-digit rate as mid-term elections are coming closer.

Zacks Rank and Stocks to Consider

CBS currently carries a Zacks Rank #3 (Hold).

Some other top-ranked stocks in the broader technology sector include Micron Technology MU, Amazon.com, Inc. AMZN and Apple Inc. AAPL. While Micron and Amazon sport a Zacks Rank #1 (Strong Buy), Apple carries a Zacks Rank #2 (Buy).You can see the complete list of today's Zacks Rank #1 stocks here.

Long-term earnings growth rate for Micron, Amazon and Apple is projected to be 8.2%, 26.5% and 10.9%, respectively.

Will You Make a Fortune on the Shift to Electric Cars?
Here's another stock idea to consider. Much like petroleum 150 years ago, lithium power may soon shake the world, creating millionaires and reshaping geo-politics. Soon electric vehicles (EVs) may be cheaper than gas guzzlers. Some are already reaching 265 miles on a single charge.

With battery prices plummeting and charging stations set to multiply, one company stands out as the #1 stock to buy according to Zacks research.

It's not the one you think.

See This Ticker Free >>
Want the latest recommendations from Zacks Investment Research? Today, you can download 7 Best Stocks for the Next 30 Days.
Click to get this free report
CBS Corporation (CBS): Free Stock Analysis Report
Amazon.com, Inc. (AMZN): Free Stock Analysis Report
Apple Inc. (AAPL): Free Stock Analysis Report
Micron Technology, Inc. (MU): Free Stock Analysis Report
To read this article on Zacks.com click here.
Zacks Investment Research