Here's Why You Should Hold onto NEOGEN (NEOG) Stock for Now
NEOGEN Corporation NEOG has been gaining on robust segmental growth. Its international performance has also been impressive. Strong revenues in fiscal first quarter of 2021 buoy optimism. However, downsides may result from unfavorable currency movements and a stiff competitive landscape.
Over the past year, the Zacks Rank #3 (Hold) stock has gained 22.4% compared with 1.5% growth of the industry and 16.7% rise of the S&P 500.
The renowned food and animal safety products provider has a market capitalization of $3.93 billion. The company projects 10% growth for the next five years and expects to maintain strong segmental performance. The company surpassed estimates in two of the trailing four quarters and missed the same in the other two, the average negative surprise being 0.87%.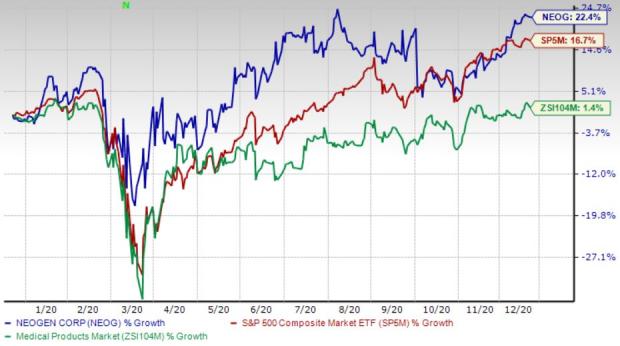 Let's delve deeper.
Product Launches: We are upbeat about the slew of product launches by NEOGEN over the recent months. The company, this month, introduced its new Reveal tests for horses, beef, sheep and poultry to determine meat speciation in raw meat and environmental samples.
The same month, NEOGEN announced the development of two new TMB substrates — K-Blue Advanced Plus and K-Blue Select — which expands the popular K-Blue product line to meet the evolving customer requirements. Further in December, the company launched the Igenity Canine Wellness, a preventative care DNA screening tool for veterinarians.
In November, NEOGEN launched the COMPANION Foaming Antibacterial Hand Soap, which is highly effective against harmful bacteria while being skin friendly.
Partnerships and Acquisitions: We are optimistic about the series of partnership deals inked by NEOGEN of late. The company entered into a partnership with Transnetyx, Inc. in November to collaborate on distribution and advancement of the miniMUGA genotyping array (Mouse Universal Genotyping Array). NEOGEN, in September, entered into a sponsorship agreement with the National FFA to support the agricultural organization and help fight the spread of COVID-19.
In August, NEOGEN completed the previously announced acquisition of the U.S. (including territories) rights to Elanco's StandGuard Pour-on for horn fly and lice control in beef cattle and related assets.
Strong Q1 Results: NEOGEN's impressive results in the first quarter of fiscal 2021 buoys optimism. The company's segmental performance was primarily boosted by enhanced sales of hand sanitizers, cleaners and disinfectants to meet requirements created by the coronavirus pandemic. NEOGEN's international performance of both operating segments was impressive despite the challenging global business climate.
Favorable customer response to the company's Soleris NG system buoys optimism. Expansion of the operating margin looks encouraging.
However, downsides might result from currency headwinds faced by the company. In the first quarter of fiscal 2021, NEOGEN's international business was significantly impacted by unfavorable currency movements. When the virus began spreading worldwide, there was a currency movement toward the safety of the U.S. dollar. This negatively impacted local currencies in the company's international locations, particularly in those regions where the outbreaks were out of control.
NEOGEN faces stiff competition from small businesses as well as large multinational companies. Some of these organizations have substantially greater financial resources than the company. Historically, NEOGEN has faced intense competition resulting from the development of new technologies by the company's competitor, which could affect marketability and profitability of NEOGEN's products.
Estimate Trend
NEOGEN has been witnessing an upward estimate revision trend for 2021. Over the past 90 days, the Zacks Consensus Estimate for its earnings has moved 3.3% north to $1.24.
The Zacks Consensus Estimate for second-quarter fiscal 2021 revenues is pegged at $115.5 million, suggesting a 7.1% rise from the year-ago reported number.
Key Picks
Some better-ranked stocks from the broader medical space are Hologic, Inc. HOLX, Chemed Corp. CHE and ResMed Inc. RMD.
Hologic's long-term earnings growth rate is estimated at 17.4%. The company presently sports a Zacks Rank #1 (Strong Buy). You can see the complete list of today's Zacks #1 Rank stocks here.
Chemed's long-term earnings growth rate is estimated at 10.1%. It currently carries a Zacks Rank #2 (Buy).
ResMed's long-term earnings growth rate is estimated at 14.5%. The company presently carries a Zacks Rank #2.
Biggest Tech Breakthrough in a Generation
Be among the early investors in the new type of device that experts say could impact society as much as the discovery of electricity. Current technology will soon be outdated and replaced by these new devices. In the process, it's expected to create 22 million jobs and generate $12.3 trillion in activity.
A select few stocks could skyrocket the most as rollout accelerates for this new tech. Early investors could see gains similar to buying Microsoft in the 1990s. Zacks' just-released special report reveals 8 stocks to watch. The report is only available for a limited time.
See 8 breakthrough stocks now>>
Want the latest recommendations from Zacks Investment Research? Today, you can download 7 Best Stocks for the Next 30 Days.
Click to get this free report
Hologic, Inc. (HOLX): Free Stock Analysis Report
ResMed Inc. (RMD): Free Stock Analysis Report
Neogen Corporation (NEOG): Free Stock Analysis Report
Chemed Corporation (CHE): Free Stock Analysis Report
To read this article on Zacks.com click here.
Zacks Investment Research