Lockheed Martin's (LMT) RMS Unit Wins $731M Deal to Aid AEGIS
Lockheed Martin Corp's. LMT Rotary and Mission Systems (RMS) unit recently clinched a $731.1-MILLION contract for providing engineering, technical and integrated logistical support for the maintenance and modernization of the Aegis Combat System, Aegis weapon system equipment and computer programs employed by multiple international partners.

The RMS unit will provide these services to the defense forces of Japan, Australia, Republic of Korea, Norway, Spain and Canada, under the Foreign Military Sales (FMS) Aegis shipbuilding program.
Majority of the work related to the deal will be performed in Moorestown, NJ. The contract was awarded by the Naval Sea Systems Command, Washington, D.C. and the work is expected to get completed by December 2024.
Significance of the Aegis Combat System
Aegis is an integrated missile guidance system used in U.S. Navy and allied ships to protect the battle group. Currently, it is the world's most advanced combat system that can simultaneously destroy land targets, submarines and surface ships along with providing protection from aircraft, cruise missiles and ballistic missiles. The computer-based command and decision providing ability is the key element of the AEGIS combat system. The Aegis Ballistic Missile Defense (BMD) system is the primary sea-based component of the U.S. missile defense system.
What Favors Lockheed Martin?
Heightened geopolitical tensions and rising terrorism across the globe have compelled nations to fortify their military arsenal, with missile systems constituting an integral part of it. For instance, as Japan looks to defend itself against any possible futuristic attacks by North Korea and other regional rivals, including China, the nation relies on the Aegis combat system significantly. This, in turn, serves as a big boost for Lockheed Martin's revenues in the international market.

Meanwhile, the United States also follows a strategy similar to Japan, as it faces strong missile defense challenges from North Korea and Russia. This is evident from the inclusion of $619 million in the U.S. fiscal 2021 defense budget to purchase the Aegis Ballistic Missile Defense systems. Notably, such stupendous budgetary amendments reflect solid growth prospects for Lockheed Martin's Aegis program, going ahead.
Other Missile Makers Poised to Benefit
Considering the geopolitical background, which is favorable for the missile market growth as a whole, and the fact that the United States is the largest military weapon exporter globally, other prominent missile makers in the nation, such as Northrop Grumman NOC, General Dynamics GD and Raytheon Technologies RTX, are poised to benefit.

Notably, Northrop Grumman's missile defense program includes AGM-88E advanced anti-radiation guided missiles (AARGM), Ground-Based Strategic Deterrent (GBSD) weapon system and rocket propulsion systems.

General Dynamics' Ordnance and Tactical Systems are the system integrators of the 2.75-inch Hydra-70 family of rockets. It also produces composite rocket motor cases and launch tubes for tactical and strategic missiles.

Similarly, Raytheon Technologies' missile defense capabilities include Patriot GEM-T missiles, SM-6 missile destroyers cruise missiles and ballistic missiles, NASAMS, among others.
Price Movement and Zacks Rank
Shares of Lockheed Martin, a Zacks Rank #3 (Hold) company, have lost 15.3% in the past year compared with the industry's decline of 24.3%. You can see the complete list of today's Zacks #1 Rank (Strong Buy) stocks here.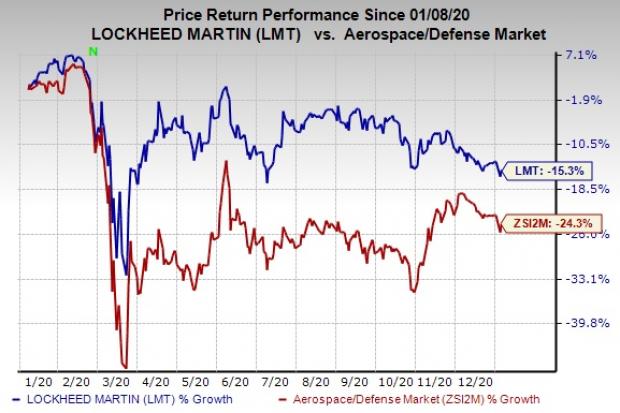 Biggest Tech Breakthrough in a Generation
Be among the early investors in the new type of device that experts say could impact society as much as the discovery of electricity. Current technology will soon be outdated and replaced by these new devices. In the process, it's expected to create 22 million jobs and generate $12.3 trillion in activity.

A select few stocks could skyrocket the most as rollout accelerates for this new tech. Early investors could see gains similar to buying Microsoft in the 1990s. Zacks' just-released special report reveals 8 stocks to watch. The report is only available for a limited time.

See 8 breakthrough stocks now>>
Want the latest recommendations from Zacks Investment Research? Today, you can download 7 Best Stocks for the Next 30 Days.
Click to get this free report
Northrop Grumman Corporation (NOC): Free Stock Analysis Report
General Dynamics Corporation (GD): Free Stock Analysis Report
Lockheed Martin Corporation (LMT): Free Stock Analysis Report
Raytheon Technologies Corporation (RTX): Free Stock Analysis Report
To read this article on Zacks.com click here.
Zacks Investment Research