Buy eBay Stock Before Q2 Earnings as Long-Term E-Commerce Play?
Shares of eBay EBAY have skyrocketed over 100% since the market's March 23 lows to thoroughly outpace stay-at-home powers Zoom ZM and Netflix NFLX. Now the question is should investors consider buying shares of a refocused and slimmed down eBay before its upcoming second quarter earnings release on Tuesday, July 28?
What's Changed?
Ebay was an early star of the digital commerce age, but Wall Street has been unsure of the company since it spun off PayPal PYPL back in 2015. That said, it's clawed its way back into the good graces of many investors recently, and eBay appears set on getting its e-commerce grove back.
The company officially completed in February its deal to sell StubHub for $4.05 billion in cash. EBay moved on from its live ticket sales business as part of an activist push to focus on its core marketplace. And it couldn't have come at a better time considering that the live events business is non-existent at the moment.
Then on July 21, eBay announced that it agreed to sell its classified-ads business to Adevinta ASA for $9.2 billion in cash and stock. The e-commerce firm will grab $2.5 billion in cash and become the largest shareholder of the Norwegian company. "This sale creates short-term and long-term value for shareholders and customers, while allowing us to participate in the future potential of the Classifieds business," CEO Jamie Iannone said in a statement.
EBay and Wall Street hope that selling its non-core businesses will help it better compete against the likes of Amazon AMZN, Etsy ETSY, Wayfair W, and others. And it might prove key as Target TGT, Walmart WMT, and countless retailers bolster their digital offerings.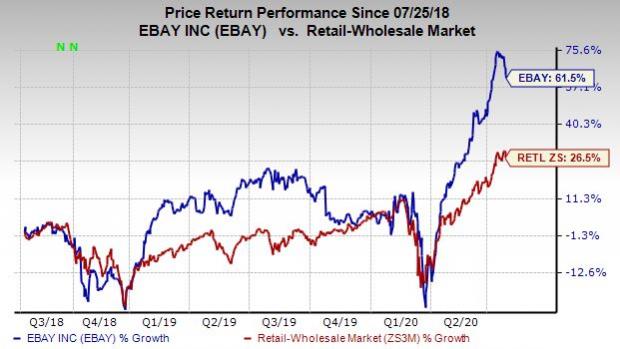 What Else…
The stock is now up 50% in 2020 and 35% in the past 12 months. Investors might also be pleased to know that eBay has pulled back recently, which might set up a better buying opportunity for those high on the stock. EBAY sat around 10% below its recent highs at $55 per share through morning trading Friday.
Meanwhile, eBay trades at a slight discount against Amazon at 3.5X forward 12-month sales vs. 3.9X. On top of that, eBay pays a dividend, unlike many of the other e-commerce pure plays and its 1.16% yield easily tops the 10-year U.S. Treasury 0.58%.
Last quarter, eBay beat our Q1 FY20 estimates and it closed the period with 174 million global active buyers. Better still, eBay on June 4 updated its Q2 outlook on the back of coronavirus-boosted e-commerce strength. The company said that "tens of thousands of small business sellers have been added to the platform" and it "now expects full Q2 volume growth rates to land between 23% and 26%."
On top of that, eBay's added roughly 6 million new and reactivated buyers in April and May and it raised its guidance.
Our current Zacks estimates call for eBay's adjusted second quarter earnings to surge 54% to $1.05 per share. EBay's adjusted full-year EPS figures are then expected to jump 23% in FY20 and another 10% higher in fiscal 2021.
Meanwhile, its Q2 sales are projected to pop 4%. The firm's full-year sales are expected to sink over 4%, but that takes into account lost revenue from StubHub and classifieds. Peeking further ahead, eBay's FY21 revenue is projected to jump 10% above our current-year estimate.

Bottom Line
The nearby chart shows eBay's impressive upward earnings revisions activity, which helps it grab a Zacks Rank #1 (Strong Buy) heading into its upcoming earnings release on Tuesday. The firm has topped our quarterly earnings estimates in the trailing four quarters.
That said, the second quarter earnings season could see stocks dip even if they top estimates, as investors find an opportunity to take home profits on stocks that have soared during the market's comeback—take Microsoft MSFT as a recent example.
However, those with a longer-term investment horizon might want to take a chance on a resurgent eBay, as part of a broader bet on the global e-commerce market. Plus, it pays a dividend and trades at $55 per share.
Zacks' Single Best Pick to Double

From thousands of stocks, 5 Zacks experts each picked their favorite to gain +100% or more in months to come. From those 5, Zacks Director of Research, Sheraz Mian hand-picks one to have the most explosive upside of all.

With users in 180 countries and soaring revenues, it's set to thrive on remote working long after the pandemic ends. No wonder it recently offered a stunning $600 million stock buy-back plan.

The sky's the limit for this emerging tech giant. And the earlier you get in, the greater your potential gain.

Click Here, See It Free >>
Want the latest recommendations from Zacks Investment Research? Today, you can download 7 Best Stocks for the Next 30 Days.
Click to get this free report
Microsoft Corporation (MSFT): Free Stock Analysis Report
Target Corporation (TGT): Free Stock Analysis Report
Amazon.com, Inc. (AMZN): Free Stock Analysis Report
Walmart Inc. (WMT): Free Stock Analysis Report
eBay Inc. (EBAY): Free Stock Analysis Report
Netflix, Inc. (NFLX): Free Stock Analysis Report
Wayfair Inc. (W): Free Stock Analysis Report
Etsy, Inc. (ETSY): Free Stock Analysis Report
PayPal Holdings, Inc. (PYPL): Free Stock Analysis Report
Zoom Video Communications, Inc. (ZM): Free Stock Analysis Report
To read this article on Zacks.com click here.
Zacks Investment Research