Here's Why You Should Retain Cigna (CI) in Your Portfolio
Cigna Corporation CI continues to benefit on the back of sustained top-line growth, foraying into new contracts or extending relationships with renowned healthcare systems, growing medical membership and solid financial position. An optimistic 2022 EPS outlook instills further confidence.
Zacks Rank & Price Performance
Cigna carries a Zacks Rank #3 (Hold) at present. You can see the complete list of today's Zacks #1 Rank (Strong Buy) stocks here.
The stock has gained 8.2% in a year compared with the industry's rally of 29.4%. The Medical sector declined 15.1%. The S&P Index climbed 25% in the same time frame.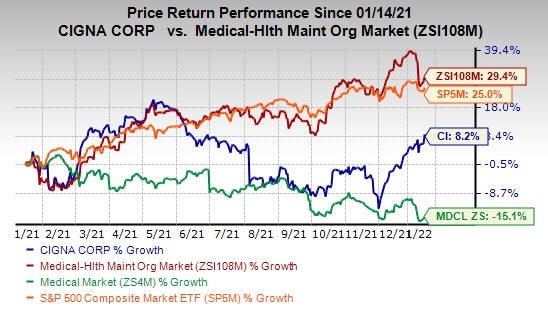 Image Source: Zacks Investment Research
Style Score
CI is well-poised for progress as evident from its impressive VGM Score of B. Here V stands for Value, G for Growth and M for Momentum, with the score being a weighted combination of all three factors.
Robust 2022 Prospects
The Zacks Consensus Estimate for the Cigna's 2022 earnings indicates year-over-year growth of 8.2%, while the same for revenues suggests an improvement of 5.4% from the year-ago reported figure.
Sound Earnings Surprise History
CI outpaced earnings estimates in three of the trailing four quarters and missed once, the average surprise being 4.53%.
Upbeat EPS View for 2022
This year, adjusted income from operations per share is estimated to improve at least 10% from the 2021 guidance, which is pegged at a minimum of $20.35 per share.
Business Tailwinds
The three growth platforms of Cigna — Evernorth, U.S. Medical and International Markets continue to contribute significantly to the sustained top-line growth. The Evernorth segment comprises a wide range of pharmacy solutions, benefits management solutions and care solutions. Meanwhile, the U.S. Medical unit intends to offer medical solutions in the form of commercial products (medical, pharmacy, behavioral health, dental, vision benefits and others) and government solutions (Medicaid and Medicaid plans) to clients. Management remains confident about revenue and earnings growth in the Evernorth segment during the year 2022 as well.
CI aims to maintain a long-term target in the range of 6% to 8% with regard to average annual adjusted revenue growth. For more than a decade, Cigna has maintained a track record of reporting average annual adjusted EPS growth higher than the long-term target of 10% to 13%.
The global health service company has solid Medicare and Medicaid businesses in place, courtesy of continuous product expansions, rising membership, and new collaborations or contract extensions with renowned healthcare systems. These contract extensions have bolstered Cigna's partner network and ensured uninterrupted healthcare services across several regions of the United States. CI's collaboration with Hartford HealthCare and Oscar Health bears testament to the same.
Cigna has been intensifying focus on launching cost-effective Medicare Advantage ("MA") plans, which come with several bundled benefits and improved care coordination. Thus, these factors make them the preferred choice for customers over a traditional Medicare plan. The MA business of CI aims to reach 108 new counties in 2022. Through this move the company will foray into three new states — Connecticut, Oregon, and Washington.
Cigna remains committed to growing its healthcare business as a result of which it continues to divest non-health units. In October 2021, CI inked a deal to divest its life, accident and supplemental benefits businesses to insurer Chubb. The transaction is likely to conclude this year. At the end of 2020, the company divested its group life and disability insurance business to New York Life.
The liquidity position of Cigna appears strong, with a sound cash balance capable of servicing short-term debt obligations. Adequate cash-generating abilities enable CI to undertake several growth-related efforts and tactically deploy capital through share buybacks and dividend hikes. Its dividend yield of 1.7% lies higher than the industry's figure of 1%.
Stocks to Consider
Some better-ranked stocks in the medical space include Axcella Health Inc. AXLA, Cerner Corporation CERN and Molina Healthcare, Inc. MOH, each carrying a Zacks Rank #2 (Buy) at present.
Axcella Health has a trailing four-quarter earnings surprise of 0.64%, on average. The Zacks Consensus Estimate for AXLA's 2022 earnings suggests 3.3% year-over-year growth. The consensus mark has also moved north by 1.2% in the past 30 days. Axcella Health has a Momentum Score of B.
The bottom line of Cerner outpaced earnings estimates in three of the trailing four quarters and matched once, the average surprise being 3.21%. The Zacks Consensus Estimate for CERN's 2022 earnings suggests 11.6% improvement year over year, while the same for revenues implies growth of 4.8%. Cerner has a VGM Score of B.
Molina Healthcare has a trailing four-quarter surprise of 4.00%, on average. The consensus mark for MOH's 2022 earnings indicates an improvement of 27.3% from the prior-year reported figure, while the same for revenues suggests a 12% rise from the year-ago reported figure. The expected long-term earnings growth rate is pegged at 21.1%, better than the industry's average of 15%. Molina Healthcare boasts of a VGM Score of A.
While shares of Cerner and Molina Healthcare have gained 14.8% and 30.5%, respectively, in a year, Axcella Health stock has lost 65.9% in the same time frame.
Bitcoin, Like the Internet Itself, Could Change Everything
Blockchain and cryptocurrency has sparked one of the most exciting discussion topics of a generation. Some call it the "Internet of Money" and predict it could change the way money works forever. If true, it could do to banks what Netflix did to Blockbuster and Amazon did to Sears. Experts agree we're still in the early stages of this technology, and as it grows, it will create several investing opportunities.
Zacks' has just revealed 3 companies that can help investors capitalize on the explosive profit potential of Bitcoin and the other cryptocurrencies with significantly less volatility than buying them directly.
See 3 crypto-related stocks now >>
Want the latest recommendations from Zacks Investment Research? Today, you can download 7 Best Stocks for the Next 30 Days.
Click to get this free report
Cerner Corporation (CERN): Free Stock Analysis Report
Molina Healthcare, Inc (MOH): Free Stock Analysis Report
Cigna Corporation (CI): Free Stock Analysis Report
Axcella Health Inc. (AXLA): Free Stock Analysis Report
To read this article on Zacks.com click here.
Zacks Investment Research