InterDigital Takes Part in Wireless Technology Demo at EUCNC
InterDigital, Inc. IDCC has announced its participation in two significant wireless technology demonstrations at the European Conference on Network and Communications (EUCNC) this week. The company continues to play a crucial role by contributing wireless technology intellectual property and coordination.

It intends to exhibit specific application for 5G network resource slicing to meet Ultra-reliable low latency communication and enhanced Mobile Broadband goals, and ultra-high throughput encoder and decoder solutions for various use cases beyond 5G.

InterDigital's commitment toward licensing its broad portfolio of technologies to wireless terminal equipment makers, which allows it to expand its core market capability, is laudable. The company's global footprint, diversified product portfolio and ability to penetrate in different markets instill optimism.

InterDigital aims to enhance its licensing revenue base by adding licensees and expanding into adjacent technology areas that align with its intellectual property position. In the first demo, the wireless R&D company plans to display how the H2020 5G-CORAL architecture — a distributed and virtualized computing hierarchy — can be used to support simultaneous 5G slices for a remote robotic control and actuation application, based on adaptive 360-degree video technology.

The company is optimizing its strength in core wireless licensing business. It remains poised to benefit from future growth opportunities, fueled by the 5G rollout. In the second demo, the EU EPIC consortium, — consisting of eight partners from seven different countries (Austria, Belgium, France, Germany, Sweden, Turkey and United Kingdom) — will highlight its progress in solving the ultra-high throughput encoder and decoder challenges for beyond 5G wireless systems.

Moreover, in November 2018, InterDigital and other members of the 5G-CORAL consortium conducted their first 5G trial at Global Mall Nangang Station Store in Taipei, Taiwan. The trial was substantial in demonstrating how 5G can effectively work across a modern network deployment. The company aims to become a leading designer and developer of technology solutions and innovation for the mobile industry, IoT and allied technology areas by leveraging its R&D capabilities, technological knowhow and rich industry experience.

InterDigital has long-term EPS growth expectation of 15%. It remains committed to its objective of expanding revenue sources while controlling expenses. The stock has lost 23.9% against the industry's rise of 12.1% in the past year. Nevertheless, management provided healthy revenue guidance for second-quarter 2019, with an expectation of $73-$77 million.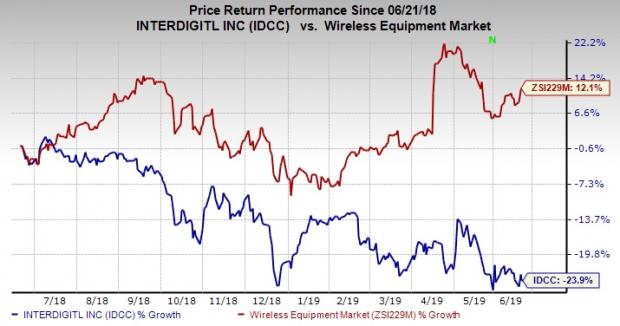 InterDigital currently has a Zacks Rank #3 (Hold). Better-ranked stocks in the industry include Comtech Telecommunications Corp. CMTL, Juniper Networks, Inc. JNPR and Ubiquiti Networks, Inc. UBNT. While Comtech sports a Zacks Rank #1 (Strong Buy), Juniper and Ubiquiti carry a Zacks Rank #2 (Buy). You can see the complete list of today's Zacks #1 Rank stocks here.

Comtech has long-term earnings growth expectation of 5%.

Juniper has long-term earnings growth expectation of 6.2%.

Ubiquiti has long-term earnings growth expectation of 19.8%.

Will you retire a millionaire?

One out of every six people retires a multimillionaire. Get smart tips you can do today to become one of them in a new Special Report, "7 Things You Can Do Now to Retire a Multimillionaire."

Click to get it free >>
Want the latest recommendations from Zacks Investment Research? Today, you can download 7 Best Stocks for the Next 30 Days.
Click to get this free report
Juniper Networks, Inc. (JNPR): Free Stock Analysis Report
Ubiquiti Networks, Inc. (UBNT): Free Stock Analysis Report
InterDigital, Inc. (IDCC): Free Stock Analysis Report
Comtech Telecommunications Corp. (CMTL): Free Stock Analysis Report
To read this article on Zacks.com click here.
Zacks Investment Research