Why Should You Hold PRA Group (PRAA) in Your Portfolio?
PRA Group Inc. PRAA has been favored by investors on the back of its operational efficiency, strategic measures and an improved cash collection.

The company boasts an impressive earnings surprise record, beating on earnings in all the trailing four quarters. It has a trailing four-quarter earnings surprise of 41.67%, on average.

The stock currently has a Zacks Rank #3 (Hold) and a VGM Score of B. Here V stands for Value, G for Growth and M for Momentum with the score being a weighted combination of all three factors.You can see the complete list of today's Zacks #1 Rank (Strong Buy) stocks here.

Let's analyze the factors that make this stock a compelling choice for investors right now.

The company has been actively working on improving its cash efficiency ratio, backed by its operational efficiency. PRA Group witnessed an excellent cash collection in the final quarter of 2020, which is the highest as far as a usual fourth-quarter reading is concerned.

One of its main revenue drivers, receivable income has been increasing since 2009, except for 2016. The company's total revenues increased 4.8% year over year in 2020. Its strong capital position makes it optimistic about a rise in purchasing volume for the next year. Moreover, the company has around $1 billion liquidity for investment purpose. Given its solid fundamentals, we expect this uptrend to likely benefit its top line going forward.

PRA Group took certain initiatives to expand its presence beyond primary debt collection. It successfully penetrated the audit services and government collections businesses.

The company acquired the holding company of Resurgent Holdings LLC's Canadian business in March 2019, which helped it create an advanced nonperforming loan business in the country. In 2020, it spent $905.1 million on portfolio acquisitions. All these moves bode well for the company's inorganic growth.

Its cash collection rose 7.4% and 13.3% year over year in 2018 and 2019, respectively. This uptrend continued in 2020 with total cash collections climbing 8.9% year over year owing to U.S. call center and record other collections.

PRA Group's cash collection will likely rise on the back increased digital payments and technological advancements. We expect this trend to continue on the volume of purchases, growth in collector base and productivity.

However, its escalating expenses due to investments continue to bother the company.

Shares of the company have gained 17.6% in a year's time, outperforming its industry's growth of 16.7%.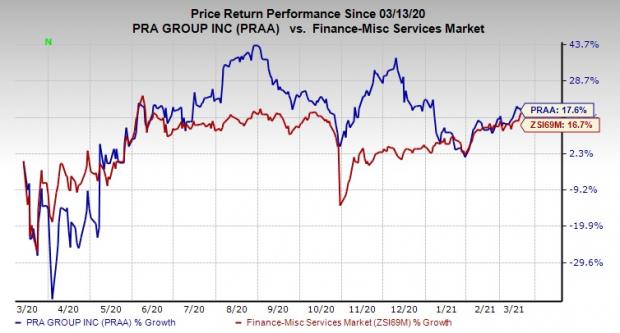 Other companies in the same space, such as Virtu Financial, Inc. VIRT and Jefferies Financial Group Inc. JEF have also rallied 32.8% and 93.1% while Credit Acceptance Corporation CACC has lost 3.2% in the same time frame.
5G Revolution: 3 Stocks to Make Your Move
With super high data speed, it will make current cell phones obsolete and unlock the full potential of big data, cloud computing, and artificial intelligence. In the next few years this industry is predicted to create 22 million jobs and a stunning $12.3 trillion in revenue.

Today you have an historic chance to pursue almost unimaginable gains like Microsoft, Netflix, and Apple in their early phases. Zacks has released a Special Report that reveals our . . .
Smartest stock for 5G telecom
Safest investment in 5G hardware
Single best 5G buy of all!


Download now. Today the report is FREE >>


Want the latest recommendations from Zacks Investment Research? Today, you can download 7 Best Stocks for the Next 30 Days.
Click to get this free report
PRA Group, Inc. (PRAA): Free Stock Analysis Report
Jefferies Financial Group Inc. (JEF): Free Stock Analysis Report
Credit Acceptance Corporation (CACC): Free Stock Analysis Report
Virtu Financial, Inc. (VIRT): Get Free Report
To read this article on Zacks.com click here.
Zacks Investment Research