Centene (CNC) Wins Contract to Serve Medicaid Members in Indiana
Centene Corporation CNC recently disclosed that its Indiana unit, Managed Health Services (MHS), has received a contract from the Indiana Department of Administration. The original tenure of the new contract is of four years, but it can be renewed twice for one year each.
The Centene unit boasts a strong presence in Indiana as it has been serving the state for nearly three decades. Currently, MHS caters to over 400,000 members in the state through Medicaid, Medicare and Marketplace plans.
The recent contract win will enable Centene to continue offering Medicaid and Medicaid alternative managed care and care coordination services via its subsidiary to the Hoosier Healthwise and Healthy Indiana Plan members of Indiana. The scope of the Hoosier Healthwise program allows MHS to serve pregnant women and those children who are Indiana Health Coverage Programs (IHCP) members and aged 19 or below. Meanwhile, the CNC unit can cater to adults aged between 19-64 years via the Healthy Indiana Plan Medicaid alternative program.
Contract wins similar to the latest one provide Centene an opportunity to enhance its relationship with the network of providers and community partners of the state. Consequently, CNC can continue providing high-quality care, make the healthcare services affordable and bring about improved health outcomes throughout Indiana.
While Centene already has a solid presence in the state, the new contract will further solidify the same. Meanwhile, such contract wins reinforce the trust that various state agencies have in CNC. This can be attributed to the company's intensified focus on addressing whole-person needs and local presence across the various U.S. states, which gives the healthcare provider an in-depth understanding of the unique health needs of various communities.
Centene has been focused on expanding its Medicaid business owing to the robust growth prospects in the Medicaid market meant primarily for low-income individuals. The COVID-19 pandemic and continuous program expansions across several states acted as key catalysts for the enrolment growth of the market. Medicaid spending is likely to continue rising in the days ahead, as was the case in 2021, wherein the metric rose 11.4% year over year, according to leading market and consumer data provider Statista. The same source anticipates Medicaid expenditure to cross the one-trillion mark in 2027 for the very first time.
To harness the potential of the Medicaid market, Centene has a solid Medicaid business in place through which it has been devising cost-effective health plans and reaching out to various parts of the country. This continues to boost the Medicaid membership growth of CNC, with the same increasing 10.3% year over year in 2021. Thanks to its strong Medicaid business, the leading managed care organization has been subject to several contract wins and renewed agreements in the past. Some of the states that chose Centene for serving Medicaid members in 2021 include North Carolina, Hawaii, Nevada and Ohio. Meanwhile, the year 2022 started with the company being chosen by Louisiana and the recent contract from the Indiana Department of Administration. Such contract wins coupled with growing membership are expected to sustain Centene's top-line growth in the days ahead.
Shares of Centene have gained 33.8% in a year compared with the industry's rally of 30%. CNC currently carries a Zacks Rank #3 (Hold). You can see the complete list of today's Zacks #1 Rank (Strong Buy) stocks here.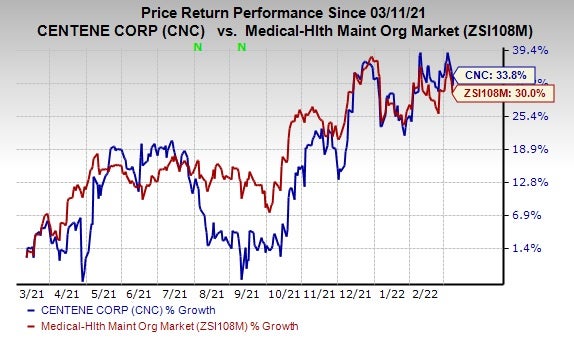 Image Source: Zacks Investment Research
Similar to Centene, other healthcare providers such as UnitedHealth Group Incorporated UNH, Humana Inc. HUM and Molina Healthcare, Inc. MOH boast of solid Medicaid businesses and have been awarded contracts by various states from time to time.
UnitedHealth Group boasts a robust Medicaid business through which it has been devising cost-effective health plans and reaching out to various parts of the nation. Last year, the Medicaid business growth was driven by contract wins in Minnesota, Nevada, Ohio and Tennessee and UNH's penetration into new regions of Indiana, Kentucky and North Carolina. The number of people served through the UnitedHealth Group's Medicaid business grew 16% as of Dec 31, 2021, from the 2020 figure.
Humana has a strong Medicaid business in place on the back of several contract wins and renewals, which have extended the company's U.S. footprint and resulted in growing membership. Premiums from HUM's Medicaid and other businesses climbed 21% year over year in 2021. In 2022, the Louisiana Department of Health awarded Humana a contract for providing health care coverage to Medicaid beneficiaries in the state.
Molina Healthcare's Medicaid business continues to benefit from factors such as increased membership and contract wins similar to those in Nevada and Ohio. As of Dec 31, 2021, the Medicaid membership of MOH witnessed growth of 20.3% from the prior-year comparable period. In an effort to boost its Medicaid business, Molina Health completed the buyout of Cigna's Texas Medicaid contracts at the very beginning of 2022.
Shares of UnitedHealth Group, Humana and Molina Healthcare have gained 37.5%, 6.9% and 39.7%, respectively, in a year.
Just Released: Zacks' 7 Best Stocks for Today
Experts extracted 7 stocks from the list of 220 Zacks Rank #1 Strong Buys that has beaten the market more than 2X over with a stunning average gain of +25.4% per year.
These 7 were selected because of their superior potential for immediate breakout.
See these time-sensitive tickers now >>
Want the latest recommendations from Zacks Investment Research? Today, you can download 7 Best Stocks for the Next 30 Days.
Click to get this free report
UnitedHealth Group Incorporated (UNH): Free Stock Analysis Report
Humana Inc. (HUM): Free Stock Analysis Report
Molina Healthcare, Inc (MOH): Free Stock Analysis Report
Centene Corporation (CNC): Free Stock Analysis Report
To read this article on Zacks.com click here.
Zacks Investment Research