Tyler Technologies' Odyssey System to Serve Australian Client
Tyler Technologies, Inc.'s TYL wholly owned subsidiary Tyler Technologies Australia PTY LTD announced that the company's Odyssey case management system has been successfully implemented by the Supreme Court and the Local Court of the Northern Territory of Australia across the civil jurisdiction of both courts.
Reportedly, this move will enforce automation of many processes within the court system, leading to transition to digital cases from paper files and improving efficiency of both courts.
The company is also optimistic about the upcoming deployment of Odyssey to criminal jurisdiction.
Customer Gains: Impetus to Tyler's Organic Growth
Tyler is gaining traction from robust growth in new business. The company is benefitting from the surging SaaS adoption in public sector, especially among the local governments.
Investments and acquisitions are helping it strengthen its competitive edge and address new and expanding opportunities. Its broad line of software solutions and services, which aid in addressing the IT needs of major areas of operations for cities, counties, schools and other government entities is a tailwind.
A solid uptrend in subscription revenues, backed by large SaaS contract wins, is a key driver for the company.
Tyler signed 288 new software contracts in the last reported quarter. Management mentioned that the company already surpassed the total number of deals inked in 2018 through the first nine months of 2019.
In the third quarter, the company added 150 subscription-based arrangements and converted 20 existing on-premises clients, which accounted for nearly $47 million in total contract value.
Tyler Technologies, Inc. Revenue (TTM)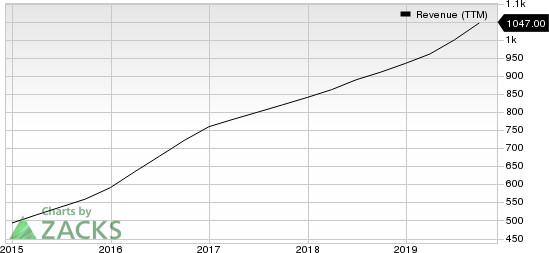 Tyler Technologies, Inc. revenue-ttm | Tyler Technologies, Inc. Quote
Robust sales for Odyssey court case management solution are a positive. In the last reported quarter, the company entered into a SaaS agreement worth $7.7 million with the District of Columbia Superior Court for Odyssey case management as well as e-filing.
The company also added two Odyssey clients in California, reached a license arrangement with Shasta County and signed a SaaS pact with the Mendocino Superior Court along with a new fixed-fee e-filing contract with Snohomish County, WA.
Tyler is also benefiting from solid sales for ERP solutions. New deals for its Munis solution hit an all-time high in the third quarter. Significant contracts included multi-suite deals comprising some of the company's more recently acquired solutions.
However, uncertainty about its ability to frequently snap up plum deals is a concern.
Further, Tyler faces fierce competition in maximum end markets from leading players, namely Oracle ORCL, SAP SE SAP, Workday WDAY, etc. As stiff rivalry exerts a lot of pricing pressure, it makes us apprehensive about the company's earnings potential.
Tyler carries a Zacks Rank #4 (Sell).
You can see the complete list of today's Zacks #1 Rank (Strong Buy) stocks here.
More Stock News: This Is Bigger than the iPhone!
It could become the mother of all technological revolutions. Apple sold a mere 1 billion iPhones in 10 years but a new breakthrough is expected to generate more than 27 billion devices in just 3 years, creating a $1.7 trillion market.
Zacks has just released a Special Report that spotlights this fast-emerging phenomenon and 6 tickers for taking advantage of it. If you don't buy now, you may kick yourself in 2020.
Click here for the 6 trades >>
Want the latest recommendations from Zacks Investment Research? Today, you can download 7 Best Stocks for the Next 30 Days.
Click to get this free report
Workday, Inc. (WDAY): Free Stock Analysis Report
Tyler Technologies, Inc. (TYL): Free Stock Analysis Report
SAP SE (SAP): Free Stock Analysis Report
Oracle Corporation (ORCL): Free Stock Analysis Report
To read this article on Zacks.com click here.
Zacks Investment Research