Hasbro (HAS) Shares Up 24% in the Past Year: More Upside Left?
Hasbro, Inc. HAS is poised to benefit from new product launches, strategic partnerships, gaming activities and expansion efforts. Also, increased focus on eOne content bodes well.

Shares of Hasbro have gained 24.2% in the past year compared with the industry's 5.7% growth. The price performance was backed by an impressive earnings surprise history. Hasbro's earnings surpassed the Zacks Consensus Estimate in each of the trailing four quarters. Earnings estimates for full-year 2021 and 2022 have moved up 9.2% and 4%, respectively, in the past 60 days. This positive trend signifies bullish analysts' sentiments and justifies the company's Zacks Rank #2 (Buy). This indicates robust fundamentals and expectation of outperformance in the near term. You can see the complete list of today's Zacks #1 Rank (Strong Buy) stocks here.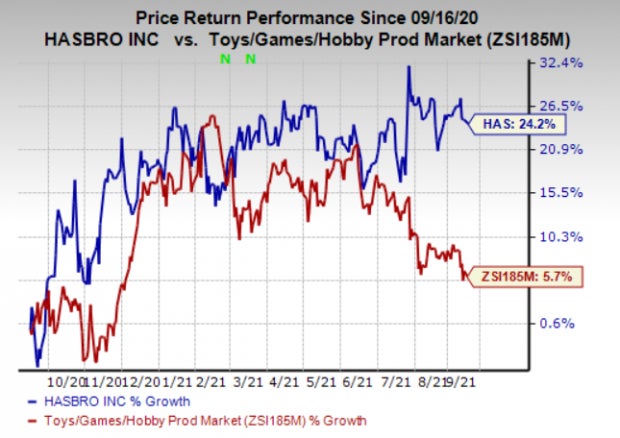 Image Source: Zacks Investment Research
Major Growth Drivers
Product Launches & Partnerships: Hasbro continues to invest in product development and innovation. It partnered with Paramount to enhance storytelling and content capabilities. The company invested in Boulder Media — the company's animation studio — and increased digital capacities to boost sales. Also, it continues to release Transformers franchise in all forms of entertainment that include movies, television and digital expressions. Going forward, the company plans to create a prominent global merchandise program. It also aims to support significant future partner brand initiatives that includes Disney+ for Star Wars and Marvel along with Disney Princess and Frozen. It also has a new creative stewardship in place that encompasses new storytelling for Power Rangers as well as for other Hasbro IP platforms. On the product innovation front, the company plans to release Dark Alliance under the Tuque Games in 2021. Also, it has Nerf, Peppa Pig and PJ Mask lines in the pipeline.
Focus on eOne Content: Hasbro continues to focus on adapting plans to deliver a robust line-up of entertainment and innovation from E1 and its partners in 2021. On the content side, E1 production is gradually recovering through a new animated series on Netflix and Alien TV. The team also continues to develop and produce new content for Peppa Pig, PJ Mask and the My Little Pony 2021 feature film. During second-quarter 2021, the company supported various films such as Snake Eyes, G. I. Joe Origins, Marvel Studio's Black Widow and Spider-Man, No Way Home as well as Sony's Ghostbusters Afterlife. The eOne team continues to develop and move into the production of Hasbro IP of more than 200 projects in development across TV, film and animation. During the second quarter, the company commenced production for Rookie's fourth season. Also, it sold worldwide rights of Have Come From Away (currently in post-production) to Apple TV Plus. Some of the company's upcoming film releases include Kit Clifford, The Big Red Dog and Stillwater. Given that audiences are returning to theatres, entertainment is likely to act as a catalyst to unlock value for its brand of portfolios.
Gaming Category to Drive Growth: Hasbro is witnessing strong gaming demand during the coronavirus pandemic. The company's gaming category, which includes MAGIC: THE GATHERING, NERF, TRANSFORMERS, PLAY-DOH, BABY ALIVE and MY LITTLE PONY, is performing well. During the second quarter, the company not only witnessed solid momentum in the toy and game market but also recorded point-of-sale growth of 10% in the United States compared with 2019 levels. Meanwhile, Wizards generated solid performance on the back of Magic: The Gathering and Dungeons & Dragons. During the second quarter, Wizards of the Coast and digital gaming segment revenues increased 118% year over year. Heightened engagement was being witnessed in the desktop and mobile versions, thereby attracting new arena players. Also, the company benefitted from the release of Strixhaven and Modern Horizons 2 during the second quarter. Going forward, the company intends to emphasize on digital avenues by improving the gameplay in downloadable content.
Expansion Efforts: In addition to growing brands and leveraging opportunistic toy lines and licenses, the company seeks to grow its international business by expanding into emerging markets in Eastern Europe, Asia as well as Latin and South America. Emerging markets offer greater opportunities for revenue growth compared with developed markets. These markets have been contributing to a significant share of Hasbro's revenues, given its investments in advertising and other brand-building efforts. During second-quarter 2021, markets in Europe, North America and Latin America witnessed solid growth. Over the next few years, Hasbro anticipates the emerging markets to grow in double digits backed by innovation in products, entertainment and market share gains. Moreover, the company reinforced its five-year plan (2018 to 2023-24) to double its Wizards business.
3 Picks You Can't Miss Out On
Some other top-ranked stocks in the Zacks Consumer Discretionary sector include Bluegreen Vacations Holding Corporation BVH, Mattel, Inc. MAT and JAKKS Pacific, Inc. JAKK. Bluegreen Vacations and Mattel sport a Zacks Rank #1, while JAKKS Pacific carries a Zacks Rank #2.

Bluegreen Vacations and Mattel's earnings for 2021 are expected to surge 172% and 94.4%, respectively.

JAKKS Pacific has a trailing four-quarter earnings surprise of 49.5%, on average.
Time to Invest in Legal Marijuana
If you're looking for big gains, there couldn't be a better time to get in on a young industry primed to skyrocket from $17.7 billion back in 2019 to an expected $73.6 billion by 2027.
After a clean sweep of 6 election referendums in 5 states, pot is now legal in 36 states plus D.C. Federal legalization is expected soon and that could be a still greater bonanza for investors. Even before the latest wave of legalization, Zacks Investment Research has recommended pot stocks that have shot up as high as +285.9%.
You're invited to check out Zacks' Marijuana Moneymakers: An Investor's Guide. It features a timely Watch List of pot stocks and ETFs with exceptional growth potential.
Today, Download Marijuana Moneymakers FREE >>
Want the latest recommendations from Zacks Investment Research? Today, you can download 7 Best Stocks for the Next 30 Days.
Click to get this free report
Hasbro, Inc. (HAS): Free Stock Analysis Report
Mattel, Inc. (MAT): Free Stock Analysis Report
JAKKS Pacific, Inc. (JAKK): Free Stock Analysis Report
Bluegreen Vacations Holding Corporation (BVH): Free Stock Analysis Report
To read this article on Zacks.com click here.
Zacks Investment Research