Shopify (SHOP) Unveils Collabs to Connect Merchants & Creators
Shopify SHOP recently introduced Shopify Collabs to connect merchants with creators and develop a new source of sales and marketing channel for different brands, enabling creators to become economically independent.
Shopify's latest venture to create the Collabs platform helps address the issues faced by creators and different brands.
Per Shopify, the total creator economy is estimated to be worth above $100 billion. However, only 4% of creators create content full-time and earn money from it. As an independent creator, it is difficult to create relationships with brands, build strategic partnerships and monetize their content via branding, promotion and advertising revenues.
Creators who entertain and can influence followers' buying patterns, have a huge following, especially among the younger lot. They are also known as social influencers.
For merchants and different brands, the creator economic group presents a new way to find probable consumers, particularly at a time when acquiring customers became increasingly difficult and expensive.
How Will This New Platform Aid Shopify?
Shopify's e-commerce business boomed during the COVID-19 pandemic as global brands and small stores set up online platforms to sell products due to retail market closures.
However, once the economy opened and retail stores started winning back their lost customers, Shopify lost its momentum. Inflation and possible signs of recession aggravated the current market scenario, which slowed down growth in the e-commerce market.
Also, rising inflation surged operating expenses. In the second quarter, non-GAAP operating expenses soared 75.7% year over year to $845.9 million, inducing an adjusted operating loss of $41.8 million.
Shopify Inc. Price and Consensus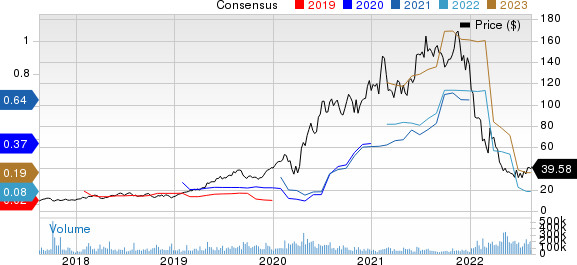 Shopify shares have plunged 72.3% compared with the Zacks Internet Services industry's decline of 19% in the year-to-date period.
Nevertheless, Shopify has been investing heavily in research and development, and sales and marketing to create new platforms and forge strategic alliances with major tech companies to generate new services and address the growing trends in the social media marketing space.
Shopify collaborated with companies like Apple's AAPL iPhone tap-to-pay feature and the major social media platforms like Twitter TWTR and Meta Platforms' META Facebook and Instagram.
The recent integration with Apple enables shoppers to use Apple smartphones against the terminal to pay for goods. While this may not be a new feature in retail but Apple's recent Pay Later installments added a whole new dimension to retail marketing.
The Twitter sales channel allows merchants to connect with consumers directly from their Twitter profiles. SHOP's integration with Twitter was the very first collaboration with a social media platform and the company is looking to benefit from the growing trend of influence marketing strategy.
Meta Platforms' Facebook and Instagram are two of the most popular social media platforms among the creators and users alike. Facebook's short-format videos and reels on Instagram are enjoying increasing popularity among the content creators who can create short content, while users spend more than 20% of their time on these social media platforms. Integration with Meta Platforms will help Shopify address the growing trends and help merchants promote and sell their products via Facebook or Instagram at a much reasonable cost.
Launch of the latest Collabs platform will attract new merchants to the Shopify platform who can in turn, attract new customers by addressing the recent social media marketing trends at a much moderate cost, especially when traditional advertising and branding expenses are skyrocketing due to inflation. Also, the unveiling will make Shopify an ideal commercial platform for creators, which will not only win hordes of customers but also reboost the e-commerce division.
Although the short-term growth prospects look bleak for SHOP under the current market volatility, the recent solution launch and integration with major tech companies will help it generate new revenue sources in the long haul, thus impacting revenue growth positively. This will also add to its shareholders' wealth.
Shopify currently carries a Zacks Rank #3 (Hold). You can see the complete list of today's Zacks #1 Rank (Strong Buy) stocks here.
Want to Know the #1 Semiconductor Stock for 2022?
Few people know how promising the semiconductor market is. Over the last couple of years, disruptions to the supply chain have caused shortages in several industries. The absence of one single semiconductor can stop all operations in certain industries.
This year, companies that create and produce this essential material will have incredible pricing power. For a limited time, Zacks is revealing the top semiconductor stock for 2022. You'll find it in our new Special Report, One Semiconductor Stock Stands to Gain the Most.
Today, it's yours free with no obligation.
>>Give me access to my free special report.
Want the latest recommendations from Zacks Investment Research? Today, you can download 7 Best Stocks for the Next 30 Days.
Click to get this free report
Apple Inc. (AAPL): Free Stock Analysis Report
Twitter, Inc. (TWTR): Free Stock Analysis Report
Shopify Inc. (SHOP): Free Stock Analysis Report
Meta Platforms, Inc. (META): Free Stock Analysis Report
To read this article on Zacks.com click here.
Zacks Investment Research