Hexcel (HXL) Misses on Q1 Earnings, Withdraws 2020 View
Hexcel Corporation HXL reported first-quarter 2020 adjusted earnings of 64 cents per share, which missed the Zacks Consensus Estimate of 67 cents by 4.5%.
In the reported quarter, the company's GAAP earnings came in at 50 cents compared with the prior-year quarter's 84 cents.
The year-over-year deterioration can be attributed to the continued grounding of the Boeing BA 737 MAX and effects of the COVID-19 pandemic.
Hexcel Corporation Price, Consensus and EPS Surprise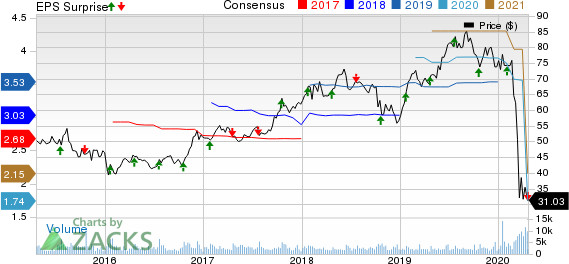 Hexcel Corporation price-consensus-eps-surprise-chart | Hexcel Corporation Quote
Total Sales
Net sales totaled $541 million, surpassing the Zacks Consensus Estimate of $524 million by 3.3%. However, the top line witnessed a decline of 11.3% from the year-ago quarter's $609.9 million.
While stalled production of 737 Max affected sales, temporary closures at a number of Hexcel's plants as well as customer plants led by the pandemic resulted in reduced quarterly sales.
Operational Update
Hexcel's gross margin was 26% in the first quarter, reflecting year-over-year contraction of 140basis points.
The company's operating incomeamounted to $65.7 million in the quarter compared with the previous year's $102.8 million. The deterioration was mainly caused by non-recurring advisory and professional fees and expenses that the company incurred on account of its recently terminated merger with Woodward WWD.
Quarterly Performance
Commercial Aerospace: Net sales were down 12.7% year over year to $362.9 million. The grounding and subsequent production halt of 737 Max and end of the A380 program resulted in this unit's poor top-line performance.
Space and Defense: Net sales rose 3.5% year over year to $111.6 million, primarily driven by improved sales from rotorcraft, particularly the Black Hawk program, and a number of Space programs.
Industrial: Net sales declined 23.2% year over year to $66.5 million, primarily due to soft wind energy sales on account of temporary plant closures in China and Austria arising from the COVID-19 pandemic.
Financial Details
As of Mar 31, 2020, cash and cash equivalents were $329.3 million compared with $64.4 million as of Dec 31, 2019.
Long-term debt totaled $1,389.5 million as of Mar 31, 2020, up from$1,050.6 million as of 2019-end.
At the end of first-quarter 2020, cash generated from operating activities was $8.6 million compared with $45.9 million in the prior year.
The effective tax rate for the firstquarter of 2020 was 21.9% compared with 22.7% in the year-ago period. The firstquarter of 2020was favorably impacted by deductions associated with share-based compensation payments.
The company used $25MILLION to repurchase shares of its common stock during the first quarter. The remaining authorization under the share repurchase program as of Mar 31, 2020 was $217MILLION. However, Hexcel has temporarily suspended its share repurchase program and quarterly dividend payouts, in light of the current market volatility.
Free cash outflow for the first quarter of 2020 was $18.6 million compared with$15.2 million in the first quarter of 2019.
2020 Guidance
Hexcel has withdrawn its previously provided 2020 and mid-term financial guidance due to market uncertainties as a result of the pandemic.
Zacks Rank
Hexcel currently carries a Zacks Rank #5 (Strong Sell).
You can see the complete list of today's Zacks #1 Rank (Strong Buy) stocks here.
Upcoming Defense Release
Another defense stock, General Dynamics Corp. GD is set to release its first-quarter 2020 result on Apr 29.
Today's Best Stocks from Zacks

Would you like to see the updated picks from our best market-beating strategies? From 2017 through 2019, while the S&P 500 gained and impressive +53.6%, five of our strategies returned +65.8%, +97.1%, +118.0%, +175.7% and even +186.7%.

This outperformance has not just been a recent phenomenon. From 2000 – 2019, while the S&P averaged +6.0% per year, our top strategies averaged up to +54.7% per year.

See their latest picks free >>

Want the latest recommendations from Zacks Investment Research? Today, you can download 7 Best Stocks for the Next 30 Days.
Click to get this free report
The Boeing Company (BA): Free Stock Analysis Report
General Dynamics Corporation (GD): Free Stock Analysis Report
Hexcel Corporation (HXL): Free Stock Analysis Report
Woodward, Inc. (WWD): Free Stock Analysis Report
To read this article on Zacks.com click here.
Zacks Investment Research