Auto Stock Roundup: GM to Buy Voyage, VWAGY Power Day Highlights & More
Last week, the European Automobile Manufacturers Association released data for passenger car registrations made in February 2021. New car registrations tailed off 19.3% year over year to 771,486 units amid COVID-induced demand slump. Most of the European Union (EU) markets saw double-digit declines. Registrations in major markets like Spain, Germany, France and Italy plummeted 38.4%, 19% and 20.9% and 12.3%, respectively. Notably, Sweden and Ireland were the only EU countries that registered year-over-year gains.
Meanwhile, disruption caused in the auto market owing to the global chip shortage is aggravating. Last week, Honda HMC announced that it has been forced to suspend operations at plants in Ontario, Ohio, Alabama and Indiana, for at least a week. U.S. auto biggies like General Motors GM and Ford F are scrambling to procure semiconductors, which are forcing them to undergo production cuts, idle factories and furlough employees. While Honda sports a Zacks Rank #1 (Strong Buy), General Motors and Ford carry a Zacks Rank #3 (Hold).You can see the complete list of today's Zacks #1 Rank stocks here.
Last Week's Top Stories
General Motors' majority-owned self-driving car start-up, Cruise, is set to acquire Voyage — a self-driving startup that spun out of online education company, Udacity. Amid the growing popularity of driverless cars, the acquisition of Voyage by Cruise is a win-win deal for both the companies. Cruise is well-positioned to deliver the best self-driving product in the world with the addition of the customer-service focused Voyage team. Voyage's remarkable team is highly effective and resourceful, with first-hand experience in providing an autonomous vehicle solution that will help enhance Cruise's efforts to build a game-changing self-driving vehicle. In fact, Cruise is optimistic about using the unique advantages Voyage enjoys when it comes to delivering the safest and most affordable transportation solution to everyone.
Ford announced that its next-generation Ford Transit Custom range for the European market will go into production in Turkey in the first half of 2023. The range will include an all-electric model in addition to hybrid, mild hybrid and conventional engine versions.All versions of the next generation Transit Custom will be built by Ford Otosan — Ford's joint venture in Kocaeli in Turkey. Meanwhile, Ford backed out on its contractual commitment to invest $900 million in its Ohio Assembly Plant in Avon Lake for an unnamed product line that instead will be produced in Mexico. The automaker's decision has been heavily criticized by United Auto Workers (UAW).
Volkswagen VWAGY outlined its next-generation battery and charging strategy in its first Power Day event held on Mar 15. The German auto giant intends to reduce the cost of producing batteries by up to 50%, build multiple battery factories around the world, expand its network of charging stations, and eventually transition to solid-state technology that would reduce costs and boost efficiency. Beginning 2022, Volkswagen models built on its MEB architecture will support bidirectional charging. The company intends to have 18,000 public fast-charging points in operation in Europe by 2025. It plans to accelerate the development of production and capacities in Europe and aims to have six battery cell production plants operating in the continent by 2030.
Westport Fuel Systems Inc. WPRT reported earnings per share of 3 cents for fourth-quarter 2020, surpassing the Zacks Consensus Estimate of a penny. Revenues of $83.9 million for the fourth quarter also beat the Zacks Consensus Estimate of $69.4 million. Notably, Westport is set to be included in the S&P/TSX Composite Index, effective Mar 22, 2022. Meanwhile, the company announced the decision to co-invest with its Tier 1 global injector manufacturing partner in order to scale up manufacturing facility in Yantai, China. The aim is to jointly develop and supply proprietary fuel injectors to cater to the expanding global market for high-pressure direct injection (HPDI) 2.0 fuel systems.
Group 1 Automotive GPI announced the acquisition of two Toyota dealerships located in Hyannis and Orleans on Cape Cod. Notably, these dealerships are projected to add approximately $120 million to annualized revenues. The buyout helps Group 1 expand in the Massachusetts market in New England. Moreover, the purchase brings Group 1's total Toyota dealerships in the United States to 15. Also, the addition increases the company's dealership count in New England to 10, which includes brands like Audi, BMW, Lexus, Subaru and Toyota.
Price Performance
The following table shows the stock movement of a few major auto players over the past week and six-month period.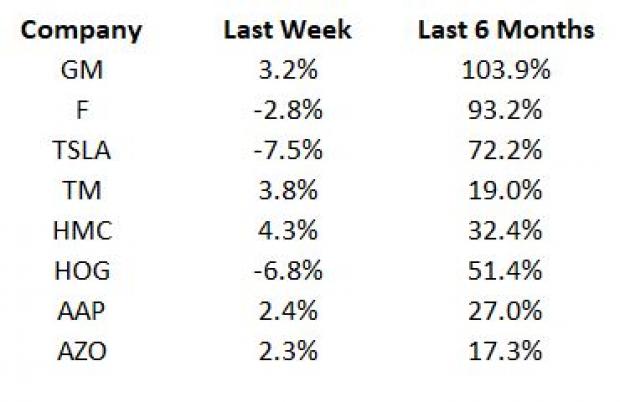 In the past six months, all stocks have increased, with General Motors being the maximum gainer. Last week's price display is a mixed bag, with Tesla losing the most and Honda registering the highest gains.
What's Next in the Auto Space?
Investors await the quarterly results from recreational vehicle maker Winnebago Industries WGO, which is scheduled for Mar 24. Also, watch out for any updates related to chip crunch-related disruptions in the auto market.
Zacks Top 10 Stocks for 2021
In addition to the stocks discussed above, would you like to know about our 10 best buy-and-hold tickers for the entirety of 2021?
Last year's 2020Zacks Top 10 Stocks portfolio returned gains as high as +386.8%. Now a brand-new portfolio has been handpicked from over 4,000 companies covered by the Zacks Rank. Don't miss your chance to get in on these long-term buys.
AccessZacks Top 10 Stocks for 2021 today >>
Want the latest recommendations from Zacks Investment Research? Today, you can download 7 Best Stocks for the Next 30 Days.
Click to get this free report
Ford Motor Company (F): Free Stock Analysis Report
Honda Motor Co., Ltd. (HMC): Free Stock Analysis Report
General Motors Company (GM): Free Stock Analysis Report
Group 1 Automotive, Inc. (GPI): Get Free Report
Westport Fuel Systems Inc. (WPRT): Free Stock Analysis Report
Winnebago Industries, Inc. (WGO): Get Free Report
Volkswagen AG (VWAGY): Free Stock Analysis Report
To read this article on Zacks.com click here.
Zacks Investment Research