PulteGroup & Finicity Team Up to Ease Home Loan Paper Work
PulteGroup, Inc.'s PHM wholly-owned subsidiary and mortgage financing unit, Pulte Mortgage teamed up with Finicity to provide faster, simpler and more secure home financing services to its borrowers.

This Atlanta, GA-based company will leverage Finicity's new instant asset verification technology in order to step up the asset verification process, while reducing the time and complexity associated with securing a mortgage. With the use of this technology, borrowers can easily upload documents through their mobile, e-sign key regulatory disclosures with the swipe of a finger and remain up-to-date on their loan's progress. Also, borrowers can have easy access to up to 24 months of bank, brokerage and 401k data that will reduce the initiation time by more than a week.

Finicity is one of the leading providers of real-time financial data access and insights. The partnership will allow PulteGroup to meet the need for ever-increasing volumes of mortgages that increase burden on both borrowers and lenders.

Financial Services revenues in 2018 increased 7% year over year, primarily backed by higher loan origination, title and insurance brokerage volume, courtesy of greater volumes in the Homebuilding segment. Higher average loan size, driven by higher average selling prices in the Homebuilding segment, also added to the positives.

Notably, since the beginning of 2019, mortgage rates have declined 9.5%, per the mortgage-finance company Freddie Mac's report. Nonetheless, mortgage applications for new home purchases are improving gradually as homebuilding fundamentals are strengthening.

Notably, shares of PulteGroup have outperformed its industry and the S&P 500 composite in the past six months. The stock has gained 26.3% in the said period, comparing favorably with its industry and the S&P 500's growth of 18.3% and 3.8%, respectively.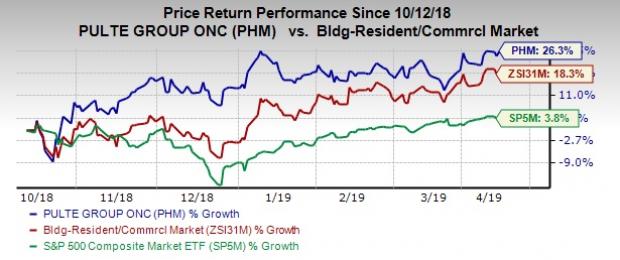 Zacks Rank & Key Picks

PulteGroup currently carries a Zacks Rank #3 (Hold). Some better-ranked stocks in the Zacks Construction sector include Apergy Corp. APY, Quanta Services, Inc. PWR and AECOM ACM. While Apergy and Quanta Services sport a Zacks Rank #1 (Strong Buy), AECOM carries a Zacks Rank #2 (Buy). You can see the complete list of today's Zacks #1 Rank stocks here.

Apergy, Quanta Services, AECOM's earnings for the current year are expected to increase 2.1%, 25.3% and 2.6%, respectively.

Breakout Biotech Stocks with Triple-Digit Profit Potential

The biotech sector is projected to surge beyond $775 billion by 2024 as scientists develop treatments for thousands of diseases. They're also finding ways to edit the human genome to literally erase our vulnerability to these diseases.

Zacks has just released Century of Biology: 7 Biotech Stocks to Buy Right Now to help investors profit from 7 stocks poised for outperformance. Our recent biotech recommendations have produced gains of +98%, +119% and +164% in as little as 1 month. The stocks in this report could perform even better.

See these 7 breakthrough stocks now>>
Want the latest recommendations from Zacks Investment Research? Today, you can download 7 Best Stocks for the Next 30 Days.
Click to get this free report
Quanta Services, Inc. (PWR): Free Stock Analysis Report
PulteGroup, Inc. (PHM): Free Stock Analysis Report
AECOM (ACM): Free Stock Analysis Report
Apergy Corporation (APY): Free Stock Analysis Report
To read this article on Zacks.com click here.
Zacks Investment Research