Hanesbrands (HBI) Stock Up on Q4 Earnings & Sales Beat
Hanesbrands Inc. HBI released fourth-quarter 2018 results, wherein the top and bottom lines exceeded estimates. The company had posted in-line earnings in the third quarter. Sales beat estimates after missing the same in two consecutive quarters. As a result, shares of the company increased 6.6% during the pre-market trading session.

Q4 in Detail

The company posted adjusted earnings of 48 cents a share, which outpaced the Zacks Consensus Estimate by a penny. However, quarterly earnings declined 7.7% year over year from 52 cents registered in the year-ago period. The downside can be attributed to higher tax rate.

Nevertheless, net sales improved 7.5% to $1,768.3 million and also surpassed the Zacks Consensus Estimate of $1,716 million. On a constant currency (cc) basis, organic sales rose 6%, marking the company's sixth straight quarter of increase. The upside was driven by increased sales from Activewear and International units, mainly fueled by strength in Champion.
Hanesbrands Inc. Price, Consensus and EPS Surprise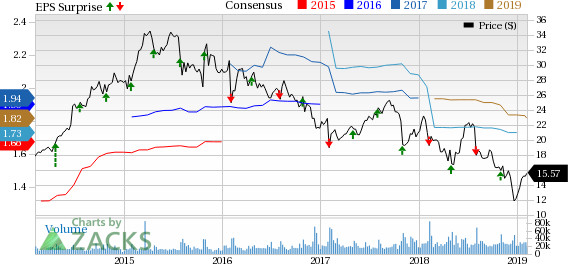 Hanesbrands Inc. Price, Consensus and EPS Surprise | Hanesbrands Inc. Quote
Further, Global Champion sales soared more than 50% at cc, excluding mass channel. Also, the company's consumer-direct sales (including retail and online networks) increased 23% year over year and represented 25% of overall sales.

Moving on, adjusted operating profit rose 10.3% to $259.6 million. Adjusted operating margin expanded 40 basis points (bps) to 14.7% driven by gains contributions and fall in selling, general and administrative costs, as a percentage of sales.

Segment Details

Innerwear: Sales dipped 0.1% in the quarter to $594.2 million due to softness across Innerwear intimates, somewhat offset by growth at Innerwear basics. However, operating profit inched up 0.3% to $134 million. Further, the company progresses well with its revitalization plans for the intimates business and bra turnaround strategy.

Activewear: Sales advanced 13.5% to $485.4 million, thanks to higher sales at Champion and American Casualwear, and contribution from the Alternative Apparel's buyout. Meanwhile, champion sales remained robust driven by broad-based growth across channels, including solid stores and online sales. However, sales of Champion at mass retail fell roughly 3%. Further, operating profits increased 3.8% to $78 million.

International: Sales at this segment improved 11.7% (up 16% at cc) to $608.9 million backed by strong Champion sales across Europe and Asia. Organic sales rose 9% on a currency-neutral basis. Contributions from the acquisition of Bras N Things ($43 million) also fueled International sales. Operating profit at this segment rallied 27.7% (up 33% at cc) to $98.5 million in the quarter, thanks to organic growth, contribution from Bras N Things and integration synergies.

Other: Sales grew 2.8% to roughly $79.8 million. The segment posted an operating profit of $7.2 million, down 21.2% year over year.

Other Financial Details

Hanesbrands ended the quarter with cash and cash equivalents of $433 million, long-term debt of $3,534.2 million and equity of $970.3 million. Also, the company generated $643.4 million in net cash from operations during 2018.

Further, management announced a quarterly cash dividend of 15 cents per share, which will be paid on Mar 12, 2019, to its stockholders of record as on Feb 19.

Price Performance

In the past six months, this Zacks Rank #4 (Sell) stock have lost 16.2% compared with the industry's 4.7% decline.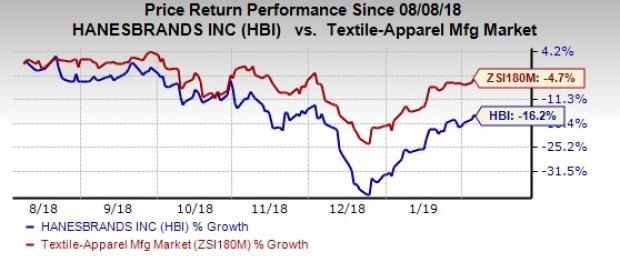 Guidance

Management remains impressed with its quarterly results. Further, the company continued with organic sales growth trend, improved margins and curtailed debt leverage. Results were largely backed by Champion sales. Also, Hanesbrands is executing its diversification strategy.

For 2019, the company issued an initial outlook. Net sales are projected in the $6.885-$6.985 billion range. While GAAP operating profit is likely to come in at $900-$930 million band, adjusted operating profit is anticipated in the range of $955-$985 million.

Further, the company envisions adjusted earnings of $1.72-$1.80 for the year, along with net cash from operations of $700-$800 million. Earnings per share on a GAAP basis are estimated to be $1.59-$1.67. The Zacks Consensus Estimate for 2019 earnings is pegged at $1.83, which might witness downward revisions in the coming days.

At the midpoint, the current guidance for the year reflects year-over-year growth of roughly 2% in net sales, 5% in operating profit on a GAAP basis and 2% in adjusted operating profit. Further, the guidance represents midpoint growth of 7% and 3% for GAAP and adjusted earnings, respectively, coupled with 17% improvement in operating cash flow.

Effective tax-rate for 2019 is projected at roughly 14%. Further, it anticipates roughly 366 million shares outstanding, which shows a slight improvement from 2018 figure.

For the first quarter, management projects net sales of $1.52-$1.55 billion, with adjusted operating profit of $157-$167 million. Moreover, operating profit on a GAAP basis is estimated to come in at $135-$145 million. The company envisions adjusted EPS in the range of 24-26 cents. GAAP EPS is likely to come between 19 cents and 21 cents. The Zacks Consensus Estimate for first-quarter 2019 earnings is pegged at 28 cents, which is likely to witness downward revisions in the coming days.

Notably, the guidance includes contributions of $17 million to sales from the buyout of Bras N Things. Further, organic sales at cc for the year are estimated to grow roughly 2.5%. Unfavorable foreign currency is likely to hurt net sales by nearly $60 million, mainly in the first quarter.

Want Better-Ranked Textile-Apparel Stocks? Check These

Crocs, Inc. CROX has long-term earnings per share growth rate of 15% and a Zacks Rank #1 (Strong Buy). You can see the complete list of today's Zacks #1 Rank stocks here.

Columbia Sportswear Company COLM has long-term earnings per share growth rate of 10.9% and a Zacks Rank #1.

Ralph Lauren Corporation RL has long-term earnings per share growth rate of 10.2% and a Zacks Rank #2 (Buy).

Zacks' Top 10 Stocks for 2019

In addition to the stocks discussed above, wouldn't you like to know about our 10 finest buy-and-holds for the year?

From more than 4,000 companies covered by the Zacks Rank, these 10 were picked by a process that consistently beats the market. Even during 2018 while the market dropped -5.2%, our Top 10s were up well into double-digits. And during bullish 2012 – 2017, they soared far above the market's +126.3%, reaching +181.9%.

This year, the portfolio features a player that thrives on volatility, an AI comer, and a dynamic tech company that helps doctors deliver better patient outcomes at lower costs.

See Stocks Today >>
Want the latest recommendations from Zacks Investment Research? Today, you can download 7 Best Stocks for the Next 30 Days.
Click to get this free report
Ralph Lauren Corporation (RL): Free Stock Analysis Report
Hanesbrands Inc. (HBI): Get Free Report
Columbia Sportswear Company (COLM): Free Stock Analysis Report
Crocs, Inc. (CROX): Free Stock Analysis Report
To read this article on Zacks.com click here.