Wingstop Surges on Robust Q1 Preliminary Sales Amid Coronavirus
Wingstop Inc. WING announced preliminary first-quarter fiscal 2020 results. Notably, the company expects to achieve strong sales in the soon-to-be-reported quarter, outweighing the impacts of the novel coronavirus outbreak that has created quite an upheaval in the global economy. The company is scheduled to report its fiscal first-quarter results on May 6.
Following the announcement of robust preliminary unaudited sales, shares of the company increased more than 9% on Apr 7.
A glimpse of the company's price trend reveals that Wingstop has outperformed its industry in a year's time. The stock has gained 22.4% compared with the industry's decline of 15.4%.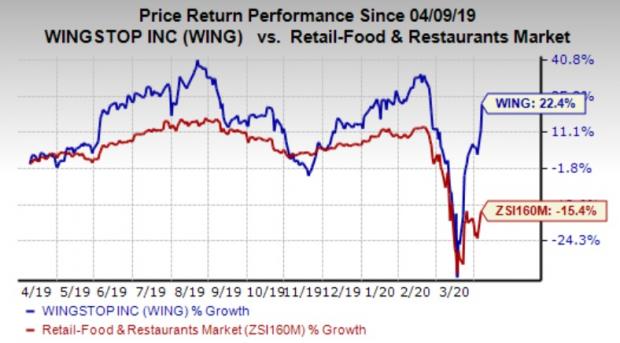 Preliminary Fiscal Q1 Results
Wingstop anticipates domestic same store sales to grow 9.9% year over year in fiscal first quarter. Comps at company-owned stores are expected to rise 6.2%, year over year.
Per the latest announcement, system-wide sales (representing all of company-owned and franchised restaurants) rose 18.6% year over year to nearly $429.9 million.
Coming to unit development, the company currently operates in 1,413 stores worldwide, out of which 1,253 stores are in the United States. Of the total, 1,221 are franchised, 32 are company owned and 160 internationally franchised. The company's net opening in the quarter is at 28 restaurants.
Owing to the COVID-19 outbreak, the company expects a near-term impact on its development pipeline as a result of availability of construction, permitting and inspections resources in this current environment. Nonetheless, the company is focused on execution, service and value as it continues to navigate through the headwinds created by COVID-19.
Liquidity Update
Given the uncertainty surrounding the global pandemic, Wingstop borrowed $16 million under its outstanding variable funding notes to improve cash position. This leads to an unrestricted cash balance of approximately $31 million at the end of fiscal first quarter compared with $12.8 million on Dec 28, 2019.
2020 Guidance
Although the uncertainty surrounding the deadly virus continues to be a concern, the company is optimistic regarding its 3-5 year outlook of mid-single digit domestic same-store sales along with an additional 10% global net unit growth. The company will update its 2020 guidance during the first-quarter earnings call.
Zacks Rank & Key Picks
Wingstop currently carries a Zacks Rank #3 (Hold). You can see the complete list of today's Zacks #1 Rank (Strong Buy) stocks here.
Some better-ranked stocks worth considering in the same space include Kura Sushi USA, Inc. KRUS, BJ's Restaurants, Inc. BJRI and Chuy's Holdings, Inc. CHUY. Kura Sushi USA sports a Zacks Rank #1, while BJ's Restaurants and Chuy's Holdings carry a Zacks Rank #2 (Buy).
Kura Sushi USA's 2020 earnings are expected to rise 55.6%
BJ's Restaurants has an expected three-five year earnings per share growth rate of 15%.
Chuy's Holdings has trailing four-quarter positive earnings surprise of 21.2%, on average. The company's earnings beat the Zacks Consensus Estimate in all of the last four quarters.
Free: Zacks' Single Best Stock Set to Double
Today you are invited to download our latest Special Report that reveals 5 stocks with the most potential to gain +100% or more in 2020. From those 5, Zacks Director of Research, Sheraz Mian hand-picks one to have the most explosive upside of all.
This pioneering tech ticker had soared to all-time highs and then subsided to a price that is irresistible. Now a pending acquisition could super-charge the company's drive past competitors in the development of true Artificial Intelligence. The earlier you get in to this stock, the greater your potential gain.
Want the latest recommendations from Zacks Investment Research? Today, you can download 7 Best Stocks for the Next 30 Days.
Click to get this free report
BJ's Restaurants, Inc. (BJRI): Free Stock Analysis Report
Chuy's Holdings, Inc. (CHUY): Free Stock Analysis Report
Kura Sushi USA, Inc. (KRUS): Free Stock Analysis Report
To read this article on Zacks.com click here.
Zacks Investment Research