Copart (CPRT) Q4 Earnings & Sales Top Estimates, Rise Y/Y
Copart, Inc. CPRT reported fourth-quarter fiscal 2021 (ended Jul 31, 2021) adjusted earnings per share of $1.03, surpassing the Zacks Consensus Estimate of 89 cents. Higher-than-expected revenues from both the company's segments led to this outperformance. The bottom line also surged 51.5% year over year from 68 cents reported in the prior-year quarter.
The online auto auction leader generated revenues of $748.6 million, beating the Zacks Consensus Estimate of $672 million. Also, the top line increased from the year-ago reported figure of $525.6 million.
Copart, Inc. Price, Consensus and EPS Surprise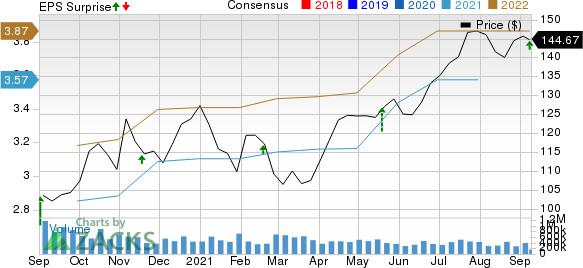 Copart, Inc. price-consensus-eps-surprise-chart | Copart, Inc. Quote
Gross profit was up 42.7% year over year to $357.5 million. Total operating expenses flared up 39.8% year on year to $447.1 million. General and administrative expenses shot up 14.5% from the prior-year quarter to $39.6 million. Nonetheless, operating income increased to $301.5 million from the year-earlier period's $205.7 million. Net income came in at $255.9 million compared with the year-ago figure of $165.5 million.
Segmental Performance
Fiscal fourth-quarter service revenues came in at $620 million, up from $457.6 million recorded in the year-earlier period. Service revenues accounted for 83% of the total revenues. The reported figure also surpassed the Zacks Consensus Estimate of $601 million.
Vehicle sales summed $128.6 million for the quarter, up from the prior-year level of $67.9 million. The reported figure also surpassed the Zacks Consensus Estimate of $100 million.
Financial Position
Copart — which is considered as the eBay EBAY of salvage vehicles — had cash and cash equivalents of $1,048.3 million on Jul 31, 2021 compared with $477.7 million as of Jul 31, 2020. Long-term debt and financial lease obligations summed $397.6 million at the end of fiscal fourth-quarter 2021.
Copart — whose peers include KAR Auctions Services Inc. KAR and Insurance Auto Auctions aka IAA, Inc. IAA — currently carries a Zacks Rank #3 (Hold). You can see the complete list of today's Zacks #1 Rank (Strong Buy) stocks here.
Breakout Biotech Stocks with Triple-Digit Profit Potential
The biotech sector is projected to surge beyond $2.4 trillion by 2028 as scientists develop treatments for thousands of diseases. They're also finding ways to edit the human genome to literally erase our vulnerability to these diseases.
Zacks has just released Century of Biology: 7 Biotech Stocks to Buy Right Now to help investors profit from 7 stocks poised for outperformance. Recommendations from previous editions of this report have produced gains of +205%, +258% and +477%. The stocks in this report could perform even better.
See these 7 breakthrough stocks now>>
Want the latest recommendations from Zacks Investment Research? Today, you can download 7 Best Stocks for the Next 30 Days.
Click to get this free report
eBay Inc. (EBAY): Free Stock Analysis Report
Copart, Inc. (CPRT): Free Stock Analysis Report
KAR Auction Services, Inc (KAR): Free Stock Analysis Report
IAA, Inc. (IAA): Free Stock Analysis Report
To read this article on Zacks.com click here.
Zacks Investment Research