Precision BioSciences' (DTIL) New Lymphoma Drug IND Gets FDA Nod
Precision BioSciences, Inc. DTIL announced that the FDA has accepted its investigational new drug (IND) application seeking approval for initiation of a clinical study on its next-generation, stealth cell, CD19 product candidate, PBCAR19B. The company had filed the IND application for evaluating PBCAR19B in a phase I study in patients with relapsed/refractory (R/R) non-Hodgkin lymphoma (NHL).
In pre-clinical studies, the candidate delayed both T cell and natural killer cell-mediated allogeneic rejection. The company believes that by reducing rejection by each cell type the candidate holds potential for improved persistence of allogeneic CAR T cells.
Precision BioSciences' shares were up almost 30% on Jan 19 following the IND acceptance. In fact, shares of the company have gained 37% in the past year compared to the industry's 11.1% increase.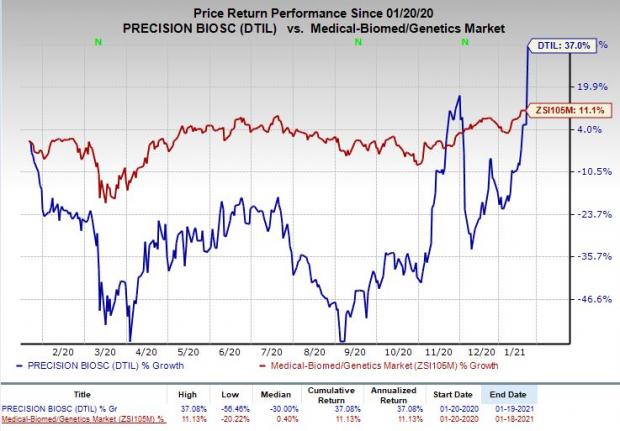 The dose-escalation and dose-expansion phase I study will evaluate PBCAR19B at increasing flat dose levels (2.7 x 108 - 8.1 x 108 CAR T cells) for identifying the maximum tolerated dose and any dose-limiting toxicities.
The company has developed the candidate using its proprietary ARCUS genome editing platform. The company has developed several other candidates using this platform. Currently, it is developing its lead allogenic candidate, PBCAR0191, in a phase I/IIa study as a potential treatment for R/R NHL, R/R B-cell precursor acute lymphoblastic leukemia (ALL) or RR B-ALL. Interim data from the study announced last month showed that the candidate with enhanced lymphodepletion achieved objective response rate of 83% in R/R NHL and R/R B-ALL patients.
The company is also evaluating two other CAR T therapy candidates — PBCAR20A and PBCAR269A — in separate phase I/IIa studies. While PBCAR20A is targeting R/R chronic lymphocytic leukemia or R/R small lymphocytic lymphoma patients, PBCAR269A is being developed for treating R/R multiple myeloma.
The company has developed an in-vivo chronic hepatitis B virus (HBV) program under a collaboration with Gilead Sciences GILD. The collaboration agreement between the two companies was terminated in June 2020. In September 2020, Precision BioSciences regained full clinical development and commercialization rights to the candidate and is currently exploring partnership or alternative opportunities for continued development of HBV therapies.
Earlier this month, Precision BioSciences announced a collaboration and licensing agreement with Eli Lilly LLY, granting the latter access to its proprietary genome editing platform to develop potential in vivo therapies for treating genetic disorders, especially Duchenne muscular dystrophy and two other undisclosed gene targets.
Precision BioSciences, Inc. Price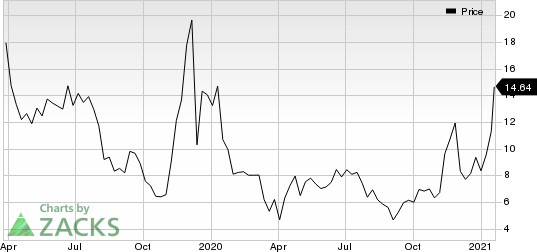 Precision BioSciences, Inc. price | Precision BioSciences, Inc. Quote
Zacks Rank & Stock to Consider
Precision BioSciences currently carries a Zacks Rank #3 (Hold). Halozyme Therapeutics HALO is a better-ranked stock from the sector carrying a Zacks Rank #1 (Strong Buy). You can see the complete list of today's Zacks #1 Rank stocks here.
Halozyme's earnings estimates have been revised 2.4% upward for 2021 over the past 60 days. The stock has skyrocketed 141.7% in the past year.
Breakout Biotech Stocks with Triple-Digit Profit Potential
The biotech sector is projected to surge beyond $775 billion by 2024 as scientists develop treatments for thousands of diseases. They're also finding ways to edit the human genome to literally erase our vulnerability to these diseases.
Zacks has just released Century of Biology: 7 Biotech Stocks to Buy Right Now to help investors profit from 7 stocks poised for outperformance. Our recent biotech recommendations have produced gains of +50%, +83% and +164% in as little as 2 months. The stocks in this report could perform even better.
See these 7 breakthrough stocks now>>
Want the latest recommendations from Zacks Investment Research? Today, you can download 7 Best Stocks for the Next 30 Days.
Click to get this free report
Gilead Sciences, Inc. (GILD): Free Stock Analysis Report
Eli Lilly and Company (LLY): Free Stock Analysis Report
Halozyme Therapeutics, Inc. (HALO): Free Stock Analysis Report
Precision BioSciences, Inc. (DTIL): Free Stock Analysis Report
To read this article on Zacks.com click here.
Zacks Investment Research