Virtu Financial Boosts Clients' Access to Block Liquidity
Virtu Financial, Inc. VIRT recently extended client access to electronic block liquidity through Interlisted Conditonal orders. The company's clients will be allowed to avail of cross-border block liquidity via POSIT Alert Canada, which gains traction from Virtu Financial's Best Market Server (BMS) technology.

Rationale Behind This Latest Initiative

Traders are able to leverage a wide array of liquidity for their execution requirements. This strategic move reflects the company's commitment to provide unique products for the Canadian market. The range of services include Virtu Frontier algo suite, further penetration in Canadian ETFs and the introduction of FX trading through its Triton Valor EMS.

Interlisted Canadian orders can provide extra liquidity to POSIT Alert Canada for Canadian/U.S. interlisted securities by accessing U.S. algorithm flow, which is trading in USD. U.S. algos that handle orders for the interlisted securities are now able to send a USD conditional order to POSIT Alert Canada. Virtu Financial can use the FX technology to represent the Canadian ticker in POSIT Alert Canada within the U.S. quote.

Traders of both markets can gain from this block liquidity. After trading, all executions are converted to respective currencies and settled in the local market.

This new expansion will likely boost the company's global Execution Services platform.

Last week, the company also launched Open Technology, a new data-as-a-service platform, which has a vast catalogue of services and data endpoints enabled by a unified, high-performance application programming interface (API) architecture.

At present, the company is well-poised for growth on the back of its strategic initiatives, well-performing segments and current market volatility.

Shares of this Zacks Rank #1 (Strong Buy) company have gained 38.7% year to date against its industry's decline of 16.6%. The price performance looks stellar when compared to other companies' stock movements in the same space, such as PRA Group, Inc. PRAA, Global Payments Inc. GPN and Oaktree Specialty Lending Corp. OCSL, which have lost 0.2%, 2.6% and 17.6%, respectively, in the same time frame. Oaktree Specialty, PRA Group and Global Payments currently carry a Zacks Rank #2 (Buy), 3 (Hold) and 4 (Sell) each. You can see the complete list of today's Zacks #1 Rank stocks here.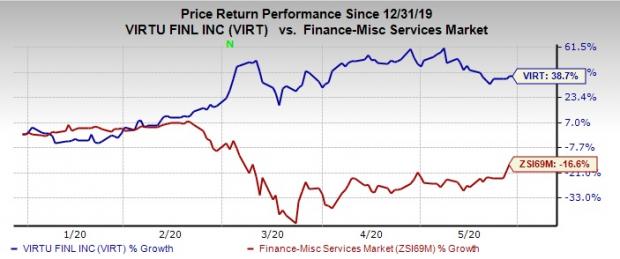 Just Released: Zacks' 7 Best Stocks for Today

Experts extracted 7 stocks from the list of 220 Zacks Rank #1 Strong Buys that has beaten the market more than 2X over with a stunning average gain of +24.1% per year.

These 7 were selected because of their superior potential for immediate breakout.

See these time-sensitive tickers now >>



Want the latest recommendations from Zacks Investment Research? Today, you can download 7 Best Stocks for the Next 30 Days.
Click to get this free report
PRA Group, Inc. (PRAA): Free Stock Analysis Report
Global Payments Inc. (GPN): Free Stock Analysis Report
Virtu Financial, Inc. (VIRT): Free Stock Analysis Report
Oaktree Specialty Lending Corp. (OCSL): Free Stock Analysis Report
To read this article on Zacks.com click here.
Zacks Investment Research