First Solar (FSLR) to Supply Solar Modules to Azure Power
First Solar, Inc. FSLR has secured an agreement to supply solar modules to the India-based renewable energy producer, Azure Power Global Limited AZRE. As part of the agreement, First Solar will supply 600 megawatts direct current (MW-dc) of solar modules to Azure Power.
The agreement with Azure Power marks the first production lot of First Solar's latest Series 7 photovoltaic solar modules from its new manufacturing facility in Tamil Nadu, India. The facility, which is expected to come online in 2023, will commence the delivery of solar modules to Azure Power from the fourth quarter of 2023 to 2025.
With the latest deal, First Solar should be able to establish its position in India as a solar manufacturer with its newest Series 7 solar modules amid supply-chain challenges on the global front.
First Solar's Expansion Strategy With Series 7 Modules
First Solar has been successful in its strategic transition to Series 6 modules. The company produced 2.2 gigawatts, direct current (GWdc) of solar modules in the second quarter of 2022, which represented a 12% increase in Series 6 module production from the same period in 2021.
While its Series 6 modules continue to attract customers and expand its revenue stream, the company is investing heftily in strategically expanding its manufacturing capacity to support the production of its newest Series 7 solar modules.
FSLR intends to expand its manufacturing capacity by 6.6 gigawatts (GW) by constructing its third manufacturing facility in Ohio and its first manufacturing facility in India. This will aid in increasing its annual Series 7 module capacity.
First Solar seeks to fulfill Azure Power's supply deal through its manufacturing facility in India, which is projected to have a nameplate capacity of 3.3 GWdc of Series 7 modules.
Hence, such an expansion plan will enable First Solar to maintain its position as the largest U.S. solar module manufacturer.
Solar Growth Prospects
Per the report from Mordor Intelligence, the global solar energy installed capacity is likely to witness a CAGR of about 12.7% over the 2022-2027 period. The expanding size of the solar market should benefit companies with a global presence.
In such a scenario, First Solar, being among the world's ten largest solar manufacturers, should be able to enhance its position in the solar market with its strategic expansion plans.
Other solar players that enjoy a lucrative position in the solar space and thus should gain from the northward demand trend are as follows:
Enphase Energy's ENPH residential and commercial systems were deployed in more than 140 countries in the last reported quarter. The company is also adding an automated line at Flex's factory in Romania, which boasts a quarterly capacity of approximately 750,000 microinverters, starting in the first quarter of 2023.
Enphase boasts a long-term earnings growth rate of 47.2%. ENPH shares have rallied 92.6% in the past year.
Canadian Solar CSIQ has one of the world's largest utility-scale solar project development platforms, with a track record of bringing more than 6.6 gigawatt-peak of solar power plants into commercial operation across six continents as of Mar 31, 2022. It shipped 5.06 GW of modules to more than 70 countries in the second quarter of 2022.
The Zacks Consensus Estimate for Canadian Solar's 2022 sales suggests a growth rate of 45.9% from the prior-year reported figure. CSIQ shares have appreciated 7.9% in the past year.
Price Movement
In the past year, shares of First Solar have risen 39.3% compared with the industry's growth of 9.7%.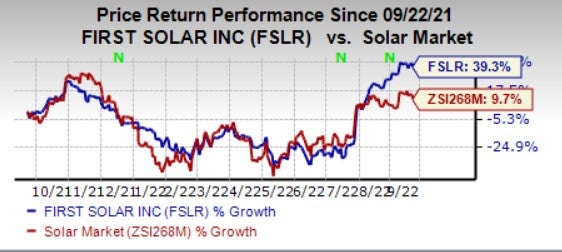 Image Source: Zacks Investment Research
Zacks Rank
First Solar currently carries a Zacks Rank #3 (Hold). You can see the complete list of today's Zacks #1 Rank (Strong Buy) stocks here.
This Little-Known Semiconductor Stock Could Be Your Portfolio's Hedge Against Inflation
Everyone uses semiconductors. But only a small number of people know what they are and what they do. If you use a smartphone, computer, microwave, digital camera or refrigerator (and that's just the tip of the iceberg), you have a need for semiconductors. That's why their importance can't be overstated and their disruption in the supply chain has such a global effect. But every cloud has a silver lining. Shockwaves to the international supply chain from the global pandemic have unearthed a tremendous opportunity for investors. And today, Zacks' leading stock strategist is revealing the one semiconductor stock that stands to gain the most in a new FREE report. It's yours at no cost and with no obligation.
>>Yes, I Want to Help Protect My Portfolio During the Recession
Want the latest recommendations from Zacks Investment Research? Today, you can download 7 Best Stocks for the Next 30 Days.
Click to get this free report
First Solar, Inc. (FSLR): Free Stock Analysis Report
Canadian Solar Inc. (CSIQ): Free Stock Analysis Report
Enphase Energy, Inc. (ENPH): Free Stock Analysis Report
Azure Power Global (AZRE): Free Stock Analysis Report
To read this article on Zacks.com click here.
Zacks Investment Research