Domino's (DPZ) Stock Up 43% in 6 Months: What's Ahead?
Domino's Pizza, Inc. DPZ is benefiting from a solid digital ordering system, higher global retail sales and focus on international expansion. Hence, the company's shares have surged 42.7% in the past six months, compared with the industry's growth of 13.2%. However, coronavirus and debt woes persist.

Let's look at Domino's earnings estimate revisions in order to get a clear picture of what analysts are thinking about the company. Over the past 30 days, the company's earnings estimates for the 2021 have improved by 5.1% to 56 cents and $13.57.
Key Factors Driving Growth
Domino's is investing heavily in technology-driven initiatives like digital ordering to boost sales. The company continues to witness growth in terms of its carryout and the delivery businesses. It has been emphasizing on Car Side Delivery 2-Minute Guarantee with awareness campaigns. With less than 2-Minutes of wait time, the technology has been received well by its franchisees and operators. Further developments in this regard are likely, as it intends to boost drive-through oriented customer experience.
Meanwhile, Domino's digital loyalty program — Piece of the Pie Rewards — continues to contribute significantly to traffic gains. The extended ways to order a pizza has thus kept Domino's at the forefront of digital ordering and customer convenience. Other digital enhancements in terms of ordering, selecting service methods, paying and tipping were implemented to enhance consumer experience. The company continues to innovate aggressively across all aspects of its business including GPS, e-bikes, AI in-store technology, great food, and an evolving digital experience.
Robust growth in international markets continues to favor the company. Meanwhile, the company's international growth remains strong and diversified across markets, courtesy of exceptional unit level economics. Second-quarter fiscal 2021 marked the 110th consecutive quarter of positive same-store sales in its international business. Improvement in comps can be attributed to ticket growth. This was driven by return of non-delivery service methods, resumption of normal store hours and reopening of international stores (that were closed in the prior-year quarter). Meanwhile, the company inaugurated 238 (35 net U.S. stores and 203 net new international stores) global net store in second-quarter fiscal 2021.
Domino's continues to impress investor with robust margin growth. In second-quarter fiscal 2021, the company's operating margin expanded 70 basis points (bps) year over year to 39.5%. Operating margin expansion was primarily driven by an increase in revenues in its U.S. franchise business. Company-owned store margin (as a percentage of revenues) increased to 24.5% compared with 23.1% in the prior-year quarter. The improvement was backed by lower labor costs, partially offset by rise in food costs.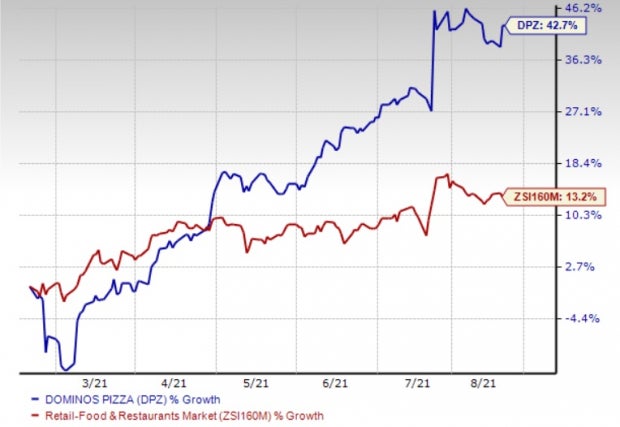 Image Source: Zacks Investment Research
Primary Concerns
The coronarius pandemic might impact the company's performance. At the end of fiscal second-quarter 2021, fewer than 175 stores (majority located in India) were temporarily shut due to the pandemic. The company announced that coronavirus pandemic will continue to hurt international markets for some time. In fact, due to the uncertain and dynamic nature of the crisis, the company continues to monitor the pandemic on regular basis, so as to operate and survive amid such trying times.
High debt remains a concern. Long-term debt as of Jun 20, 2021 was $5 billion compared with $4.1 billion as of Mar 28, 2021. The company ended fiscal second quarter with cash and cash equivalent of $292.1 million compared with $267.7 million in the previous quarter. Although cash and cash equivalent has increased sequentially, it might still be difficult to manage high debt level. Meanwhile, debt to capitalization during the quarter came in at 540% compared with the prior quarter's 466.2%.
Zacks Rank & Key Picks
Domino's has a Zacks Rank #3 (Hold). Some better-ranked stocks in the same space include Brinker International, Inc. EAT, The Wendy's Company WEN and Yum! Brands, Inc. YUM, each carrying a Zacks Rank #2 (Buy). You can see the complete list of today's Zacks #1 Rank (Strong Buy) stocks here.
Brinker's earnings for fiscal 2021 are expected to soar 84.2%.

Wendy's and Yum! Brands' earnings for 2021 are expected to rise 42.1% and 22.4%, respectively.
Zacks' Top Picks to Cash in on Artificial Intelligence
This world-changing technology is projected to generate $100S of billions by 2025. From self-driving cars to consumer data analysis, people are relying on machines more than we ever have before. Now is the time to capitalize on the 4th Industrial Revolution. Zacks' urgent special report reveals 6 AI picks investors need to know about today.
See 6 Artificial Intelligence Stocks With Extreme Upside Potential>>
Want the latest recommendations from Zacks Investment Research? Today, you can download 7 Best Stocks for the Next 30 Days.
Click to get this free report
Yum Brands, Inc. (YUM): Free Stock Analysis Report
Dominos Pizza Inc (DPZ): Free Stock Analysis Report
Brinker International, Inc. (EAT): Free Stock Analysis Report
The Wendys Company (WEN): Free Stock Analysis Report
To read this article on Zacks.com click here.