Electronic Arts (EA) Launches Apex Legends Global Series
Electronic Arts EA and Respawn Entertainment recently announced the Apex Legends Global Series for PC gamers around the world. It is an international multi-tournament e-sports program for EA's battle royale (BR) shooter game, Apex Legends.

Apex Legends Global Series is the first official tournament for the game since its launch in Feb 2019 and has a total prize pool of $3 million.

Notably, the first online tournament will take place on Jan 25 and 27, and registration will open earlier in the month. The first major event will take place between Mar 13 and 15, 2020 and will be held at E-sports Stadium Arlington in Texas.
Electronic Arts Inc. Price and Consensus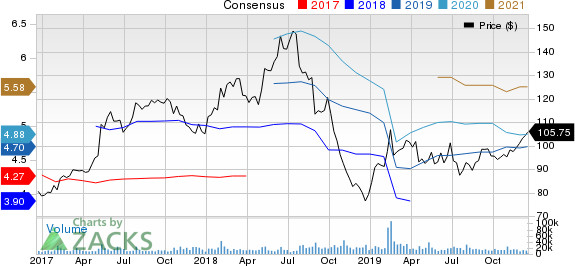 Electronic Arts Inc. price-consensus-chart | Electronic Arts Inc. Quote
Apex Legends Global Series Details

The tournament will feature 12 live events around the world and several online qualifier events. The online tournaments will be hosted by Battlefly while the live events will be sponsored and operated by Respawn Entertainment and its parent company EA or event production partners PGL and GLL.

Players from over 60 countries who meet the minimum age requirement and PC system requirements will be eligible to compete in the Global Series. Registration for the first event will open in early January.

Apex Legends Global Series consists of four major events with the last being the Championship Event. The first three major events will consist of 100 three-player squads pitting the top performers from online tournaments, Challenger events, and Premier Events against one another.

The final Global Series Championship will consist of only the top 60 teams in the world. Notably, a $1 million prize pool has been set specifically for the winners of Apex Legends Global Series Championship to be held at the end of the circuit.

Most players will begin their competitive journey in the online tournaments where they can begin earning Apex Legends Global Series Points, introduced in the Apex Legends Preseason invitational.

Additionally, teams that obtain maximum points through match placements and accumulated kills will qualify for live events such as Premier and Challenger and can also immediately qualify for one of the three major events.

Strength in Apex Legends Franchise

E-sports is helping EA to expand its global user base by growing internationally in regions like China, Korea, the Middle East and more.

The Global Series marks the first e-sports league for the popular battle royale game Apex Legends that recently took home the best multiplayer game award.

Notably, Apex Legends is an important growth driver for EA, given the franchise's impressive sales track record and user base.

Per a Venture Beat report, Apex Legends had more than 70 million downloads in the nine months between its launch and the end of October.

Portfolio Strength to Fend Off Competition

EA's solid lineup of recent releases, including the NBA Live 20, Plants vs. Zombies, and Star Wars Jedi: Fallen Order is expected to drive revenues in the near term.

However, the company faces significant competition from the likes of Activision ATVI, Take-Two Interactive TTWO and Tencent TCEHY backed Epic Games, among others.

Release of Take-Two's Borderlands 3 and Activision's Call of Duty: Modern Warfare is expected to intensify competition in the video gaming space, prior to the upcoming holiday season.

Apex Legends faces stiff competition from Epic Games' Fortnite and Activision Blizzard's Overwatch League, which have growing communities of 200 million and 50 million players, respectively.

Nevertheless, EA's award-winning portfolio of games, exciting content and new releases poise it well for near-term growth.

Zacks Rank

Currently, Electronic Arts carries a Zacks Rank #3 (Hold). You can see the complete list of today's Zacks #1 Rank (Strong Buy) stocks here.

7 Best Stocks for the Next 30 Days

Just released: Experts distill 7 elite stocks from the current list of 220 Zacks Rank #1 Strong Buys. They deem these tickers "Most Likely for Early Price Pops."

Since 1988, the full list has beaten the market more than 2X over with an average gain of +24.6% per year. So be sure to give these hand-picked 7 your immediate attention.

See 7 handpicked stocks now >>
Want the latest recommendations from Zacks Investment Research? Today, you can download 7 Best Stocks for the Next 30 Days.
Click to get this free report
Tencent Holding Ltd. (TCEHY): Free Stock Analysis Report
Activision Blizzard, Inc (ATVI): Free Stock Analysis Report
Take-Two Interactive Software, Inc. (TTWO): Free Stock Analysis Report
Electronic Arts Inc. (EA): Free Stock Analysis Report
To read this article on Zacks.com click here.
Zacks Investment Research