2 Strong Stocks to Buy Now on the Dip After Earnings
All three major U.S. indexes fell again on Tuesday as investors pull profits ahead of the busiest stretch of corporate earnings. The pullback follows a strong run of new highs for the Dow and the S&P 500, while the tech-heavy Nasdaq had inched back within striking distance of its mid-February records by the end of last week.
Taking money off the table seems reasonable and money could flow back in sooner than later if companies impress Wall Street with strong results and guidance. The big banks from Goldman Sachs GS to JPMorgan JPM have already posted strong Q1 financials and their guidance pointed to the continuation of the current economic recovery that has economists projecting 6% or higher U.S. GDP growth in 2021.
So far, we have quarterly financial results from over 50 S&P 500 members, including firms that reported earnings for fiscal quarters ending in February. These companies include the previously-mentioned Wall Street titans as well as Costco COST, FedEx FDX, and many others and their results have been largely positive (also read: Big Banks Foreshadow the Improving 2021 Earnings Picture).
As the tech results start pouring in from Netflix NFLX and others, here are a couple of stocks that already reported their quarterly results that investors might want to consider buying as they suffer a post-earnings dip…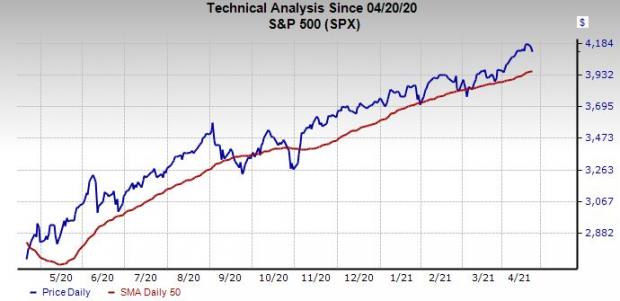 Nike NKE
Nike beat our Q3 FY21 EPS estimates on March 18, but it fell short of top-line projections on the back of "supply chain challenges, including global container shortages and U.S. port congestion, impacting the flow of inventory and timing of wholesale shipments." The company's revenue did still pop 3%, driven by 20% growth in direct sales and a 59% increase in digital sales. But setbacks in North America prevented higher growth.
The global supply chain disruptions are out of the sportswear giant's control and have impacted many industries. Nike has picked up a few downgrades based on these near-term concerns and the stock has taken a hit. NKE fell another 4% Tuesday, which is part of a month-long drop that's sent it down 13% to close regular hours at $127 a share.
There are also worries about a possible Chinese boycott of Nike and other brands. Yet, its greater China sales soared 51% last quarter and NKE executives expect to make up for the sales it missed last quarter in the current period.
Nike now sits right near oversold RSI levels at 34 and under its 50-day and 200-day moving averages, a place it hasn't historically stayed for long. Nike stock is still up 50% in the last year and its dividend yields 0.87% at the moment. The pullback also has NKE trading at a solid discount against its own year-long medians for both forward earnings and sales.
Zacks estimates call for NKE's current-quarter (Q4 FY21) sales to skyrocket 76% off its coronavirus lows from the year-ago period. Overall, Nike's FY21 revenue is projected to surge 16% to $43.3 billion and jump another 12.4% higher in FY22.
Both these figures represent big comebacks from FY20's 4% decline and would mark its best sales growth since 2012. Meanwhile, NKE's adjusted earnings are projected to climb 94% and 24%, respectively.
Nike's earnings revisions land it a Zacks Rank #3 (Hold) at the moment, alongside its "A" grade for Growth in our Style Scores system. Along with its impressive outlook, 16 of the 20 brokerage recommendations Zacks has for Nike are "Strong Buys," with none below a "Hold."
Even as the stock stumbles, NKE's outlook is bullish because despite the rise of Lululemon LULU and a resurgent Adidas ADDYY in North America, Nike remains the undisputed champion of sports apparel and sneakers.
Investors with a longer-term horizon might want to consider scooping up one of the world's most valuable brands at a discount, even if it faces more near-term pressure based on headwinds outside of its control.
Micron Technology, Inc. MU
Micron is one of the largest makers of memory chips in the world. As a quick primer, DRAM chips are featured within PCs and data centers, while NAND, or flash memory, is made for storing data and can be found in mobile phones and other devices.
Micron, like Nike, faces broader supply-chain worries that impact its entire industry. The global chip shortage has some on Wall Street nervous and MU shares have fallen 9% since setting records on April 12—closed regular trading Tuesday at $87.48 a share. This might offer a more enticing buying opportunity as it falls below neutral (50) RSI levels at 44, especially considering that the historically cyclical memory chip company posted strong Q2 FY21 results on March 31.
MU's sales climbed 30% in Q2 to extend its streak of double-digit sales growth to four straight quarters, as it bounces back from a downturn. The company's adjusted earnings also skyrocketed and it provided strong guidance, with it set to benefits from key growth areas within tech such as 5G, AI, and data centers.
Micron's chief executive also spoke about the global chip shortage and its capital spending plans. "The team is doing everything we can to meet customer demand despite the challenges of the pandemic, non-memory component shortages in the electronics industry… CapEx of approximately $9 billion (FY21), this is really almost the highest CapEx that the company has spent in its history and we are putting that into positioning us well for the future," Sanjay Mehrotra told analysts on its earnings call.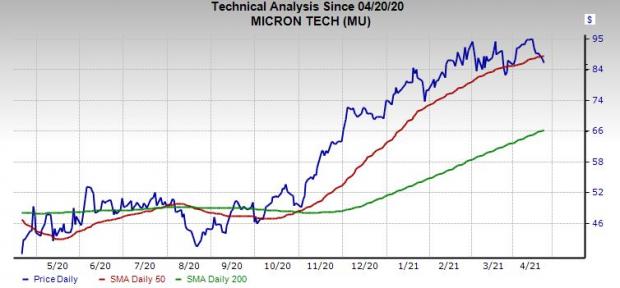 With this backdrop in mind, Zacks estimates call for MU's fiscal 2021 revenue to jump 25% to $26.8 billion, with FY22 projected to climb another 32% higher. These estimates would mark a strong return to growth after two down years and see FY22 easily top fiscal 2018's sales total ($30.4 billion) at $35.3 billion.
At the bottom end of the income statement, MU's adjusted earnings are projected to soar 94% this year and another 99% in fiscal 2022. Micron's improve bottom-line outlook that's seen its FY21 and FY22 consensus estimates climb over 40% recently helps it grab a Zacks Rank #1 (Strong Buy) right now. And the stock grabs an "A" grade for Momentum in our Style Scores system.
Overall, 14 of the 21 brokerage recommendations Zacks has for Micron are "Strong Buys," with none below a "Hold." And the stock trades at a 50% discount to the Semiconductor Industry at 10.1X forward 12-month earnings, which also represents a 40% discount to its own year-long median. In the end, investors with a buy-and-hold mentality might want to consider Micron at the moment.
+1,500% Growth: One of 2021's Most Exciting Investment Opportunities

In addition to the stocks you read about above, would you like to see Zacks' top picks to capitalize on the Internet of Things (IoT)? It is one of the fastest-growing technologies in history, with an estimated 77 billion devices to be connected by 2025. That works out to 127 new devices per second.

Zacks has released a special report to help you capitalize on the Internet of Things's exponential growth. It reveals 4 under-the-radar stocks that could be some of the most profitable holdings in your portfolio in 2021 and beyond.

Click here to download this report FREE >>
Want the latest recommendations from Zacks Investment Research? Today, you can download 7 Best Stocks for the Next 30 Days.
Click to get this free report
JPMorgan Chase & Co. (JPM): Free Stock Analysis Report
NIKE, Inc. (NKE): Free Stock Analysis Report
Micron Technology, Inc. (MU): Free Stock Analysis Report
The Goldman Sachs Group, Inc. (GS): Free Stock Analysis Report
Costco Wholesale Corporation (COST): Free Stock Analysis Report
FedEx Corporation (FDX): Free Stock Analysis Report
lululemon athletica inc. (LULU): Free Stock Analysis Report
Netflix, Inc. (NFLX): Free Stock Analysis Report
Adidas AG (ADDYY): Free Stock Analysis Report
To read this article on Zacks.com click here.
Zacks Investment Research