U.S. Solar Installations Increase 10% in Q1: 3 Stocks to Buy
U.S. solar stocks rallied 28.7% through the first quarter of 2019. Favorable state clean energy policy, market dynamics and increasing corporate investments in renewable energy led to a 10% increase in solar installations in the country in the first quarter from the year-ago period.
In particular, the U.S. solar market installed 2.7 gigawatts direct current (GWdc) of solar photovoltaic (PV) capacity, reflecting the strongest Q1 in the industry's history, per the latest Solar Market Insight Report published by Solar Energy Industries Association (SEIA). The solar market has recorded a solid 71.8% increase so far this year compared with the S&P 500 composite's rise of 16.5%.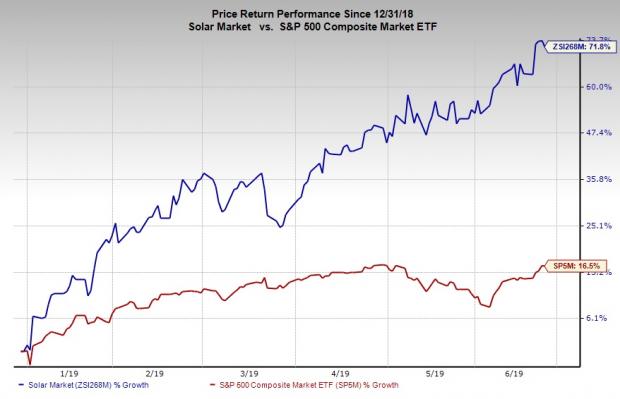 We have briefly mentioned some factors that led the solar industry to deliver such an outperformance and issue optimistic projections.
Factors Driving Solar Installations
Florida played a key role in driving solar installations in the United States. The Sunshine State occupied the top position in solar installations during the first quarter, surpassing California that has been leading the space for the past couple of years. Thanks to Florida's geographical situation, strong resource fundamentals boosted the growth of the solar market in the state. Also, recent policy developments in the state contributed to growth of the solar market. Florida Public Service Commission recently made solar leasing available to companies like Tesla TSLA, which has emerged as a heavyweight solar installer in the nation, after its acquisition of Solar City.
Moreover, plummeting price of solar modules and panels have lowered the cost of producing solar power rapidly over the last decade. This has set the stage for more solar installations in the country. Impressively, the quarter was buoyed by 1.6 GW of utility-scale installations, with new project procurement growing the pipeline to nearly 28 GW.
Will Growth Continue?
Impressive installation trend in the solar market coupled with unexpected rapid growth in Florida and Texas boosted expectations. Wood Mackenzie Power & Renewables now projects more than 13 GW of solar capacity additions in 2019, indicating 25% growth year over year.
Notably, increased solar procurements and shifts in the market have led Wood Mackenzie to increase its forecast for 2019 utility-scale installations by 1.2 gigawatts and by 5.1 gigawatts for the 2019-24 period. Such solid projections should make investors confident about the below mentioned solar stocks' capability to post solid operating results in the upcoming quarters.
Our Choices
With the help of the Zacks Stock Screener, we have identified three solar stocks that possess a favorable Zacks Rank and solid bottom-line growth potential.
JinkoSolar Holding Company Ltd. JKS, a solar panel manufacturer, is expected to record earnings growth of 81.7% year over year in 2019. It currently sports a Zacks Rank #1 (Strong Buy). You can see the complete list of today's Zacks #1 Rank stocks here.
Enphase Energy Inc. ENPH, a solar inverter producer, expects its earnings to increase a whopping 420% year over year in 2019. It currently carries a Zacks Rank #2 (Buy).
Azure Power Global Ltd AZRE, a solar power developer, expects earnings to increase a solid 123.1% year over year in fiscal 2020. It currently carries a Zacks Rank #2.
Looking for Stocks with Skyrocketing Upside?
Zacks has just released a Special Report on the booming investment opportunities of legal marijuana.
Ignited by new referendums and legislation, this industry is expected to blast from an already robust $6.7 billion to $20.2 billion in 2021. Early investors stand to make a killing, but you have to be ready to act and know just where to look.
See the pot trades we're targeting>>

Want the latest recommendations from Zacks Investment Research? Today, you can download 7 Best Stocks for the Next 30 Days.
Click to get this free report
Tesla, Inc. (TSLA): Free Stock Analysis Report
Azure Power Global Ltd. (AZRE): Free Stock Analysis Report
Enphase Energy, Inc. (ENPH): Free Stock Analysis Report
JinkoSolar Holding Company Limited (JKS): Free Stock Analysis Report
To read this article on Zacks.com click here.