Welltower (WELL) Limits Genesis Ties, Enhances ProMedica JV
Welltower Inc. WELL announced its plan to terminate leases with Genesis HealthCare for 51 of its properties in a move that will substantially end its relationship with the challenged nursing home giant. The company will pay $86 million as a lease termination fee to Genesis on the completion of the transaction. Net of the amount, the transaction is valued at $880 million or $144,000 per bed.
For these facilities, the healthcare REIT plans to transition to other leading regional skilled nursing operators and/or divest stake by forming a joint venture (JV).
Per management, "The quality of the Company's portfolio and long-term growth prospects will be significantly enhanced following the transition of assets to regional operators and through the future deployment of proceeds received through these transactions."
Other than the Genesis transaction, Welltower along with its JV partner ProMedica will divest a 25-property portfolio of non-strategic skilled nursing facilities for $265 million. The properties were purchased in 2018 by the 80%/20% JV in 2018, and have an average age of 41 years.
The sale of the portfolio will be immediately accretive to EBITDAR coverage and the JV realized an unlevered IRR of 22% over the ownership period. Moreover, it enhances the quality of the JV portfolio, positioning it for continued growth, going forward.
Genesis Transaction Details
Welltower entered definitive agreements to dispose of 35 traditional skilled nursing facilities for nearly $500 million by forming a JV with Aurora Health Network and Peace Capital. Also, operations of the facilities will be transitioned to preeminent regional operators in the upcoming months. Welltower will have a participating preferred equity stake in the JV, facilitating the company to enjoy additional value creation and drive growth.
Moreover, the company will incorporate nine PowerBack facilities, valuing $292 million, into its existing JV with ProMedica, thereby, bolstering the partnership. The JV partner will operate these properties under its recently-established ProMedica Senior Care brand.
Welltower entered a new lease agreement with a regional operator to transition the operations of the remaining seven skilled nursing facilities from Genesis. These properties are presently subleased by the company and carry a purchase option that can be exercised in April 2023. It plans to exercise the purchase option and hence has entered a $182-MILLION forward sale agreement with the Aurora Health Network JV for the seven properties.
As for Genesis' loans and equity investment, Welltower noted that the net book value of loans outstanding to the former amount to roughly $137 million currently. Genesis will use the $86 million received lease termination fees to repay its borrowings to Welltower.
Also, conditional on the achievement of certain restructuring milestones, Welltower will decrease Genesis' indebtedness by an additional $170 million in exchange for an equity stake in the operator. Specifically, Aurora is likely to inject capital into Genesis, following which Welltower will have a 15% equity ownership in Genesis, allowing the company to benefit from the expected post-COVID recovery in Genesis' fundamentals.
At the closing of these transactions, Genesis will owe $167 million of debt to Welltower, which will be scheduled to mature on Jan 1, 2024.
Financial Impact
The future deployment of $745 million of Genesis transaction proceeds offers significant value accretion opportunities for Welltower. Moreover, the transactions will also significantly de-risk the company's portfolio by reducing exposure to the troubled operator. While Genesis has fully paid all contractual rent to Welltower through February 2021, Welltower will recognize 8.5% unlevered IRR over the full term of the Genesis relationship.
However, the transaction will result in near-term earnings dilution. Specifically, the transaction is projected to be 16 cents dilutive to normalized funds from operations (FFO) per share on a yearly basis. Yet, following the deployment of sale proceeds, the negative impact to normalized FFO per share will be reduced to 5 cents yearly.
Price Performance and Rank
Welltower currently carries a Zacks Rank #5 (Strong Sell). In the past year, the company's shares have declined 10.9%, wider than the industry's fall of 2.1%.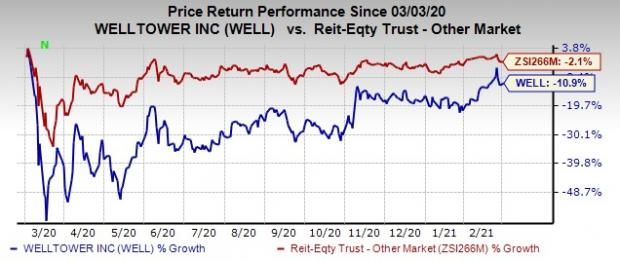 Stocks to Consider
Extra Space Storage Inc.'s EXR Zacks Consensus Estimate for 2021 FFO per share has moved up 2.5% to $5.66 in the past week. The company currently carries a Zacks Rank of 2 (Buy). You can see the complete list of today's Zacks #1 Rank (Strong Buy) stocks here.
JBG SMITH Properties JBGS Zacks Consensus Estimate for 2021 FFO per share has been unchanged at $1.48 in a month's time. The company has a Zacks Rank of 2 at present.
American Tower Corporation's AMT FFO per share estimate for the current year has moved up marginally to $9.41 in the past week. The company carries a Zacks Rank of 2, currently.
Note: Anything related to earnings presented in this write-up represent funds from operations (FFO) — a widely used metric to gauge the performance of REITs.
Bitcoin, Like the Internet Itself, Could Change Everything
Blockchain and cryptocurrency has sparked one of the most exciting discussion topics of a generation. Some call it the "Internet of Money" and predict it could change the way money works forever. If true, it could do to banks what Netflix did to Blockbuster and Amazon did to Sears. Experts agree we're still in the early stages of this technology, and as it grows, it will create several investing opportunities.
Zacks' has just revealed 3 companies that can help investors capitalize on the explosive profit potential of Bitcoin and the other cryptocurrencies with significantly less volatility than buying them directly.
See 3 crypto-related stocks now >>
Want the latest recommendations from Zacks Investment Research? Today, you can download 7 Best Stocks for the Next 30 Days.
Click to get this free report
American Tower Corporation (AMT): Free Stock Analysis Report
Extra Space Storage Inc (EXR): Free Stock Analysis Report
JBG SMITH Properties (JBGS): Free Stock Analysis Report
Welltower Inc. (WELL): Get Free Report
To read this article on Zacks.com click here.
Zacks Investment Research