AT&T Gives Bonus to Employees Amid Coronavirus Pandemic
Per media reports, AT&T Inc. T has decided to pay a 20% bonus above the regular hourly base rate to all of its union employees, as its networks are seeing increased demand amid the ongoing coronavirus (COVID-19) pandemic. The company's share price rose 1.1% in yesterday's trading session to close at $28.40.

The Dallas, TX-based wireless carrier said that the bonus will be included in employee regular rate-of-pay for calculating overtime rates. This includes both homebound workers and those still in offices or the field. AT&T is part of a growing list of large U.S. employers that are boosting pay in response to increased demand for certain kinds of workers even as many industries shut down.

AT&T pointed to the doctors, healthcare providers and FirstNet first responders all depending on its employees to stay connected. It appreciates all the employees' efforts, particularly front-line employees who are working hard serving customers during this challenging time. The company was granted authority for 60 days to operate in Advanced Wireless Services (AWS)-4 Band spectrum licensed to DISH.

The company is offering free data plans for certain school-issued tablets for 60 days. It has waived wireless voice and data overage fees for all customers and expanded eligibility for its low-income Internet program while offering new program participants free service for two months. It has also created a $10 million fund to support distance learning.

In the meantime, AT&T withdrew its plans to purchase $4 billion in stock buybacks to remain flexible during the coronavirus outbreak. The company previously announced that it had entered into an accelerated share repurchase agreement with Morgan Stanley to repurchase $4 billion of stock during the second quarter. However, the contagious disease and its grave impact on the economy have forced the company to reconsider the buyback plan.

AT&T added that it is unable to estimate the impact on its financial or operational results. Among the factors that could impact its results are the effectiveness of COVID-19 mitigation measures, global economic conditions, consumer spending, work from home trends and supply chain sustainability. These factors could result in increased or decreased demand for the company's products and services and impact its ability to serve customers. That said, it continues to care for employees and enhance network, including nationwide 5G. The investments will help ensure that the company is well positioned when the pandemic passes and economies begin to recover.

On Mar 16, AT&T announced that it has introduced a 5G network to 20 more markets. With this, the company is now offering access to 5G on its unlimited wireless plans for consumers and businesses in a total of 100 markets across the United States. 5G+ is currently available in parts of 35 cities for customers with compatible plans and devices. The company is scheduled to report first-quarter 2020 results on Apr 22, before the opening bell.

AT&T's shares have lost 24.1% compared with 16.6% decline recorded by the industry in the past six months.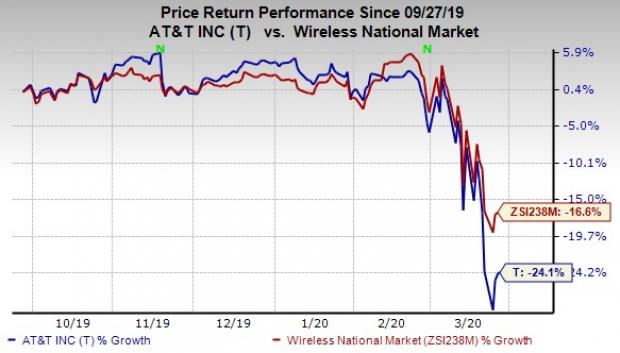 AT&T currently has a Zacks Rank #3 (Hold).

A few better-ranked stocks in the broader industry are Motorola Solutions, Inc. MSI, Qualcomm Incorporated QCOM and Ubiquiti Inc. UI, each carrying a Zacks Rank #2 (Buy). You can see the complete list of today's Zacks #1 Rank (Strong Buy) stocks here.

Motorola topped earnings estimates in the trailing four quarters, the surprise being 6.6%, on average.

Qualcomm surpassed earnings estimates in the trailing four quarters, the beat being 10%, on average.

Ubiquiti topped earnings estimates twice in the trailing four quarters, the positive surprise being 5.7%, on average.

Just Released: Zacks' 7 Best Stocks for Today

Experts extracted 7 stocks from the list of 220 Zacks Rank #1 Strong Buys that has beaten the market more than 2X over with a stunning average gain of +24.5% per year.

These 7 were selected because of their superior potential for immediate breakout.

See these time-sensitive tickers now >>
Want the latest recommendations from Zacks Investment Research? Today, you can download 7 Best Stocks for the Next 30 Days.
Click to get this free report
AT&T Inc. (T): Free Stock Analysis Report
QUALCOMM Incorporated (QCOM): Free Stock Analysis Report
Motorola Solutions, Inc. (MSI): Free Stock Analysis Report
Ubiquiti Inc. (UI): Free Stock Analysis Report
To read this article on Zacks.com click here.