Tesla (TSLA) to Temporarily Halt Production of Models S and X
Tesla, Inc. TSLA has decided to suspend the production of high-end Model S and X electric vehicles (EV) at its Fremont factory in California from Dec 24 to Jan 11.

Employees were notified about the production suspension through an email on Saturday.

During the 18-day shutdown period, workers on the two production lines would get full pay for just one week, along with few other paid holidays. They have been asked to either take the unpaid days off or also have the opportunity to work with different production departments within the company. They have also been given an option to volunteer to make delivery of vehicles to customers, while production is on hold.

Though this is not a first for the California-based automaker to suspend manufacturing for a short duration, the latest shutdown seems longer than usual.

Per Tesla CEO Elon Musk, the company is presently swamped with high demand for its vehicles, which the production level is unable to meet. In order to cater to the shooting demand, the company needs to boost its production as much as possible for the remainder of the quarter.

However, the latest shutdown news of the S and X lines reflects that the demand problem does not extend to the older models. Hence, the decision to halt the production lines for Tesla's premium electric vehicles has ignited a series of speculation about possible reasons behind the S and X line closure.

There are various theories as to why the production line has been temporarily shut down. Some say that the shutdown is for potential reforms of the S and X production lines. Other theories claim that there might be minor design alterations for the Model S and Model X, similar to those applied to the Model 3. Another is that the battery designs outlined for the Model 3 and Model Y are also being used for these premium vehicles.

Tesla usually speeds up deliveries as it nears the ends of quarters in order to record as many sales (which are only recorded once a vehicle has been delivered) as possible. The end of the fourth quarter also symbolizes the cut-off point for subsidies as well as the last chance to meet the full-year sales target. Nevertheless, the red-hot EV maker has never closed the Model S and Model X lines before for this purpose.

Previously, Tesla gave a target of delivering 500,000 cars in 2020, which the company also maintained in its third-quarter earnings report in October. Notably, during the third quarter, Tesla produced 145,000 vehicles and delivered 139,300. Out of this, the company manufactured slightly less than 17,000 Model S and X vehicles, delivering 15,200 of the same, accounting for roughly 11% of the total deliveries.

Tesla is set to enter the prestigious S&P 500 Index on Dec 21. The auto bigwig recently also secured the green signal to start selling its Shanghai-made Model Y series of sports utility vehicle (SUV) in China.

Tesla, peers of which include General Motors GM, Ford F and Honda Motor Company HMC, currently carries a Zacks Rank of 3 (Hold). You can see the complete list of today's Zacks #1 Rank (Strong Buy) stocks here.

Notably, shares of the company soared 629%, year to date, compared with its industry's rally of 224.7%.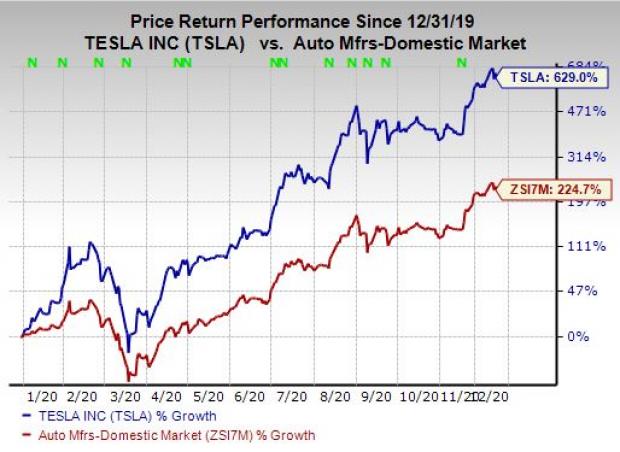 The Hottest Tech Mega-Trend of All
Last year, it generated $24 billion in global revenues. By 2020, it's predicted to blast through the roof to $77.6 billion. Famed investor Mark Cuban says it will produce "the world's first trillionaires," but that should still leave plenty of money for regular investors who make the right trades early.

See Zacks' 3 Best Stocks to Play This Trend >>



Want the latest recommendations from Zacks Investment Research? Today, you can download 7 Best Stocks for the Next 30 Days.
Click to get this free report
Ford Motor Company (F): Free Stock Analysis Report
Honda Motor Co., Ltd. (HMC): Free Stock Analysis Report
General Motors Company (GM): Free Stock Analysis Report
Tesla, Inc. (TSLA): Free Stock Analysis Report
To read this article on Zacks.com click here.
Zacks Investment Research