Copper Prices Gain on Signs of Recovery in US Economy
A strong rebound in U.S. retail sales, positive trial results from a potential coronavirus treatment and hopes of more stimulus led to a gain of 2% in LME copper prices to $5,759.50 per ton on Jun 16, 2020 — levels last seen in February. In the past month, the red metal has appreciated 10%.
Reopening of stores following the coronavirus-induced restrictions, U.S retail sales jumped 17.7% in May, recovering from a record 14.7% drop in April. It also trumped the expectations of an 8% rise. Further, the United States added 2.5 million jobs in May and the unemployment rate fell to 13.3%. It was a major turnaround from April, when it had lost a record 20.7 million jobs and unemployment rate was at 14.7%. Revival in these numbers instill optimism in the fact that the economy is gradually recovering from the massive damage inflicted by the efforts to curb the spread of the virus.
Further, initial trial results from the U.K. showed Dexamethasone — a steroid used to reduce inflammation in other diseases — has been successful in reducing the mortality rate among the severely ill COVID-19 patients. This major breakthrough also helped lift market sentiment.
According to Federal Reserve, industrial production increased 1.4% in May, as most factories started resuming operations partially following pandemic-related suspension. Industrial production had suffered its worst drop of 11.2% in April. Manufacturing output rose 3.8% in May after a record drop of 13.7% in April. Considering the fact that the manufacturing sector accounts for 11% of the U.S. economy, a pick up in the sector raises optimism regarding the overall economic recovery.
Meanwhile in China, the Official NBS Manufacturing PMI was 50.6 in May 2020 — the third straight month of increase in factory activity as companies are resuming operations. This indicates a major recovery from the all-time low PMI reading of 35.7 in February amid the coronavirus-induced lockdown. This indicates that China is gradually moving out of the crisis and is working toward full normalization of economic activities. China's stimulus program focused on new infrastructure and urbanization will require massive amounts of copper.
Moreover, the supply of the metal is likely to be lower this year. Due to the pandemic, miners in Chile, China and Peru had to suspend production. Recently, unionized workers in Chile — the top producer of the metal — demanded a re-evaluation of the operational continuity plans of the country's miners amid an alarming increase in coronavirus cases among workers. Chile's current coronavirus case tally stands at 184,449 with the death toll at 3,383. This puts country's copper supply under threat. The demand supply imbalance will fuel copper prices further.
The long-term outlook for copper is positive as demand is anticipated to improve on investments in electric vehicles and renewable energy, and infrastructure. However, grade decline, rising input costs, water constraints and scarcity of high-quality future development opportunities continue to constrain the industry's supply. The demand-supply imbalance will probably push copper prices north.
Industry Performance & Rank
Copper miners fall under the Zacks Mining - Non Ferrous industry, which has gained 7.2% over the past month compared with the S&P 500's growth of 5.7%. The industry falls under the broader Basic Material sector, which increased 5.4%.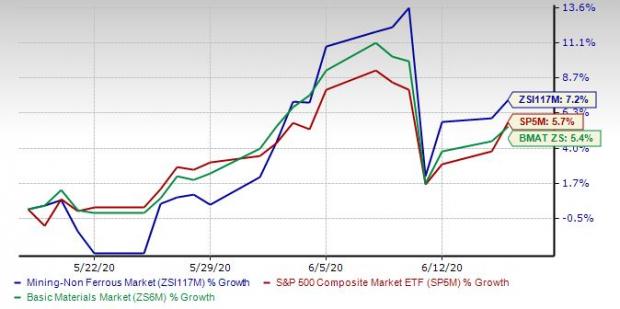 The industry currently carries a Zacks Industry Rank #74, which places it at the top 29% of more than 250 Zacks industries. The group's Zacks Industry Rank, which is the average of the Zacks Rank of all the member stocks, indicates bright prospects in the near term. Our research shows that the top 50% of the Zacks-ranked industries outperforms the bottom 50% by a factor of more than 2 to 1.
Investors interested in the industry can consider Coeur Mining, Inc. CDE , which currently carries a Zacks Rank #2 (Buy). You can see the complete list of today's Zacks #1 Rank (Strong Buy) stocks here.
The Zacks Estimate for current year's earnings has gone up 9% over the past 60 days, indicating year-over-year growth of 148%.
Investors interested in the industry may consider keeping an eye on stocks like Paramount Gold Nevada Corp. PZG, Peninsula Energy Limited PENMF and Energy Fuels Inc. UUUU. All three companies carry a Zacks Rank #3 (Hold) at present and have positive earnings estimates for 2020.
The Hottest Tech Mega-Trend of All
Last year, it generated $24 billion in global revenues. By 2020, it's predicted to blast through the roof to $77.6 billion. Famed investor Mark Cuban says it will produce "the world's first trillionaires," but that should still leave plenty of money for regular investors who make the right trades early.
See Zacks' 3 Best Stocks to Play This Trend >>
Want the latest recommendations from Zacks Investment Research? Today, you can download 7 Best Stocks for the Next 30 Days.
Click to get this free report
Paramount Gold Nevada Corp. (PZG): Free Stock Analysis Report
Coeur Mining, Inc. (CDE): Free Stock Analysis Report
Energy Fuels Inc (UUUU): Free Stock Analysis Report
PENINSULA ENERG (PENMF): Free Stock Analysis Report
To read this article on Zacks.com click here.
Zacks Investment Research